Dubai in the tiny country of UAE has become one of the most cutting edge places in the world for real estate development. From the spectacular man-made palm tree shaped islands of the
Palm Jumeirah to the Burj Dubai, set to be the world's tallest tower at 2,313 ft and 160 floors, to Ski Dubai, an indoor ski slope in the middle of this desert nation, there is no where else on earth where architecture and imagination come together so well.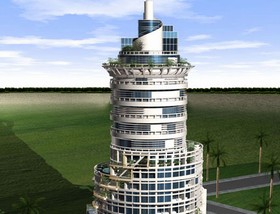 There is only one way to trump the islands, skiing, and skyscrapers . . . build a tower with 5 rotating floors that can spin "at speeds which can be selected by the resident once in either three, six, 12 or 24 hours." Four of the rotating floors will be set as penthouses, and the last will be a rotating villa. Pretty cool!