Danger Will Robinson!
The mister and I married in 1980. We were 19, freshly spit-out by the public school system and totally clueless about the real-life world of household finance. Our parents were lower middle class, Depression-era survivors with a ton of fear about anything deemed risky…and pretty much everything was considered risky.
For the first twenty years of our marriage we lived by the mantra:
Get educated
Get a job (preferably with a big corporation)
Work hard for someone else so you'll get promoted
Live within your means
Buy a house, pay it off and stay put
Save for retirement.
And pray Social Security doesn't fail before you do.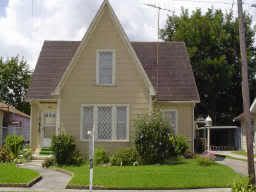 Not So Risky Business: 3/2/1 with garage apartment in a historic district bought with 80/20 financing. Fix-up involved paint, removing old carpet, refinishing the oak floors underneath and installing a new kitchen floor. Total cash out of pocket– 7K (repairs + closing costs). Positive cashflow from Day 1 of $400/month.
True Risk
Starting a business was considered risky. Investing was considered risky. The stock market was gambling and don't even get me started on real estate investment.
But here's what I've come to understand:
Education is good, but things change. You can go back to school a dozen times during your working years and never keep up.
It's extremely risky to rely on only one source of income, and for that source to be completely outside of your control. Working for someone else means you have no say in your salary, work schedule or rate of increase. If you need more income, you can work more hours, get a second job or hope for a promotion. Of course, that only works as long as your boss doesn't decide you're a numbskull that'll never get a promotion no matter what. Or decides to cut expenses by outsourceing your entire department.
It's risky to save for retirement and watch inflation eat up the increase. It's risky to count on a retirement savings plan you don't understand in the first place and turn over to someone you'll never meet, assuming they have your best interests in mind.
Living within your means is a beautiful concept and highly recommended, but if you never step outside your comfort zone, you'll never know what your means might become.
And don't get me started on Social Security.
Compound Interest
When we finally comprehended the power of compound interest, our way of life changed forever. Over time, I've come to understand that compound interest either enslaves people or sets them free. Living on the negative side of the equation makes someone else wealthy. Moving to the positive side builds family wealth and financial freedom. Simple as that.
So why, why, why is this concept so hard to internalize? Probably because most of us were indoctrinated with the dogma that any move from the negative side of the consumer-debt/savings equation to the positive business owner/investor side was just too risky.
How Hard Can it Be?
But how tough is it to save enough every few years for the down payment on a single family home in a nice neighborhood? Income tax refunds, bonuses, automatic savings accounts tend to add up over time with a little effort. And how difficult is it to find a nice person to make those mortgage payments for you? And how hard is it to pocket the majority of that rent once the mortgage is paid off?
And just how many homes could you buy and pay off by retirement-no fancy footwork, no learning tricksy real estate investment schemes–Five? Ten? Fifteen?
If you acquire one rent house every other year between the ages of 25-45, you'll have 10 houses with 20 years left before retiring to pay off that last mortgage. And if, after expenses, you clear $700 per month per house-how does an extra $7000 a month during retirement sound?
Now that, my friends, is a backup plan. And I can guarantee that during your investment years, with a minimum of effort you can and will learn a few simple ways to make the process faster and easier with less of your own money involved to maximize returns.
And that doesn't sound the least bit risky to me.