Rehabbing a house can be a nail-biting experience, particularly the first time around. Sometimes, nice readers over at my blog email asking advice about their latest rehab project. Generally, the questions involve finishing issues such as whether to paint or replace kitchen cabinets, or if carpet or wood floors work better in a rental. I always try to answer, mainly because I remember what it's like to be a new investor with seemingly thousands of decisions, all pounding away at the bottom line.
Secretly, I'm hoping the writer remembers that mine is just another opinion. Ask 10 different rehab professionals and get 10 different answers. All are probably right to varying degrees and all may be dead wrong for the project in question. It's akin to asking a complete stranger if you should get a dog. Everyone's got an opinion but you're going to be the only one taking Cujo on a walk every night.
Asking the Right Questions
When making rehab choices, you need to:
Know your exit strategy
Know your market
Know your budget
Once you've identified these three, it's much easier to make rehab decisions.
What's your exit strategy?
Do you plan to sell this house quickly for profit? Then you'll need to investigate the common materials and finishes of houses for sale in the same price range and neighborhood. If all the other kids on the market have granite counters, you can't cheap out with laminate without hurting your bottom line. In this case, durability gives way to aesthetics. Make it pretty.
Do you plan to hold long term and rent? Tenants are notoriously hard on rent houses. Durability of materials trumps looks. Renters in most markets don't expect the same level of custom upgrades as buyers and the house may have to be redone before selling anyway. Think neutral and sturdy.
What does your market dictate?
Part of the joy of having a few houses under your belt is having folks think you're an expert, but here's the rub. No one- no matter how smart and/or successful-can be an expert in your market unless they live and invest in your market. And even then, so many variables come into play that any expert advice may not apply anyhow.
What do prospective tenants in this particular neighborhood, at this particular price-point expect? Do they want central air and heat or are window units and space heaters okay? Laminate or granite counters? Builder grade carpet or hardwood floors? The only way to know is to talk to current and former tenants, attend open houses, and make a few calls. However, if you've lived in the area any length of time, you may know the answers already.
What's the budget?
There's a tipping point with every house and every neighborhood where one more dollar spent will not bring another dollar of profit no matter what. It's called, Over Improvement for Market and the principle applies for both rent houses and flips.
For example: A 1/1 duplex rents for $500/month.

In an upscale area full of young professionals, upgrading to granite counters and stainless appliances might warrant a rental increase to $750 and attract a more stable tenant.

In a declining area, it won't raise the rent one penny because prospective tenants can't pay more than $500 a month working at Burger Barn. And it might attract an unmarked van to swipe the lovely appliances.
The Payoff
Rehabbing old houses is lots of fun. Of course, not everyone gets a thrill from sawdust and color charts (silly beans) and that's okay. But making rehab selections doesn't have to be paralyzing either.
There's nothing better than picking paint colors, siding and sinks on a Friday night. Researching new products and trying something a little different with each house adds spice to the rehab life. And who doesn't love taking out the frustrations via sledgehammer on a wall that simply must come down before midnight?
But the big payoff comes when you see something rotting and icky transformed into a solid, functional asset to the community.
And fortunately, it gets easier as you go.
Kitchen cabinets desperately in need of rehab decision-making skillz.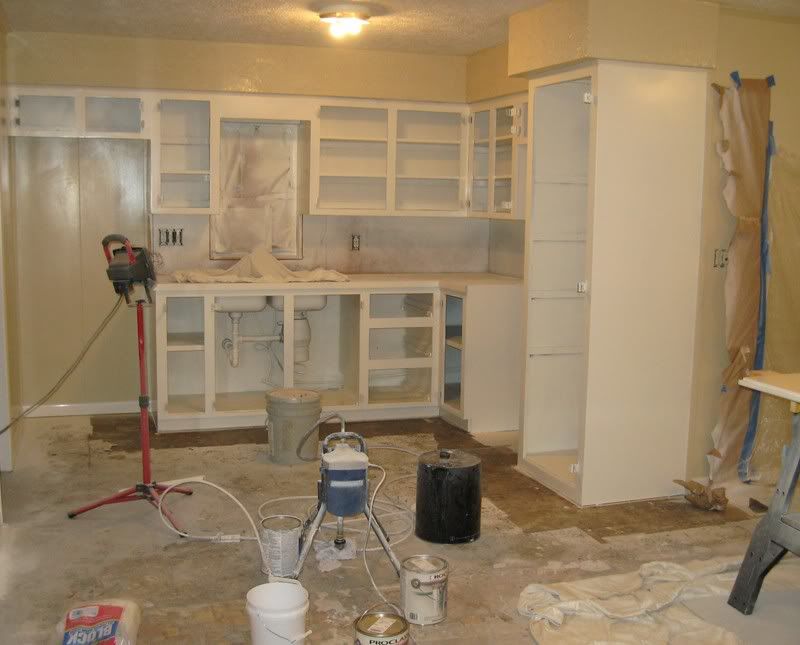 Mid-project, after a first coat of Sherwin Williams Dover White.
And finally, after a hand-rubbed glaze, polyurethane coating and new hardware.