Last week's housing market sentiment seemed to turn slightly as we saw an about-face in interest rates, and purchase applications. We'll also discuss the housing inventories, vacancy rates, and what home types you should be investing in now.
Want more articles like this?
Create an account today to get BiggerPocket's best blog articles delivered to your inbox
Sign up for free
Vacancy Rates Remain High Despite Low Housing Starts
While housing starts remain extremely low (just above a seasonally adjusted annual rate of 500,000), vacancy rates remain extremely high (just under 5.5%. I read an excellent article by Bill McBride over at Calculated Risk discussing the relationship between vacancy and housing starts. There is a large gap between the numbers of households being formed and the available housing for them. Compare these to near January 2006 when there were nearly 2.5million new homes being built and 4.5% vacancy.
The vacancy rate is a lagging indicator that some of us learned about midway through the housing crisis. Some are still feeling this pain, especially on the lowest end of the property scale. Many homes suddenly came available and with vacancy up, rental rates have declined. With very few housing starts, the people that typically move into new housing are now going for existing housing. I'm seeing vacancy very low on existing homes that have similar features to new homes. Also rental rates are rising in these areas.
Interest rates reversed for the first time since June as Freddie Mac reported the 30-year fixed mortgage rate rose to 4.35% from 4.32%. The 15-year interest rate held steady at 3.83%.
I've updated my year-to-date chart showing interest rates for the year: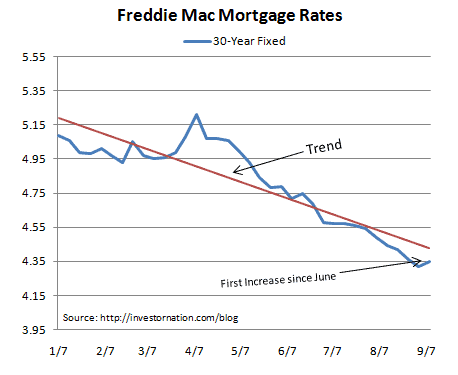 Could we be finding a bottom in interest rates? I doubt we'll see rates rise significantly in the near future but this increase is important. It should remind many of those who are waiting that everything flows in cycles and rates won't be in decline perpetually. I expect we'll start to see a bottom forming over the next few months if positive economic news starts to materialize.

Mortgage Applications: Purchase Index Rises

Interest in home buying might be gaining some steam as the Mortgage Bankers Association reported that its Purchase Index rose 6.3% from the prior week. This brings the 4 week moving average up 1.3% showing that the home buyer credit hangover might be finally wearing off.  Despite the increase the Purchase Index remains nearly 40% lower than a year ago.

While this is a welcome increase, it's not enough to lead to much confidence in the housing industry. Confidence should begin to emerge when these applications translate to higher new and existing home sales over the next 60 days. I do believe the change in the 4 week moving average is good news for the markets to establish an upward trend in activity and may reflect people thinking interest rates are bottoming out.

Housing Inventories Rise for 8th Straight Month

Inventories are up to 12.5 month's supply of homes according to the National Association of Realtors. ZipRealty also reported an increase in supply (0.4%) according to the Wall Street Journal. Research firm Zelman & Associates states the August inventory rise is traditionally 2%. Despite the number rising less than traditionally, the month's supply has been continuing to rise and is over double what's considered healthy.

The rise in inventory is concerning especially as we enter what's projected to be the busiest 6-month period ever for foreclosures. We'll likely see supplies expand as we enter the cold months and what little buying there is declines seasonally. If seasonally adjusted purchasing does increase, we could be seeing an improvement in the overall health of the market.

Household Formation Price Points are Key

Investors are certainly buying up a lot of property right now. Are they buying the right properties? Are you? Understanding where demand is (what little exists), is critical to your strategy. Household formation is causing a slight decline in vacancy.  I expect to see that trend continue as lack of home-building catches up. I'm seeing this in specific micro-geographies (in nearly every market) where there is little to no home-building already.  The price points where you could buy a new starter home or 1st move up is where vacancies are in greatest decline. This is where both owner occupants reside as well as renters, and people who were recently foreclosed on. I'm staying out of the very low end (priced homes) which have simply too much investor competition and not enough owner occupant competition. The low end is being absorbed primarily by investors creating a surplus of rental homes. Go where the household formation is occurring.

jQuery( document ).ready(function() { ga('send', 'event', 'New Member Funnels', 'Appeared', 'UBG Footer Blog Ad'); });