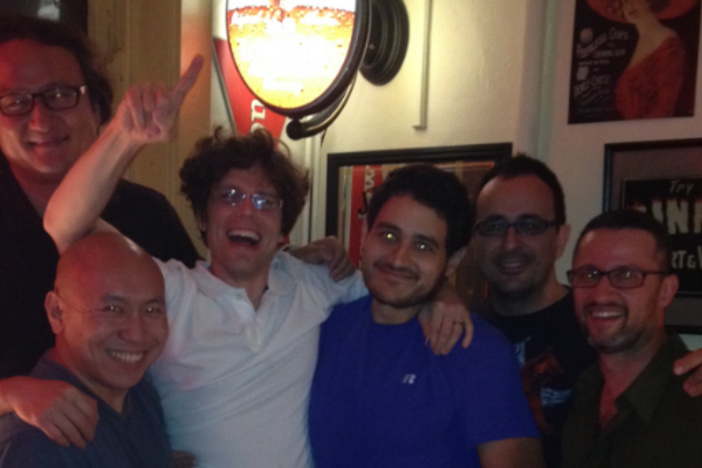 See this picture immediately above?
Want more articles like this?
Create an account today to get BiggerPocket's best blog articles delivered to your inbox
Sign up for free
Twenty years ago I went to school with these guys at the University of Cincinnati College-Conservatory of Music. This photo was taken two days ago in Cincinnati – this was the first time I'd seen two of these gentlemen in a decade. It was good to see all once more; good indeed!
Just to give you a little flavor of who these guys are, let me say a few things. I won't tell you who is who, but I will say just enough to set the scene:
One of the guys in this picture used to weigh-in at over 400 pounds! I bet you couldn't guess which one it is by looking at the photo – in my book, the incredible accomplishment of losing 200 pounds likely makes him the most accomplished of the bunch. Incidentally, I didn't get a chance to tell him I felt this way, but I'm sure he'll be reading this…
Another guy is bold, and he didn't used to be. I don't know exactly why that's significant, but I know that it is! Incidentally, he was a groomsman at my wedding, and unlike the next guy I'll be talking about, we actually kept in touch over the years!
Now – see the dude in the middle of the photo being held up by two others flanking him? Few things are true about him: One – he is talented as all hell; Two – he was the best man at my wedding; Three – I haven't seen or talked to him in a decade (that schmuck!); Four – for as long as I've known him, he has always been extremely proud of his hair (wouldn't you be if that was your hair – just look at it!). And one more thing, this guy always smiles and he's always happy; I tend to think that having a head of hair like that has a lot to do with it…
Three of the guys in this photo, including myself, are parents. One person is my REI protégé and is known on BiggerPockets under the pseudonym Max – I wrote about him in an earlier article entitled Buying Multifamily Property: What's All the Hype About?
One of the guys in this photo is so damn nice that I'm afraid to say anything to offend him – he's just NICE!
And finally, the obvious and inevitable truth must be mentioned – yours truly is still the best looking, sexiest cat in the pack. Period!
The Dinner Conversation
Was lively! Yes indeed – some of us were more focused on the food, while others on the booze, but in the end everyone was happy.
I have to say, however, that the memorable moments of the evening, for me, revolved around a conversation which involved the three of us at the table who have children. Here's how it went:
He said: I love my kids and I am teaching them that they should do what they love, and that the money will follow. This is what I believe, and it is what I teach my children.
To which I said: Bull carp! Money doesn't follow just because you are doing what you love. In fact, money doesn't even follow if you not only love what you do, but also happen to be really good at what you do…Several of us at the table are case and point…
He became very passionate, and a spirited discussion ensued. From everything I know about this man, I can tell you one thing for sure – he loves his kids to death and will do anything at all to facilitate their happiness. I think that his approach is naive – the economic realities on the ground simply don't jive with his the idealistic perspective.
Related: 4 Difficult Questions Every Real Estate Investor Needs to Ask Themselves
I am sure he will read this article, and I risk offending him by airing any of this. I do it because an awful lot of people still believe the way he does, and I hope to illuminate another perspective. I verbalized this perspective at dinner, but I am not at all sure that he heard me. I mean, I know he heard me, I just don't think he listened…here it is:
Another Perspective Is:
Do what you love – just don't do it for money!
Ladies and gentlemen – this is how Patrisha and I live our lives, and this is what we teach out kids. We love music, as you may have guessed. It is more common than not to see me underwriting a deal or working on an article like this one, with recordings of Heifetz and Vengerov playing in the background – I love music; it is what makes me cry.
But, being a musician doesn't freaking pay; at least not enough to enable a life of any dignity. And we don't have family money to supplement our efforts, nor did we inherit from our parents an established business, dividend stocks, or a trust; everything we do for our present and future, and that of our children, we start from scratch.
Mind you, I am the polar opposite of many of many of my colleagues here on BP in that I don't need to drive expensive cars as a means of validating success, nor do we live in a big house. Patrisha and I lead a frugal life, spending money only on things that matter and only when I must – the rest is invested into our businesses. Indeed, money means very little to me outside of being a medium of trade.
Related: BP Podcast 079: Low Income Landlording and Investing to Make a Difference with Michele and Bruce Fischer
Having said this, had I stayed in music we'd never be able to retire – period. Furthermore, we'd forever bounce on shit with not even a remote possibility of financial security at any time in our future. Music, for the vast majority of musicians, just doesn't pay enough, and having established the relative un-importance of money for its' own sake, the simple necessity of having enough has always been of primary concern!
Money is a wondrous thing. While having money in no way guarantees success, lacking money to pay the bills virtually guarantees misery! Music just doesn't cut mustard…
But, this doesn't mean that we don't play music. Nor does it mean that we are not forever going to see ourselves as musicians at heart. We simply choose to see music as something separate from money or career; we simply play music because we want to and not because we have to in order to make ends meet. And if anyone ever pays us for playing, it's just a bonus…
My friend's kids are very talented, but leading our children to believe that being good is all that is necessary to achieve success, professional or financial, is a mistake in my opinion. It also takes luck, and lots of it; one has to be at the right place at the right time, and one has to be "liked" by the right people.
One has to be afforded an opportunity to state the case; indeed very few are given that opportunity – no matter how good they are. One has to have the incredible luck of maintaining health necessary for top performance in the field…are your kids that lucky? Are you willing to bet on it? Their financial lives are at stake!
Given the option, I'd rather not put all of my kids "eggs" into the luck basket…
Wrap-Up
You've heard me say it before, and believe me when I tell you that this is truly how I feel – I don't love real estate.
Real estate, for me, is a means to an end; nothing more, and nothing less; it answers the question of how my wife and I are going to retire. It also diversifies our current revenues. And finally, it does indeed enable my wife and I to do that which we love, play the fiddle, without having to worry about being paid for it.
Now – if my daughter, who is five and is grabbing stars right out of the sky on her little violin, does indeed end up wanting a career in music, she is certainly not going to hear any discouragement from her father. I will support her 100%.
However, I will insist that her music career be just that – a career, which has nothing to do with money. I will insist that what she does for the love of doing it, and what she does for money are two entirely separate enterprises.
This was my message to my friend. What are your thoughts guys?
Be sure to leave your comments below!