You may have found the real estate deal of the century. You may have achieved the best financing available. You may have the best plan, the best forms, the best mentor. But if you get the wrong tenant, you can lose it all. A common mistake with new landlords is to place just anyone in a unit. After all, they've worked so hard to get the rental property purchased and now they have a looming mortgage payment and a vacant unit. Fill 'er up, right?
Not so fast! You actually need to find the right tenant, not just any tenant. This begins with marketing. Here I will outline my five favorite ways of attracting tenants to my properties. If I have a lot of vacancies, and I'm having trouble finding a tenant, I might do all five at once. If vacancies are fairly easy to fill, I might only do one or two. However, it's important for you to understand all five so you can adjust your marketing campaign to fit your local rental market.
5 Ways to Find the Right Tenants for Your Rentals
1. Sign in the Yard
Perhaps the oldest method on this list for finding tenants—a sign in the yard—is also one of the most effective. You can pick up a "for rent" sign at almost any hardware store for around $5 and immediately start advertising your vacancy. I recommend including all the pertinent information about the unit on the sign directly, or as much as you can fit, to weed out those who won't qualify. For example, if you just place a phone number, every person who drives by will ask the same question: "How much?"
At a minimum, I like to include the rental price, the security deposit amount, the number of bedrooms, and my phone number. If I have space, I'll write out a couple of the qualification standards as well (which I'll talk about in a moment), such as "no smokers" or "650 credit score minimum." This will further limit the number of "tire kickers" who call and will help you get phone calls only from good prospects.
If you want to take your signage to a higher level, you can design and print a custom sign for around $20 with an online print shop such as VistaPrint.com. This can help you stand out as a more "professional" landlord. I have about a dozen signs printed that have only our phone number, business name, business website, and "for rent" on them. When I use one of these signs, I try to attach a flyer box (a special box, usually with a see-through/clear front, meant to hold informational papers) to it (or near it) so people can get more information about the property.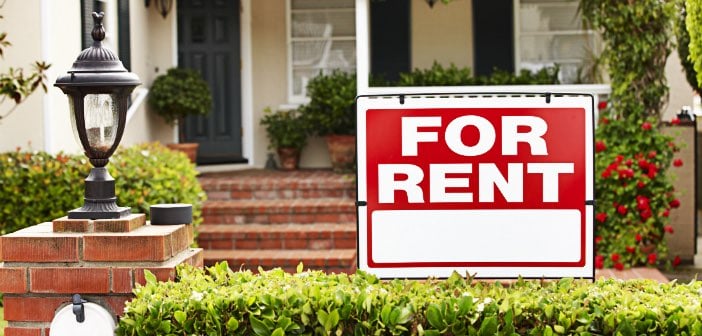 Related: 6 Reasons Good Tenants Don't Renew Their Leases
One word of caution, by placing a "for rent" sign in the yard, you are letting everyone know that the property is vacant (or will soon be vacant). This, of course, increases the risk for vandalism, so many landlords choose not to advertise with a sign.
2. Craigslist
Lately, our number one driver of tenants happens to also be the least expensive: Craigslist. Craigslist is the world's largest classifieds website, and in most areas, it's completely free to post a "for rent" listing, which will be seen by hundreds or even thousands of potential tenants. In my experience, the leads I get on Craigslist tend to be higher-quality applicants than those from
other sources, though that could just be my area.
When you're creating your Craigslist ad, I recommend including as much information about the property as possible and uploading as many photos as you can. Spend some time making your ad stand out. I recommend using the free website Postlets.com to create your ad, because this will help you format your ad so it looks amazing and will give you some basic HTML code you can simply copy and paste into the Craigslist ad to stand out.
As with a sign, I recommend including as much information as possible about the property and the minimum standards you set regarding who can rent the property. This way, the tenant can learn all about the property and decide whether it's worth pursuing before calling you. However, I do not recommend including the address of the property in the listing, because this will only encourage vandalism. Craigslist allows you to instead include the street names of nearby cross streets so that prospective tenants can know the general area but still need to call you for the specific address.
3. Newspapers
Although newspapers may be dying a slow death, they may still be an incredibly effective strategy for driving tenants to your property. This, of course, depends on the cost of taking out a classified ad in one. In my local newspaper, I pay approximately $20 a week for a basic ad that looks like something like this:
2 Bedrm 1 Bth Apt in Aberdeen.
New paint, flooring, & lots of storage.
W/D Hkps. No pets, no smoke.
555.555.5555.
The goal of a newspaper ad is to deliver the pertinent information in as short of a space as possible, so you'll want to abbreviate as many words as you can, as I've done in my example.
One tip that has worked well for me: find out all the different advertising pricing options and devise a strategy based on that. For example, I discovered that taking out a "monthly ad" was only $80, but I could cancel it whenever the unit got rented. In other words, if I order it for a month but only use it for a week, I only pay $20, rather than the weekly rate of $50.

Related: How to Find a Tenant in Any Market: A Comprehensive Guide
Your local newspaper may have similar pricing strategies. I've even heard of landlords with multiple properties negotiating an "annual ad rate" and simply changing the ad to fit whichever property they currently have empty.
4. MLS
If you live in a large city, it's very possible that the MLS will be the main driver of tenants for your property. Although the MLS is best known for listing homes for sale through real estate agents, homes can also be listed for rent on the MLS, and real estate agents can help bring you tenants—for a price. You will typically need to pay the agent a fee when the property is rented, but this might be a small cost to get a great tenant. If you plan to use the MLS to list your property, talk with your real estate agent about how it's normally done in your area, as well as the typical prices you may end up paying.
5. Existing Tenants
If you already own a number of rental properties, your current tenants can be a great source of finding new tenants. When I am having a slow time getting a property rented out, I like to send a postcard to our existing tenants offering them the ability to "choose your neighbor." I also offer a cash reward if they refer someone who ends up renting from me, usually about
$100. This money is only given after their friend has moved in and paid the rent plus deposit.


Which ways have you found most effective for finding high quality tenants?
Leave your comments below!