As a first-time home buyer before the last market downturn, I loved the idea of a 15-year mortgage. Being debt-free was my goal before I had even heard the term "financial freedom."
I thought of a shorter mortgage term as the financially responsible thing to do (as long as I could afford the monthly payments). I even set aside a property with a 15-year mortgage for each of my kids, which would be used to pay for their college educations when the time comes.
But over the last few years, as I have gained a much better understanding of real estate financing and leveraging, I have gained a new perspective. I have learned that low-risk leveraging is my friend and that 30-year mortgages are better than 15-year mortgages for a long-term buy and hold investor trying to scale her portfolio—especially in this market cycle.
Assuming that you are reading this post because you are interested in making a decision about an investment property (as opposed to a primary residence), let's get into four key definitions that we will need clarity before moving forward.
Real Estate Financing: Key Definitions
What Is Amortization?
Amortization is reduction of debt over specific time period. When it comes to fixed rate real estate mortgages, a mortgage payment will include the interest payment and the principal payment (which brings the amount of the loan down).
Usually, the initial years of the loan will have higher interest payments and lower principal payment. During the later years of the loan, the opposite applies.
What Is PITI (Principal, Interest, Taxes and Insurance)?
Most times, mortgages come with an escrow account set up by the lender, which will allow the lender to pay your property taxes and insurance premiums on your behalf. The addition of these components make up the acronym PITI (principal, interest, taxes, and insurance).
What Is Net Operating Income?
Net operating income (NOI) is guided by a simple formula:
NOI = Revenue From a Property (i.e., Rental Income) – Operating Expenses
Examples of operating expenses are vacancy reserve, management fees, utilities, rental licenses, etc.
What Is Cash Flow After Financing?
Cash flow after financing will take into account the financing expenses. In this case, because we are considering two financing options, it is important to consider cash flow after financing as opposed to before.
Cash Flow After Financing = NOI – CapEx Reserves – Financing Costs
With that in mind, now let's discuss the key advantages of longer-term mortgages.
Related: How to Accelerate Your Mortgage Payoff
What Are the Key Advantages of a 30-Year Mortgage?
Here's why I love 30-year mortgages—particularly in terms of scaling a portfolio. Read on to determine whether this is the right approach for growing your portfolio, too.
1. Higher Cash Flow
For an investor building a passive income portfolio, the longer the loan period, the higher the cash flow. This is of course because your monthly mortgage payment will be considerably lower for a 30-year mortgage, as your loan is amortized over a longer period compared to a 15-year mortgage.
Note that most financing options for properties owned in LLCs do not offer fixed longer-term amortization. Usually rates reset at five or seven years with some cap on the rates for the life of the loan.
However, the above turns out to be the best strategy regardless of whether the loan is conventional or commercial, because if in the future interest rates go up, the higher cash flow for a loan amortized over 30 years will have more room to absorb the increase in the expenses and costs than the one for 15.
2. Avoiding the Debt to Income Ratio Plateau
Whether it is mortgages that are conventional or commercial for properties owned in LLCs, as an investor who primarily invests in smaller multifamilies or single family properties, one can hit what I like to call the "debt to income plateau."
Debt to Income = Debt Payments / Gross Income
Lower cash flow doesn't just impact an investor's monthly passive income, it also impacts an investor's debt to income ratio (DTI). Even when properties are held in LLCs, the DTI ratio becomes a factor in purchasing smaller multifamilies (under five units) and single family homes when approaching most banks for mortgages.
If you are stuck in this plateau, your options are:
Going with a bank that offers low doc (short for "documentation") loans; however, such banks are limited and have higher interest rates and fees.
Investing in larger multifamilies where your personal debt to income ratio doesn't matter.
Selling assets which are affecting your debt to income adversely.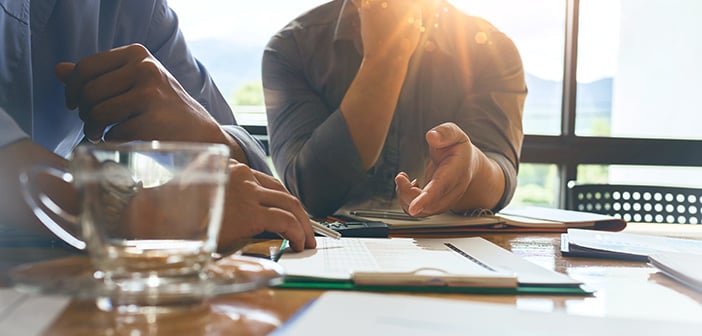 3. Dodging the Dreaded DSCR Distraction
Whether investing in single family homes with a conventional mortgage or a large multifamily with a commercial mortgage, debt service coverage ratio (DSCR) is something none of us can avoid.
DSCR = NOI / Total Debt Service

Want more articles like this?

Create an account today to get BiggerPocket's best blog articles delivered to your inbox

Sign up for free
DSCR is considered by banks when approving a loan to compare level of cash flow to debt obligations. The result gives an unbiased indication to the lender of whether the borrower will be able to pay the loan back with interest. The majority of lenders I have worked with require a DSCR of at least 1.2.
The bank may choose to reduce the amount of the loan if the DSCR does not fit their criteria. Alternatively, they may amortize it for a longer period. With this in mind, a 30-year mortgage has a higher chance of getting approved than a 15-year mortgage.
Related: What's Better for Investors — a 15-Year or 30-Year Mortgage?
4. Hedging the Market Cycle
With more and more data pointing toward an impending market downturn, it is important to keep a higher buffer between rental income and expenses. The expected issues an investor faces during a downturn are:
A tenant who normally pays rent on time loses his or her job during a market downturn and is unable to pay rent.
Vacancy rates go up.
Rents decrease.
In each of the above scenarios, a lower monthly payment is a much better option for owners in terms of covering a mortgage with limited cash reserves.
5. Tax Deductible Interest
Mortgage interest payment tax deductions are higher for a 30-year mortgage due to the higher interest paid. I don't think of this as a major advantage, but it is definitely something to consider when doing an analysis.
Considering the 15-Year Mortgage Option
I do understand the lure of a 15-year mortgage—it is a good way of ensuring that a larger amount of money is put toward the equity of a property. Interest rates for 15-year mortgages are usually (and sometimes significantly) lower than 30-year mortgages, allowing an investor to contribute more toward the principal rather than interest payments. Plus, the loan can be paid off in half the time!
However, if your goal is to pay off your mortgage early, one option is to get a 30-year mortgage and pay more than the required amount each month, which would go directly toward your principal. This approach gives you the flexibility to pay off your mortgage early, without committing to a 15-year amortization period.
For all of the aforementioned reasons, a 30-year mortgage is a great way to scale as a buy and hold investor.

Are there other pros/cons of longer-term mortgages that I've failed to mention here? 
Add them in the comment section below.