Finished the rehab of a 200yr old log cabin
17 Replies
Christopher B.

Rental Property Investor

from

Knoxville,

TN
posted over 2 years ago
Hey BP, I just finished the remodel on a 200 year old log cabin and wanted to share the results after this exhausting remodel. The project was initiated to help a close friend in a house remodel because she almost purchased a lemon which is humorous now because we truly purchased a lemon in this house. The cabin was actually the first church and school house in Concord, TN so a lot of history with the property. However, we didn't know it was a log cabin initially because of how the remodels and additional structures were built around the cabin over the years so it was a "nice" surprise during the demo stage. "Nice" as in completely termite eaten throughout the cabin. Due to setbacks and difficult neighbors, tearing down and rebuilding wasn't an option either. The damage required required a new foundation around almost all of the house and the logs created a different challenge at each phase of the project. The project took awhile as I had to continue operating my business and had two surgeries and 9 months of rehab in addition to other health issues during this project but we finally got her finished. I could write a book on this house so will stop here, the numbers before/after pictures are below. 
I consider this a success because perseverance prevailed. There will be difficult projects, and projects like this can even put an investor out of business. Adapt or die, you must be flexible and be able to roll with the punches sometimes. 
House is a 3/2.5 2312 sf
Purchase: $72k
Rehab: $146k
Total Investment: $218k
ARV: $300K
She did a cash-out refi on the property and is in a strong equity position moving forward.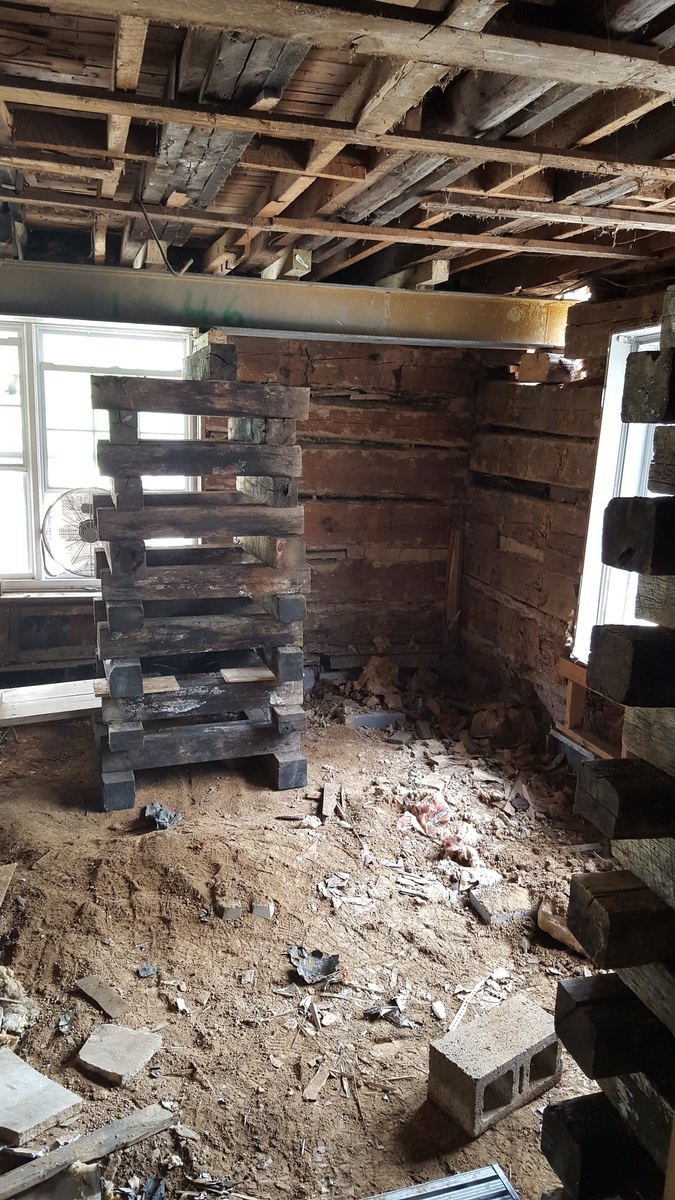 After pictures - don't have exterior
Nathan Sigars

Investor

from

San Antonio,

Texas
replied over 2 years ago
Wow!!! What a transformation, Congratulations on such a huge step in your real estate career.
Kathryn Bowden

Flipper/Rehabber

from

Tucson,

AZ
replied over 2 years ago
Your house and story are very impressive.  It shows how attitude, tenacity and perseverance count for at least half of one's outcomes in life.
Anthony Angotti

Real Estate Agent

from

Pittsburgh,

PA
replied over 2 years ago
Wow this is fantastic! Do you have any pictures of the exterior now?
Fantastic job on the remodel. Looks so cool!
Jordan Scott

from

Dandridge,

Tennessee
replied over 2 years ago
Very impressive and beautiful remodel!
Awesome! That remodel is right up my wife's alley. Would you mind sharing how you financed the rehab costs?
Kristopher Hanks

Rental Property Investor

from

Ashburn,

VA
replied over 2 years ago
I love the picture of the small wood logs stacked up under the beam holding it in place. It's like an amazing transformation flip you would see on a show. The house was a beautiful disaster. Now it's just beautiful. 
@Nathan Sigars Thank you. It was, hopefully, a once in a lifetime project and though our average remodel of the past year and half has hovered around $100k this project forced me out of my comfort zone and challenged me to grow. 
@Kathryn Bowden Thanks so much and I agree with you whole heartidly. At the end of each BP podcast when they ask what makes a successful investor I always think about the perseverance that has been required in my career to learn and overcome the numerous obstacles.  
@Anthony Angotti Thanks Anthony,the level of detail was extensive so nice to hear positive feedback. No exterior photos at this time. The landscaping wasn't done when these pictures were taken but we'll get some soon and I'll update it. 
@Clayton Boyle Thank you for the kind words Clayton.
Thanks @Brandon Burgoyne and @Jordan Scott
@Brett Snodgrass I wanted to walk away many times no doubt but couldn't do that to my friend. I've always said I'll lose money before I pass-off a turd to someone else and this project made me put my money were my mouth is.
@Torin Murphin My bank account. My friend had a rehab loan through a local bank, I fronted the costs and she'd pay me back with draws. Now once the structural issues arose the bank got nervous and was prepared to take a lose on the property, we actualy had a little trouble getting some draws. I paid for the structural repairs out of pocket to the tune of $50k
Interesting and good to know. Thanks!
Wow, absolutely insane transformation.  Looks amazing.  How long did the entire project take from beginning to end?
Originally posted by @Keith Schwoerke :


Wow, absolutely insane transformation.  Looks amazing.  How long did the entire project take from beginning to end?
 The project actually took 20 months. Much longer than it should have taken. As mentioned I had multiple health issues that resulted in 2 surgeries and months of bed rest and physical therapy. But we honestly had issues at every phase of the project that caused delay after delay. Numerous bad contractors also caused delays and forced us to do some work twice because most didn't have the requisite skills to work on a challenging project like this.
I also had to personally pull off this project 3 times to get others done in order to keep my business paying the bills. I will not lie, it was grueling project that tested me and my team on every level. It has made the results that much more enjoyable though.
Darin M.

Investor

from

Knoxville,

TN
replied over 2 years ago
Great work @Christopher B. !!   That is perseverance.  The Kitchen looks great!  Just nice choices through out.  
Free eBook from BiggerPockets!
Join BiggerPockets and get The Ultimate Beginner's Guide to Real Estate Investing for FREE - read by more than 100,000 people - AND get exclusive real estate investing tips, tricks and techniques delivered straight to your inbox twice weekly!
Actionable advice for getting started,
Discover the 10 Most Lucrative Real Estate Niches,
Learn how to get started with or without money,
Explore Real-Life Strategies for Building Wealth,
And a LOT more.
Sign up below to download the eBook for FREE today!
We hate spam just as much as you
Create Lasting Wealth Through Real Estate
Join the millions of people achieving financial freedom through the power of real estate investing