BRRRR In Panama City multi-family HUGE success!!
15 Replies
Hello all!
I purchased a 7 unit property across the street from St. Andrews Bay and within a short bike ride to downtown St. Andrews. The property consists of 3 duplexes and one SFH on roughly 1/3 of an acre.
I found the property using the MLS however it was listed as a Single Family Home with 8 bedrooms and 7 baths. It only had ONE picture of the exterior of the SFH on the listing.
Only photo from the listing:
As much as I hate when listings only have one photo, I found it is a good way to find listings others will pass over due to the inconvenience of having to do a drive by. When I did a drive by, I identified this total WRECK of an apartment complex was parked right behind 3 beautiful bay front homes worth around $1M each. There was a boat launch and a county park 100ft away from the entrance, and the property had alley access.
View from front of property.
View from driveway to the bay. Boat launch and Park are on other side of the bridge.
All buildings had new metal roofs, updated electrical boxes, and the main sewage lines had been recently changed from cast iron to PVC all the way from the street to the foundations of each building.
When I bought this place, it was an absolute disaster. There was every flavor of low life you could imagine burrowing inside these units. I had a meth head in Unit 1. Unit 2 had someone who slept/ate in absolute filth which attracted an unbearable amount of roaches and rats. Unit 3 had a hoarder who was peddling used bike parts and dumpster dove electronics from his back yard.The tenants in Unit 4 were dealing drugs to the tenant in Unit 1. Unit 5 was vacant with no appliances and a leaking shower. Unit 6 was a very long term tenant who had accumulated 14 stray cats in which 3 were pregnant. Finally, unit 7 was the previous owners son who had just signed a lease for around $200 below market value just before they put it up for sale.
Hoarders with trash piled up ft around the outside of the units:
Backside of units 3 (left) where another hoarder lived:
Kitchen AFTER I cleaned the place up. It was SOO disgusting:
Every window unit looked like this:
Oh god.
**** I had a bunch of photos that would have painted a great picture of the condition of this place, however i lost them with my old phone ****
The sellers were asking $227,000 and I eventually purchased the fixer upper for $200,000 on a commercial loan with $50K (25%) down and a 15 year APR of 4.5%. The 1/1 apartments were renting for $500 each and so was the SFH due to the previous owners son living there. With a $3,500 potential monthly income, and a $200,000 purchase price - I was looking at a 21% return with it as is. My plan was to gentrify the entire complex over a 2 year period. On the day I closed, I was handed one key and told the tenants in units 2 and 4 had not paid rent and bailed just before closing. That was $1,000 I was supposed to receive at closing but honestly I was relieved the tenants were gone.
I am pretty handy however had little experience with total renovations. I am a quick learner and had the necessary tools to get started. I decided to do many of the renovations myself. I began doing renovations on the vacant units, completely gutting them and starting fresh. I acquired some free help here and there from friends which quickly expired. The first unit was complete after two months of after hours work and $2,500 in materials. I quickly rented it for $625. Boom! - $125 rental increase - NO BIG DEAL!
As I would near the end of one units renovations, I would post a notice on the door of the next unit I wanted to renovate letting the tenant know they had 45 days until their lease would not be renewed. I constantly feared my inherited tenants would vandalize my hard work, however I was more than respectful to them and they understood my plans for fixing the place up. Some of them weren't happy of course, but I did not have any trouble getting them to leave. Eventually the previous owners son's lease ran out. It was the only unit that was recently renovated and I quickly rented it for $750 p/month. Again....Boom!
I realized the need to hire help to work when I was not there, as well as increase my budget for materials in order to make the units attractive to my target tenants. I began doing floor to ceiling tiled showers, wood like tile floors throughout, brand new kitchen cabinetry, nice laminate countertops, and installing laundry hookups. My expenses went from $2,500 to $5,000 per unit including labor however work was being completed while I was not there. My handyman was very slow moving as he was in poor health and much older. He did solid work for really cheap, however it came at the price of time waisted. After he completed two units in 4 months (the same pace I was completing them on top of a full time job) I decided to let him go and hire someone else.
With the majority of the inherited tenants gone, the place began to look/feel much cleaner however the outside was not on par with the inside. I decided to have all of the units exteriors painted, dead trees and low lying limbs trimmed, gravel laid, and rail road ties placed to designate parking areas. Once this was complete, the place looked amazing and I began receiving $750 p/month in rent for the higher end renovations and $675 for the first unit I renovated. Badda boom!
Exteriors after paint:
After two years, I have finally cleared the place of all previous tenants. The last to go was the cat lady who I attempted to work with. I began trapping the stray cats and bringing them to the "no-kill" shelter however she began releasing the cats from the traps and continued to feed them. They were having litter after litter of kittens and it brought on a flea infestation in which my new tenants were NOT happy about. After the cats were released. the would not enter the trap again so eventually I began catching things I did not want.
I found a kitten trapped in a sewage stack that had been broken loose by the lawn guys. It was super great having to dig up and cut lines to save this cat. Push came to shove and eventually I terminated her lease after 18 years of living in that unit. Needless to say it was absolutely disgusting and smelt like it was built from petrified cat urine.
Pipe where the cat got into:
Picture of me an the kitten I pulled out of the sewage drain. I named her Sewy
The place is now operating at full occupancy with an average rent of $725 per unit. I found an absolutely amazing manager who I teamed up with for short term renting two of the higher end units. Those units brought in $2,800 each in the month of July. After all expenses the profit was $1500 per unit. I will be converting more units into short term units (AIR BNB) after I see how they perform throughout the winter months.
The higher end units we ARR BNB: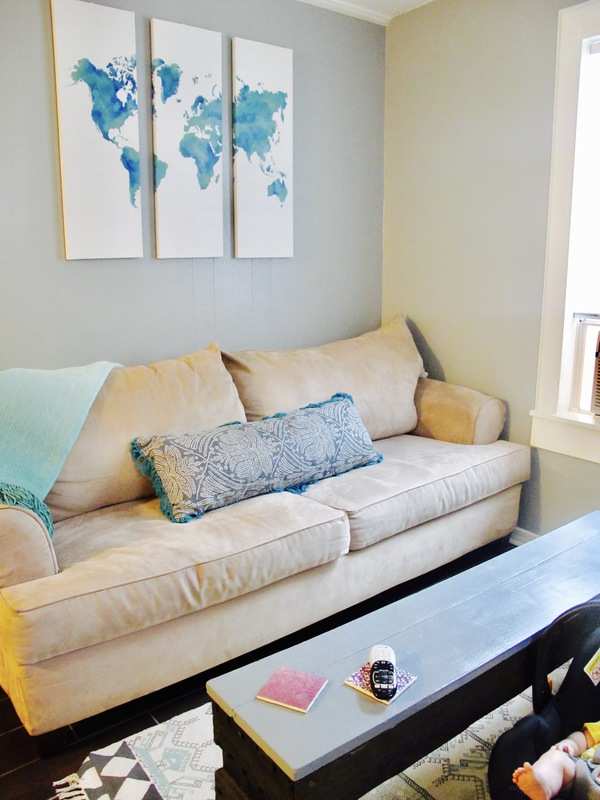 My down payment was $50,000 leaving me with a $150,000 mortgage. I spent another $50,000 on renovations and a whole lot of my own time. The apartment complex just appraised at $340,000 and I refinanced for $240,000 with a $100,000 cash out!!! My mortgage went up $300 per month to $1,500 and after utilities my expenses are right at $2,300, gross income is $5,075, leaving me with a $2,775 monthly cashflow.
Now it is time to take this refinance money and do it again!
Lessons learned:
1. inherited tenants are the worst, however having them around kept the mortgage paid while I renovated vacant units
2. doing the work yourself can save you money, however it is at the expense of you happiness. I would have rather had the capitol for renovation from the start. This was not the case, however It could have seriously reduced the amount it took to complete the project.
3. Hire dependable help. I was taken by a contractor for $800 - which discouraged me to hire help at all. Once I got over it, I hired someone with great reviews and was very pleased.
4. If you are a "do it yourself" kind of person, hire a manager to take care of the administrative burden to free up your time for renovations. Many times, I would be working on a renovation and would have to stop what I was doing to show a unit to prospective tenants, answer calls, take work orders ect. Once I hired my manager, all of those burdens went away and I could focus on construction.
5. If your using the MLS to find properties, set up a search for SFHs with 5+ bedrooms. You can immediately tell by the pictures if a house is a big fancy 5 bedroom home, or if it is a Multi family listed as a SFH. They are out there.
6. It is difficult to change the culture of an apartment community before changing its curb appeal, especially when targeting a higher class tenant. If I could do it over, I would start with exterior paint and lawn care. This way, I could get maximum rents for each unit with a renovated interior.
Hope you guys enjoy!
Let me know your thoughts or shared experiences.
Awesome post and even better deal! Congrats on turning around what is now a cashflow beast for you!
Thanks Matt j. - it was not a ton of fun, but taught me a very simple template to repeat in the future.
Ian Flowers

Rental Property Investor

from

Pensacola,

FL
replied over 3 years ago
Ramsey man, awesome work! Great read and highly motivating!
Jake Torrens

Realtor

from

Columbus,

OH
replied over 3 years ago
Awesome work! Nothing teaches you more than experience. Keep it up!
Cain McNeil

Specialist

from

Panama City,

FL
replied over 3 years ago
Originally posted by @Ramsey Blankenship :


Thanks Matt j. - it was not a ton of fun, but taught me a very simple template to repeat in the future.
The ones we learn the most from rarely are! The most aggravating deals have been the ones that burned certain lessons into my brain that saved or made me money on future deals, but it sure is hard to remember and appreciate that in the middle of the tough ones! Haha
Max Vannostrand

Investor

from

Wesley Chapel,

Florida
replied over 3 years ago
Hard work pays off. Way to go!!
Johnny Lynum

Investor

from

Aldie,

Virginia
replied over 3 years ago
Great job! Thanks for sharing the details!
I love to hear stories like this!! This property went from zero to hero with your vision, elbow grease, determination, grit and I'm sure lots of hope and patience. I share your experience with tenant destroyed property and know what its like to renovate (which feels like forever) and have the sense of pride when finished and getting good tenants and FINALLY having some positive cash flow. I questioned every step I took, "Is this the right thing to do? Will it be too expensive? Will I get return on my investment?" The truth is, the experience gained is worth all of it!!
Great job, @Ramsey Blankenship ! Hey, about once a month I have an investors Real Estate meet-up. It will be at El Jalisco on 23rd St. at noon Sept. 19th (Tues). I will also post it in BP events. Please Join us.
@Cain McNeil , I will see you there as well.
@Paul Denaro Thank you. I would love to attend however I have since been stationed in San diego Ca.
I am looking for ways to continue investing in Panama City once we own a home here in Socal.
That's fantastic, @Ramsey Blankenship . That gives me some motivation for sure as $50k doesn't seem that bad for all those renovations. Well done! Congrats!
Also, is that an EOD shirt you were wearing?
Kurt Traynor

Investor

from

Moseley,

VA
replied over 3 years ago
Great story, love the play by play!! Congratulations
Ahhh, San Diego. I love it there. Can't be SoCals weather!!! Alright man, if you ever come back to PC be sure to let me know.
@Adam L. thanks. Yes It is a shirt from the EOD Memorial Challenge.
I have been a tech for 10 years now.
Awesome! Stay safe and enjoy yourself. I was a K-9 guy in another life so I worked with you guys often and enjoyed the back and forth with you guys.
Again, great job, stay safe, and have fun out there!
Free eBook from BiggerPockets!
Join BiggerPockets and get The Ultimate Beginner's Guide to Real Estate Investing for FREE - read by more than 100,000 people - AND get exclusive real estate investing tips, tricks and techniques delivered straight to your inbox twice weekly!
Actionable advice for getting started,
Discover the 10 Most Lucrative Real Estate Niches,
Learn how to get started with or without money,
Explore Real-Life Strategies for Building Wealth,
And a LOT more.
Sign up below to download the eBook for FREE today!
We hate spam just as much as you