Self Storage Day to day Constructing a new facility
58 Replies
Day in the life- Constructing a New Facility location
23 June 2020, 08:39
We are starting our 8th and final storage location. I will try to give an update as we go through construction. Although this will be instructional, you will probably also get to see the "thinking" and "concerns" about the project from my viewpoint at different stages. Things I would forget to tell you, if you said tell me about building a location. 330 unit drive up facility.

8th and final-
A. As you build each location, you have to put in so much equity up front. Could be 10%/15%/25%/40%. At some point you ask yourself how much do you want to extend yourself., We are expanding at such a fast rate, that we have not let the prior Storage location's equity buildup to support these final projects for collateralization.
B. Even though we have a very efficient system to handle multiple locations, at some point you tap the point of enough is enough., We run all of our business through one phone. Its not that bad once you are rented up, but can be a little hectic during the rent up stages.
C. Not to get into specifics but we also have other Life ambitions and other Financial alternatives we are looking at, to both diversify our assets (Teak Trees) and to enjoy different aspects of our lives.

Before Dirt Work Started-
A. Looked for a site that was "SAFER" from other competitors storage expansion. This location was under a "Planned Community" (PC) zoning, which I normally would not have known to look at. Luckily the realtor knew about the Special Condition/Use permit potential for Storage.,
B. The hilly topography doesn't lend itself to storage. There are only two more locations that are flat enough and they both have issues with them.
C. Engineering costs- We spent far more on engineering than expected. We were working around the lay of the ground for drainage and trying to fit as many units as possible to justify the project. $$$$
D. Hidden items- These were issues staring me straight in the face, but I didn't "See" them. The Fire hydrant on the property was a private hydrant for the property attached to the North, that could not be used. Originally both properties were owned by the same person. Plus the city requires all road side properties that don't have water to put in a line along all of the roadside. $$$$$$
E. Hidden items- The soft wet spot in the middle of the field was the hillside pushing water to the surface at the base of the hill. Although not a Spring, it is still too wet to build on top of. We will need to put a series of Drain Tiles underneath to take the water away. $$$$$

Day 1 of Dirt Work:
A. Contractor called the day before and said he was ready to start. Waited for him for 5 months to finish a large government project. He was both going to be available, cost was lower than other competitors and I know him professionally and personally.
B. Pulled up with 2 Scrapers and hopped the curb. This is a major Bike path and dog walking sidewalk. 3,000 vehicle per day traffic count, off major artery. So we decided on one construction entry spot. That way if we broke the sidewalk, we would have only one spot to fix and one issue with the path users. Our actual facility entry way is further east on the road. But we don't want to use it, otherwise we will bust up all of our concrete roads after we pour them.
C. Went to pull Dirt Permit and State Storm drain permit, the dirt contractor will need to do it and show them their license. About $3,000 for permit.
D. To build Office, the General Contractor who is building the pads and buildings will need to submit his license.
E. The final Building prints are not approved. I just had to give them a letter saying I would put Wainscot on the street visible side of the buildings. This was part of the agreement with the Planned Community zoning. They are also requiring Barred fence, versus chainlink fence.
F. Stopped off at the General Contractors office to start the order for 5 of the buildings. We will build these late in the fall after we can't put anymore pads in (before the ground freezes). We will put the office in, right off the bat, so the Electrician, Plummer, Security and Construction crews will have a place to stub all of the main controls and also have a warm bathroom to use.
G. These 5 buildings touch the fence line. So I want them built so we can put the fence in around the construction site for safety.
H. Stopped at the Retaining Wall group. We have two retaining walls to help with Dirt elevation. We did not want to haul any dirt off the location, so it was cheaper to build retaining walls in key spots and use the dirt there to flatten the site. Both the Retaining wall company and the dirt work company need to work hand in hand. The retaining wall company needs the dirt cleared about 8 feet back from the wall. This is so they can use Geogrid fabric as a Deadman to keep the wall from pushing out. So the Dirt company doesn't have to move the dirt twice, he needs to know to keep it back and also to clear out the dirt for 8 feet.
I. Attached are some pictures of Day 1. Should have a dry day tomorrow, then rain.
J. Using Scrapers versus Bulldozers. Bulldozers can only push dirt, Scrapers can carry it. Far more efficient to carry the dirt, if you have a lot and the distance is over 100 feet. The Grading company and I decided to bill me on an hourly rate, versus per day. Any break downs, partial rainouts or getting stuck, don't get billed to me.
K. Usually you would compact the dirt as you go. These scrapers are compacting the dirt, so we don't have a compactor running behind them. Also without getting to much into the site most of the building site will be the original dirt (compacted) and not moved dirt. Since the driveway and parking will be over where most of the dirt is being moved and we don't plan to build there until next year, it will have a chance to compact over Winter.
L. Will move in 3 inch "Clean" rock at the work entrance and out on the property as a hard surface for the construction vehicles and to clean dirt off prior to driving onto the roadway. We are required to have 75 feet of rock to clean dirt off. Keep the neighbors happy and so we don't get fined.
M. On the bottom right of the drawing, is the Storm retention pond. Give you an idea of how much land you have to give up for drainage, if required.
24 June 2020, 06:24 $$$$ are relative to the project and the person. Lets just say ouch.


Don't really know the mix of readers. Operators, owners, future owners, investors. Some will see this and say great. Others will see this and say, that is why we buy locations and don't build. Others will say, boy there are a lot of potential ouch's. Again, Start small and make your big mistakes early.

Made decent headway today. Will send out day 3 pictures tomorrow and go over some discussion points, issues, and mid stream choices we need to decide upon.

One dirt prep point to note at this stage. If you look at the pictures above, you will note grass and weeds. Normally you would do a clean scrape of the greass so that is not in your fill dirt. I made a calculated choice not to scrape. You can't tell it, but I used chemicals last year and burned all of the growth down. This spring everything was brown and little debris on the surface. This green you see is light growth.

We also are building this site to a 1% slope. When you put fresh dirt on top of grassed dirt it does not necessarily seal together all of the time. If we had a greater slope, I would have disked the ground so the two dirt's would mesh better. The top dirt could slide off the grassed dirt if on a steep slope. I know the grass has very little thickness when pressed between two masses of dirt, but they don't seal very well.

What you might notice years later is cracks in your building or pavement and wonder why. It could be due to lack of compaction or the above. Also don't use two types of dirt. We are in the freeze zone all winter. Different types of dirt freeze and expand differently. This will cause cracks in your building or concrete.

Folks if you have any questions throw them out. Other people will have them or would like to know yours.
26 June 2020, 08:54 Think this is Day 3.

The dirt excavator got a lot done. We met this morning and saw where we are at and adjusted plans from the Engineering plans. We have a lot of stumps and trees to move. Luckily we have a ditch and more acres we can push this on to. Have 8 acres, but only about 4 of them are usable since the rest goes up a very steep hill. Decided where we would put the stumps. The other option would be to haul offsite and this would be about $25,000. We are in city limits and they will not let you burn. These piles are at the back of the property and no one will see them.

The engineering drawing files are loaded into the Bulldozers gps. At the very far side of the property we have issues with putting in two retaining walls to hold dirt and the edges of the last building being right on the existing dirt grade, requiring a lot more dirt. The bulldozer is within 3/10 inch accuracy to the survey and engineering drawings. So we drove around looking at the building sites. This saved a lot of time. I would have had to have the Surveyors come out, which would have taken 3 to 4 days. Stopping the excavation. Plus they would have charged an additional $3,000 to do a partial survey. Surveys cost more in the city.

Retaining walls. Made two decisions.
A. If you look at the drawing above on the left there are 13 10 x 20 units. We would have to cut into the hill at the top and also place a lot more dirt at the bottom of the building. I told them to do what they can with the site without cutting into the hill, but don't hold to the drawings. I will lose 2 to 4 of the units, but this will take out the need for the two retaining walls at $40,000 total. It would take us about 30 years to pay these off.

These building will need to be moved forward about 10 feet since I don't want to move so much dirt. To keep all of the rows of buildings, we will narrow the aisles down from 25 feet to 20 feet on the last two aisles. Not quite as generous travel lanes, but this is not next to any of the longer buildings and long driveways. Once we get the site totally cleared, I may switch the last two building to one building and change the dimensions to 12 wide versus 10 wide; and 10 tall versus 8. This will help with the Sparefoot ranking for "Recommended" by having more sizes. Also these sizes are for a different client than most competitors can fit.

B. Referencing the drawing again, in the upper left corner there is extra parking concrete. Parking on new concrete does not make money up here. We did away with about 1/2 of this space. This allows us not to have to cut into the hill above it and then have to put in a retaining wall. We will keep a 3 to 1 slope, which will be okay with the city. Just plant some grass.

The first picture below shows the grade of the land. If we followed the plan, we would need to put a 12 foot high retaining wall. By giving up some buildings, we can keep the land at a 3 to 1 slope and just grass it and mow.

The second picture shows us pushing a lot of the tree waste up the hill. Again, this and the ditch saved about $25,000 hauling it off. This is also the same spot where we had planned to have more parking area. By reducing the parking area, we don't have to cut into this hill pretty far, and then put a retaining wall in. Again, both of the actions save $40,000 of retaining wall. We lose about 30 x 100 ft of parking space. But this saves about $20,000 of concrete plus labor.

In the second picture, if you look closely you will see Waves in the ground. The high spots are the buildings and the low spots are the roads. Again the bulldozer is within 3/10 inch accuracy to the drawings. They set the bulldozer and the blade raises and lowers to make the dirt the correct height. Normally you would think, you wanted a flat site. This saves the Road contractor having to come in and move a lot of dirt during construction. They will still need to trim the roadway out, but a lot less dirt. Again, we did not have to call the surveyor in, and have to wait on them to come and cost more.


If you have questions just ask. If you have a different aspect you want me to cover, just ask. Again, if you asked me after the fact about building a site, I would not remember a lot of this.
11 July 2020, 03:37 Day 18.

1. Construction Insurance. Didn't cover this topic earlier. Your normal Storage insurance companies won't cover this. We use our State Farm office. About $250 for $2,000,000 coverage. Pretty inexpensive.
2. Been really dry, which is good for the dirt work. Have about 2 days left to finish the ground. Have a meeting next week to discuss re-orienting the buildings so we can get more units on the space.
3. Picture one shows Soil retention fence and grass mat along the front road. The Soil retention fence is plowed into the ground and staked. This cost $2.35 per foot. Actually not to pricy considering you would need to buy the fence, posts, plow the fence in (equipment), and then attach to posts. Got lucky and found a local road contractor. They also do grass seeding and grass mats, but we did this ourselves to save money.
4. Grass Mat costs about $70 per role. This will save on the bare soil eroding and causing a rough lawn mower ride and also to keep dirt from washing. Mid July is one of the worst times to plant grass. Normally I plant week 1 or 2 in August for fall seedings. Since the dirt is already loose and it is dry (won't sprout) went ahead and seeded and put the mat on. If you do a lot of matting buy a Staple driver or stick. This will save your back so you don't have to bend down to the ground. Load staple and stab into the ground.
5. Picture 2. Putting grass mat on back side hill, after seeded with Oats and Brome grass. Oats for quick germination. Brome grass since it will seed by the roots later. If we didn't seed an area very good, the Brome will fill it in, through the root system.
6. Picture 3. Putting a 6 inch drain tile in the ground. We were going to continue the ditch down the hill. But this will cause a severe rut where it drops about 20 feet. The tile will get the water down the hill without eroding. This ditch is catching water from above the site and diverting about 3/4 of the water from coming through the facility from the hill above. The prior owners had a ditch there, that we just cleaned out and removed the trees.
7. Picture 4 shows the storm pond. We built a construction entrance over the head of the pond. This will be taken out when we are completed. On the back right side of the pond will be a pipe connecting to the City storm drain. There should be no water in this pond normally, so it will probably fill in with cattails. It should empty out within about 8 hours of being filled.
8. The Engineer has to calculate/certify the Storm pond size versus the drainage area. This pond serves two purposes. One so water does not run off too fast downstream, due to our "Concrete footprint". Second, is to trap sedimentation to a small degree. Luckily the Storm drain pipe we attach to is on our side of the side walk and we don't have to cut the sidewalk.
9. Make sure your contractors are getting the city inspections as they go.
10. Picture 5 in the center is the end of an 8 inch plastic pipe. It brings the water from the adjoining apartment complex parking lot, onto our ground. You have to let the water flow, the way it is supposed to, so I can't stop it. Originally both properties were owned by the same people. Our engineer had this 8 inch pipe replaced or connected to a 24 inch drain tile. I'm nixing that and having it reconnect to an 8 inch drain tile and getting a bid to bury it and run it down to the storm pond. This was going to cost about $20,000 to run 380 feet. The quote should come in near $3,000 with the 8 inch versus 24 inch pipe.
11. Picture 6 is 3 inch "clean" (without the fines and dust) rock (recycled concrete). Once the grading is done, we will have this hauled from our other location to this new location and spread it. This will be the work surface on the dirt so we don't get stuck or track mud onto the street.

Have some more water items that we are getting quotes on and discussing with the engineer. Want to go with more surface drainage versus the Storm sewer system he developed which is quoted at $80,000. I had not planned on that since we are on a hillside. Will go over them once discussed with Engineer and get quotes.

Although the storage unit builder is listed as the General Contractor, I'm covering most of the items other than the building.

If you have any questions or suggestions, just ask.

Currently in a holding pattern. Have about 2 days of work left. Contractors have pulled off working on another project. Will have them lay out the corners of the buildings so we can see how the whole project looks.
For Future Readers, we are in the beginning of the Covid period.
You've heard Self Storage is recession proof. That is true for existing storage. Out of 800 rentals, we only lost one account because they lost their job. One of our other locations we just completed phase 1 230/ phase 2 200/ phase 3 200 however is at 17% occupancy. I am used to 30% first spring, 20% first fall, another 30% second spring and then the final 20% second fall. March and the beginning of April were close to zero activity.
You might ask with one location in rent up, why are you starting another location with all of the "Uncertainty" in the world. It is based on my market study; should have 3,600 units, but only has 1,400. About 25% of the 1,400 are old and dilapidated. I'm adding 630; another company 430; another company 200 more. The new site is also in a hilly, hard to zone location, making it hard for competition. Plus it is in the higher income. We will do part of the build out this year. Finish most of the units next year. Even with a 330 unit location, your a small player with the construction, paving, sewer, electrician and other contractors. Do the work when Mother nature and the contractors allow. Costs in interest, but you get done.
Project has slowed down a little. The dirt contractors had to pull off for a large job, they have a penalty clause based on Completion date. Also the owner who was working on our job, rolled a dirt scraper and got crushed by it. Waited to include in this stream until he became stabilized. He is out of induced coma and is stabilized. Head and spinal cord are fine. Crushed his left shoulder, internal organs and hips. No one can see due to covid. Family says he is out of danger, but a long long road to recovery and several surgeries to go.
Further update. Continuing to plant grass seed and grass mats on bare ground. I usually like to wait till the first week in August, but since the ground is worked, want to use it now.





To put the grass mats down our store where we buy the mats from, loan us the above tool to put staples in. I have never loved a tool so much than this. Saves my back and I can go about 3 times as fast.

Had the Bulldozer operator set flags at the corners of each of the buildings. This is so I can tell how the land lays compared to what we designed. I am trying to get as many units on the property as possible to help improve the return. Example: Normally I do 50 foot turns at the ends of the buildings, we may reduce these to 35 foot at each each. A reduction of 100 versus 70 to get an additional 30 feet or 6 additional 10 foot wide units per building.

To gain further ground in the picture below where the edge of the hill and white flags are. We will put a retaining wall. This will push into the hill and should give us another 10 feet. We gives us another 10 feet on each building. Will add about 2 more units per building.




At the front entrance of the property the engineer Stair stepped down the buildings to get to the road elevation. One building, but with 3 stair steps in it. Creating more cost and snow removal issues. I am having him in the next picture add a retaining wall behind the lower building which will be along the grass front. This will help raise the ground and level it, taking out the need for the stair step buildings.

This is also the drive in area. I'll have him do the first 30 foot off the street flat. Then do an incline to get to the building levels for the road. The electric service below cost $15,000. They had to run it underground from about 200 feet away. The silt fence was needed for Federal clean water regulations. Cost $2.25 or $2.35 per foot installed. Cheaper than me doing it, since I didn't have a "plow" to put the bottom into the dirt. Plus we had about 400 feet to put in, which I didn't want to do with a shovel.




The next picture is at the far end of the property. The curved ground with the red flags and the clods of dirt making a curved area, where we will build a retaining wall. Otherwise we would have "sloped" the dirt out about another 10 foot away from the ditch. This action, plus now seeing how the land lies relative to where we have the buildings, we will be able to add 30 feet to two of the buildings, adding another 12 units. Hard to see these adjustments on the drawings or until the dirt is moved. Problem with these changes, we will need to go back through the city which will add another 2-3 weeks. If the buildings get too long, they may request a split in the middle with a 10 foot fire break. We had to do that at our other building.


As you can tell by our efforts, we're betting we will come out of Covid. Plus this gets us in position late spring. Hope to open the entry section up with a few buildings this fall, to start renting. This is a prime location from both a Demand/Market standpoint, but also it is very hard for "loose" money to come in and buy a site. Both the zoning and topography are very difficult for storage.
Talked with the apartment manager, who covers our two states where we are at. He thinks end of August the renter past dues will open up and they will start eviction processes. Also home loan issues should start to shake out. Again, Storage is about life situations.

Dirt contractors have been offsite for about 3 weeks. This has helped since we had changes to get through the engineer. Got those resolved Thursday. He will send through City again for review.
Ended up grading the remainder of the hillside with my skid steer versus waiting on the dirt contractors. Able to put down more grass seeding and start the next project of putting in a retaining wall. Cleared the face along the hill. Wall will be about 4 to 5 feet high. Contractors are coming on Monday to install this and some other smaller walls.
Also below is the Construction entrance. Originally had a small plastic tube in place, but the dirt was to high and would have eroded with all of the heavy trucks. Got an old steel tube, I had and moved to a shallower area in the drainage so it doesn't sit so high.
Last picture below, you can see some of the earlier seeding we did. We've been lucky with rain. The oats sprouted real easy. The Brome grass has taken off. We should have a healthy stand by this fall. Can't get a good shot of the Turkeys. They come down during the day to feed on any of our oats that are still on the surface. Even driving the skid steer they come within about 100 feet. They are used to people since there is an apartment complex right next to us.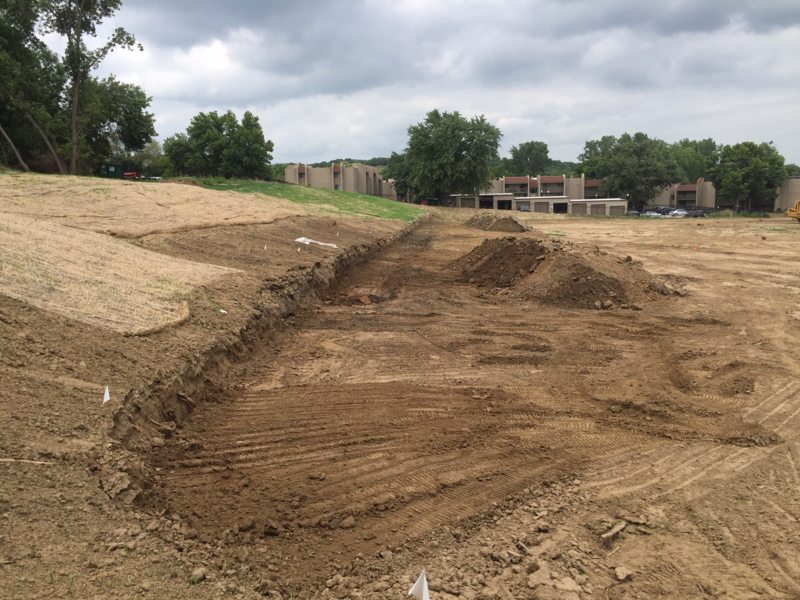 You guys must find this boring. Only one vote thus far.
Anyone can buy a storage location, thought folks might want to see all of the nitty gritty. Will this project get done based on the cost estimate, will it fill up?, what will Mother nature throw at us?, etc.


Several items moving forward, slower than I would like, but actually nice, giving me a chance to take it in and make adjustments.

1. Layouts- finalized revised layouts with Engineer. He will take through the city to get build permits. Key issue was to take out "stepped" buildings at the entrance. The "footings" cost more than its worth to build from a profit standpoint. Should start concrete pads for buildings in 2 weeks.
2. Retaining wall started. This gives us more buildable surface. Added on 20 foot to the buildings in the middle.
- These pictures will show the bottom footing space dug out. -The bottom block is about a foot down in the dirt, to keep the dirt behind the wall from pushing the footing out.
- They put pea gravel or rock chips in the bottom of the trench. This is easier to level, when lining up the blocks and making sure they are level.
- As they go up, they put gravel behind the block a foot, then behind that dirt. Then a small compactor comes behind it.
- Next is the Dead man or Geo Grid. This goes on top of one block then a block is put on top of it. Then the mesh is pushed back, and gravel and dirt are put on top of it. This ties the wall back into the hill, so the blocks don't get pushed out.
- Next will be a drainage tube to take water away from the wall. I'm gone for the next day, so it will probably be in place and no pictures.
- Setting the first course is the hard work. Then they will fly laying blocks and packing the backfill.


3. Construction Entrance
- moved rock from last years build site to this one, today.
- spread out rock for parking vehicles on if it is wet.
- put "Clean Rock" at the front entrance. City requires this, so any dirt and mud gets cleaned off of the tires.
- This is 3 Inch "Clean Rock". Actually recycled concrete. 3 inch because it is sorted. "Clean" because the "Fines" or smaller particles when you crush the rock down to size is not included. "Clean" rock is better for making the Initial base. Smaller rock tends to get pushed into the ground and disappear. This is a rough road, which is good for cleaning tires. If we wanted a nice road, on top of the 3 inch after it has been pushed into the ground, we would put 1 Inch rock with the "Fines". This makes for more of a flat easy riding surface. This rock entrance will stay in place until the project is done. This is so the heavy concrete trucks don't drive on our brand new roads as we pour them. They would bust them.


4. Gas Line
- This location has been "Located" for utilities twice, with no gas line.
- For some reason the Gas company came out and they found part of their line to the apartments behind us runs through where we are building. The pipe is plastic, thus their metal detectors didn't catch, plus I think the Apartment complex told them it was there.
- They don't have an easement. Again, both the Apartment and the ground we bought used to be owned by the same people, so they didn't keep things clean. They will have to move the line over.
- They found part of the line by using a power water gun to dig. The white flags are where I "Water Witched" and marked the rest of the way to their gas pipeline.


28 August 2020, 03:41 PM1. Retaining Wall finished on the large wall and a curved wall. Still one left to do at the front but not to big. The large wall was about 380 feet long and 3 to 5 feet high.
2. You can note the oats and brome grass has started to sprout on the side hills. This is helping with soil erosion and to make it a smooth lawnmower ride with no ruts.
3. Dirt excavators are set to come back on Mon/Tuesday to finish up. Their owner who rolled the Earth scraper and got crushed by it, is out of the hospital. Working on his rehabilitation. Shoulder/armed healed, internal organs okay, and needs to rehabilitate with his hips.
4. Permit got held up. The sewer line for the apartment line above us runs through our property. Used to be owned by the same owner. They never recorded an easement for their private sewer line. City would not issue permit until I put an easement in. Another $2,000 for the engineer to draw up and record. I was okay with tearing out, but City Engineer said the apartment would win in court since this pre-existed the split. Didn't want to tell him that the city should have required it 10 years ago when the two pieces were subdivided.
5. Ordering half the buildings on Monday, once permit is signed off. Will build half this year, since I am going to let some of the ground settle over the winter and compact.
Slow but sure. If you don't have your own construction company you have to work with all of the subcontractors.