Ep. 278 Looking to Level Up and Grow Your Real Estate Business?
No Replies
Jason Yarusi

Investor

from

Westfield,

NJ
posted about 2 years ago
Lucky For You, Greg Dickerson Is Here to Give You Some Advice!
Greg Dickerson is an entrepreneur, real estate investor and developer and over the past 20
years he has bought, developed and sold over $200 million in real estate, built and remodeled
hundreds of custom homes and commercial buildings and started 12 different companies from
the ground up. Greg is an expert on the topics of Real Estate and Construction. He has spoken
at many real estate investing groups, masterminds and events. Greg has also been a guest
commentator on the Fox Business Network with Neil Cavuto and Dave Ramsey. He has written
articles for magazines and newspapers and is a featured contributor in the book, Walking with
the "Wise Real Estate Investor" and "Walking with the wise Entrepreneur" featuring Donald
Trump, Suzi Orman, Rachel Barnes and others. Greg has always been a very active member of
his church and community, serving on the boards of several non-profit organizations.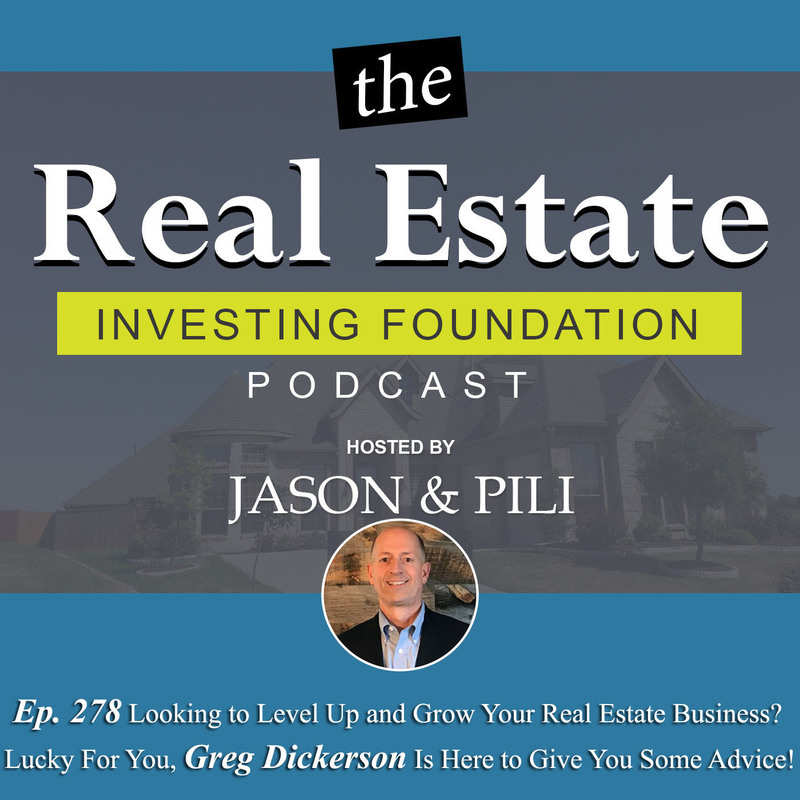 Some topics covered:
-How and why Greg got started?
-Greg's advice on how to grow your business
-Who should be that first hire?
-Where is Greg focusing his time now?
-What metrics does Greg look at when choosing a market?
-What is the core marketing strategy Greg like to implement?
-His favorite repurposing strategy project
-Something Greg is actively working to improve on in his business
-What type of asset class is Greg focusing on in multifamily
-Best topic that translates to those getting started in real estate investing
-Buy and Sell vs. Buy and Hold
-Mindset someone should have to be an efficient leader to build a team around themselves
-What are some KPIs (Key Performance Indicators) that Greg focuses on in the Flipping
business?
-Actionable step to get started in real estate investing
-How to reach Greg: gregdickerson.com or [email protected]
As always we thank you so much for your support.
We appreciate you for listening.
If you like what you hear it would mean a lot if you can give us a 5 star rating and review on iTunes. https://goo.gl/N4pp6T
Google Play - https://goo.gl/RHjVzX
Podcast on YouTube: https://youtu.be/arsGBJElxe0
Check out our Facebook page at Yarusi Holdings. https://www.facebook.com/YarusiHoldings/
Feed: https://thereifoundation.libsyn.com/rss
For our YouTube Channel click here. https://goo.gl/SJiYh
A full list of podcasts are available at https://www.yarusiholdings.com/podcast/
And if you have any questions feel free to reach us at [email protected]