1/27 Where's the RE Market Headed in 2021? SJREIA Ocean County 7p
No Replies
This event is brought to you by:
01/27/21 07:00PM - 08:30PM America/New_York
https://www.sjreia.org/Events.aspx?ID=SJREIA-Ocean-County-Online-Subgroup-Preparing-for-the-real-estate-market-in-2021-58-1-27-2021
$20,00
Disclaimer: BiggerPockets does not support or sponsor any meetups unless otherwise noted. Do your due diligence before attending any events. You may be agreeing to attend an event that includes promotion, pitching, or high-pressure sales tactics or techniques. There may be pitching of products, services or properties at this event!
Tom Dagney

Rental Property Investor

from

Cherry Hill & Princeton,

NJ
posted about 1 month ago
Ocean County Subgroup Webinar - everyone welcome!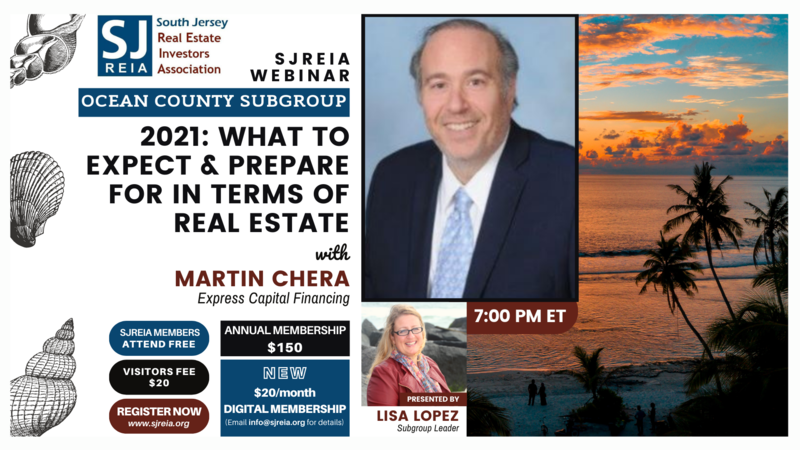 Topic: 2021: What to expect and prepare for in terms of real estate

* Where is the RE Market Headed in 2021?
* Why has RE been around forever and creates massive wealth?
* What are the best ways to source motivated sellers in 2021?

Speaker: Martin Chera, Express Capital Financing, [email protected] | Direct: (972 ) 810-1302 | Expresscapitalfinancing.com

RSVP > https://www.sjreia.org/Events.aspx?ID=SJREIA-Ocean-County-Online-Subgroup-Preparing-for-the-real-estate-market-in-2021-58-1-27-2021

Bio - Martin has been an owner of Express Capital Financing for the past 8 years, helping his investors and clients in building their wealth in real estate. Martin has a deep understanding of the inner workings of real estate business operations, he services the needs of investors in real estate helping them identify a qualified property to attain their financial goals. Martin's business and life experiences make him uniquely qualified to service the needs of investors. Martin efficiently uses his knowledge and expertise to walk his investors through the stages of selling and buying a property with a market analysis of the return on investment and where the market trends are going in today's economy.

Martin utilizes the business acumen he acquired over the years to help his investors buy their properties for a maximum return when they are ready to exit, and acquire additional properties to fuel the growth of their existing company. e: [email protected] | Mobile: 347-348-0262 | Direct: 718-535-7718

Meeting info:
Cost - SJREIA Members attend free -- Visitors pay $20
Time: 7pm to 8:30pm