Atlanta- How to Find the Best Deals & Wholesale for Quick Cash
No Replies
This event is brought to you by:
02/22/18 07:00PM - 09:30PM America/New_York
Comfort Inn Sandy Springs - Perimeter , 5793 Roswell Road Northeast Atlanta, Georgia 30328
Free
Disclaimer: BiggerPockets does not support or sponsor any meetups unless otherwise noted. Do your due diligence before attending any events. You may be agreeing to attend an event that includes promotion, pitching, or high-pressure sales tactics or techniques. There may be pitching of products, services or properties at this event!
Laura Alamery

Investor and RE Mentor

from

Miami,

FL
posted about 3 years ago
If you are new to real estate investing or have not really built a thriving business yet, you might be thinking that the competition is hard nowadays, or you cannot find good deals.
*** PLEASE NOTE *** If you don't RSVP and PAY at the link below, your seat will not be reserved.

Click Here to Reserve Your Ticket

Learning to find great deals is one of the hardest aspects of becoming a successful real estate investor.

I have been wholesaling since 1987. I have done it pretty much all in the wholesaling arena: local wholesaling, virtual wholesaling, co-wholesaling, assignments, foreclosures, probate, auctions, tax delinquent property, REO, short sales all with just as little as $1 down!

Still today I do 100% of my wholesale business with little to no money and you should too!

Join me and you will learn tried and true methods by a seasoned investor:

- What is wholesaling & how to do it;
- What works today - the 4 core strategies of wholesaling (there are 4 subniches to wholesaling) and how you can capitalize them for real estate investing;
- What makes a good wholesale deal and where to find them - my 3 favorite ways;
- What makes a good "qualified" buyer and where to get him/her;
- The Proven 5 Steps System - Just "Rinse & Repeat " - and how to scale the plan up exponentially and set it up on automated pilot - work smarter not harder;
- How to find your very first deal within the next week and close in less than 1 month;
- How to negotiate and what to say to property owners so you can get them to act now;
- How to build your business so you can do it all over again and set it on automatic pilot;
& so much more!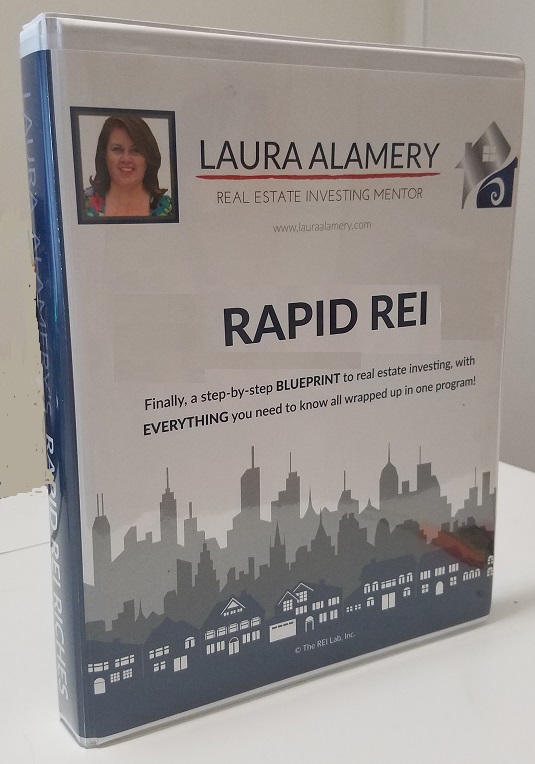 You will also receive a Take Away Manual with Presentation Training Notes!
As you can see this will be a knowledge packed event.
You will also have the opportunity to ask questions, and as always, network with other investors and professionals, before and after the presentation, who have services and information that can be beneficial to all attendees.

***********************************
ADMISSION:

I have only 25 seats for this event - Please Register TODAY!
There is a good chance this event will be Sold Out prior to event date.

- $15 - Paid Online - Up to Last Day Prior to Event
- $25 - At The Door Admission or Online Day of the Event
Click Here to Reserve Your Ticket

** REFUND POLICY: If you didn't learn anything valuable at the event simply request a refund and we will issue it. No Questions asked.

Also if you pay and cannot attend, please cancel at least 48 hours before the event for a full refund.

PARKING:
Plenty of parking in the front of the hotel.
About the Speaker

Laura Alamery is a real estate investor and consultant with extensive experience in several aspects of the real estate business - she has pioneered several strategies from personal experience that she now teaches nationwide, even to other mentors!. She has practiced real estate nationwide for 28 years and she has hosted seminars and public speaking engagements for over 15 years.

She has started and run the following companies:

Midwest Realty Corp: flipping properties and property management division (started in 1996). Diversified Real Estate: Investments – private money and syndication (started in 2001) South City Investments: holding company for buy and hold assets (started in 2002) Archway Property Solutions: short sales negotiations and real estate consulting (started in 2006) The REI Lab: Real Estate Coaching, Real Estate Funding , Real Estate Software, & Real Estate Training (started in 2010)

Today Laura also runs several real estate groups around the country and organizes real estate expos with keynote speakers like Robert Allen (author of "Nothing Down" and "Multiple Streams of Income.") Real estate is not an easy business to break into, however with the right knowledge and guidance it can become profitable and successful in a very short time. There are dozens of ways to make money in real estate investing, and you might try several venues, before you find the one that truly interests you. One thing Laura recommends in this business is that you have to find the niche that works for you and stick with it, before adding another strategy to your career in real estate.

Read more about Laura and connect at Lauraalamery.com and Facebook.