Austin Private Lender and Borrower Networking - May2019
1 Reply
05/02/19 06:30PM - 09:00PM America/Chicago
Quest Trust Company office, 100 E Anderson Ln #100 Austin, Texas 78752
Free
Disclaimer: BiggerPockets does not support or sponsor any meetups unless otherwise noted. Do your due diligence before attending any events. You may be agreeing to attend an event that includes promotion, pitching, or high-pressure sales tactics or techniques. Poster certifies that there will be no pitching of products or services at this event.
Costin I.

Rental Property Investor

from

Round Rock,

TX
posted about 2 years ago
The purpose of this meetup is to promote financial relationships between private lenders and borrowers by networking and education. Anyone interested in Relationship Lending is welcome at this meetup. Whether you want to lend private money or borrow private money, or just learn about the process, please come build connections with others who share the same interest. Many of our members are interested in real estate, others have a variety of investments. Some of our group have self-directed IRAs, 401Ks or other trusts. Some simply have investment accounts. All share an interest in improving their financial lives through personal relationship lending or borrowing.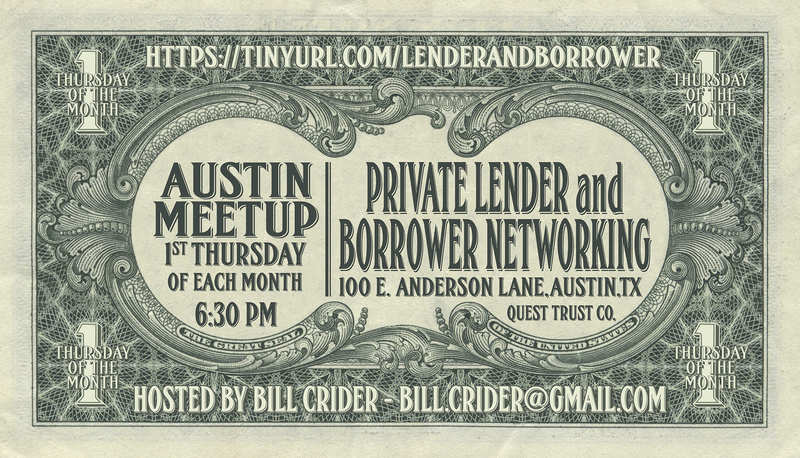 Costin I.

Rental Property Investor

from

Round Rock,

TX
replied almost 2 years ago
This meeting guest speaker: Scott Carson (aka "the Note Guy) has been an active real estate investor since 2002 and solely focused on the distressed mortgage and note industry since 2008 where he buys and sells non-performing mortgages directly from banks and hedge funds on properties all across the country.
Scott is the CEO of WeCloseNotes.com, an Austin, Texas based real estate firm. He has purchased over half a billion dollars in distressed debt for his own portfolio and purchases assets in over 30 states across the United States, while also helping thousands of other real estate investors make money along the way.
He is a highly sought after speaker on distressed debt, marketing and raising private capital. He has also been featured in Investor's Business Daily, The Wall Street Journal and Inc.com. Scott is also the host of the popular podcast, "the Note Closers Show" and provides regular content across his YouTube, Facebook, and other social media channels. An avid sports fan and reader, he spends his free time attending sporting events, concerts, and traveling to new places.