Tax Free Investing with Qualified Opportunity Zones
1 Reply
09/24/19 07:00PM - 09:00PM America/Los_Angeles
CommonGrounds Workspace, 20 S 2nd st. San Jose, California 95113
$15
Disclaimer: BiggerPockets does not support or sponsor any meetups unless otherwise noted. Do your due diligence before attending any events. You may be agreeing to attend an event that includes promotion, pitching, or high-pressure sales tactics or techniques. Poster certifies that there will be no pitching of products or services at this event.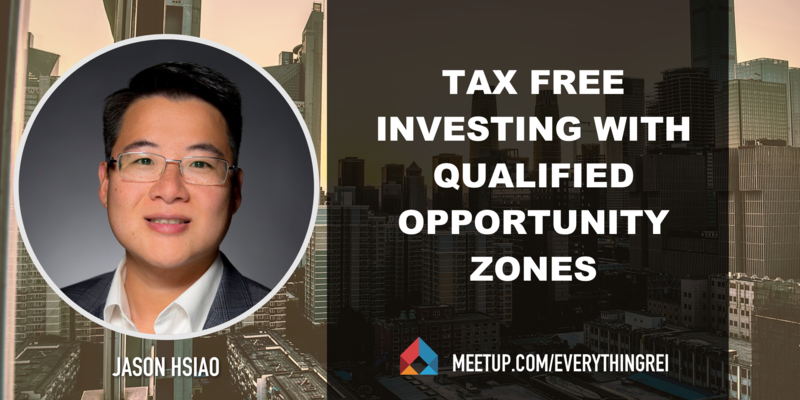 Learn how Qualified Opportunity Zones work and what tax benefits you will get from investing in them!

---
Please sign up and pay for the event on Eventbrite:
https://www.eventbrite.com/e/tax-free-investing-with-qualified-opportunity-zones-jason-hsiao-tickets-72168418683

$15 in advance/ $20 at the door.

---

One of the major benefits of investing in Real Estate is that it provides amazing tax benefits! Qualified opportunity zones (QOZ) are locations where the Government incentivizes development and provide developers amazing deal and tax breaks to build there.

Learn what those tax incentives are and how you can invest your money in a QOZ fund to defer taxes and get profits tax free!

---

About the Speaker:

Jason is a real estate investor and developer and has closed on over $22 million worth of real estate. He is the host of the local meetup group: Snowball Real Estate Investment Networking and has been featured on episode 77 of the Everything Real Estate Investing Show.

---

Agenda:

7:00 Registration and Networking
7:15 Have's and wants (Promote your services!)
7:20 Presentation and Q&A
9:00 Networking at Miniboss Bar/Arcade

---

See you there!
hope this event went well