2-Family in Bristol, CT Deal Diary
38 Replies
Michael Noto

Real Estate Agent

from

Southington,

CT
posted over 1 year ago
Hello everyone. Based on the feedback we received in another deal diary, which you can find here, @Bill Labrecque and I decided to chronicle a 2-family rehab we are currently doing in Bristol, Connecticut.
Here are the basics on this property:
Purchase price - $102,000
Estimated repair budget - $25,000-$30,000
ARV - $195k-$210k
Taxes - $3806/yr
How we purchased:
Purchased with financing from a local hard money lender who financed 80% of the purchase price and 100% of the renovations at 12% interest only and 3 points charged at closing.
Unit Breakdown
- 1st floor is a 2 bed/1-bath close to 1100 sq ft unit - projected rent after rehab $950-$975
- 2nd and 3rd floor is a 3-bed/2-bath 1400 sq ft unit - projected unit after rehab $1300-$1350
How We Located the Deal
- We found this deal on the local MLS and the property was an estate sale. Based on listing price ($89,900) and location (prime location for the city it is located in) we knew this was a property that would go to multiple offers. We submitted our first bid and were notified the next day to submit our highest and best like we expected. $102,000 was the number we felt comfortable with considering the work the property needed.
The next day we were informed our offer was accepted. We had put a 2 week close in our original signed contract, but since this needed to be signed off by probate before we could close it ended up taking a little more than a month to close, which we were fine with.
- What is prime about this location? It is located directly across the street from the local hospital which happens to be in a nice section of the city the home is located in. This past fall we rehabbed and sold a 2-family house around the corner from this one and sold it for full ask very quickly, we actually posted that house for sale here on BP which you can see here. From that experience we were very confident in the ARV for this home. This house is actually bigger and has a much larger yard so we are pegging the ARV at 195-$210k as I mentioned earlier.
In the next post I will put some before pictures of the unit and the scope of work for the project also....
Awesome, I've been following your 3 family New britian diary and really loved the information you provide. Looking forward to this one as well, keep up the good work.
Thanks @Kyle O'Connor . Glad you are getting something out of the posts.
Kevin Dureiko

Lender

from

Bolton,

Connecticut
replied over 1 year ago
Here are the before pictures:
First Floor
2nd floor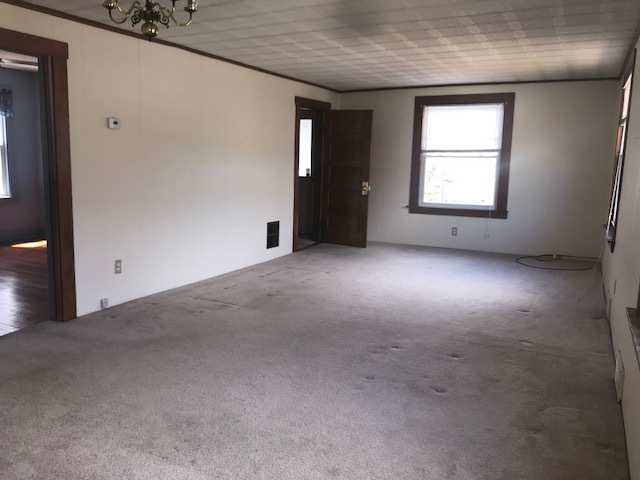 3rd floor 
Below is the draw schedule we have with our hard money lender for the project. For those of you who have never worked with a hard money lender, once the work is completed on a given draw the HML comes out to inspect to confirm the work outlined has been completed. Once they inspect they disburse the funds to us that are associated with that draw.
The work does not have to be done in the order the draws are numbered, but all of the work for a given draw has to be done before getting the disbursement.
Draw 1
Draw 2
Repair plumbing as needed & install 1 hot water heater
Draw 3
Renovate 1st floor apartment
New countertop & paint cabinets
replace flooring throughout
paint throughout
Draw 4
Renovate 2nd and 3rd floor apartment
Paint Throughout
Flooring Throughout
new countertop, add lower cabinets, & paint cabinets
rework 2nd floor layout
new appliances
replace 2nd floor bathroom vanity
Draw 5
Outside work: paint where needed, take down front ramp, trim where needed
Draw 6
2-family deal diary in Bristol, CT update:
We finished the rehab of the first floor (draw 3) and received the disbursement from our HML for the work completed. Pictures are below.
The roof replacement (draw 1) is scheduled to be done in mid-June. We just firmed up the timing with our roofing contractor and we decided to go with charcoal black for a color
We finished the 1st floor rehab on Tuesday and now will head back over to our 3-family flip to finish up the work on that project so we can get it on the market. Once we are done there we will head back over to this house and work on the 2nd/3rd floor apartment
Lastly, we accepted an applicant and collected a deposit for the 1st floor apartment after only 1 day on the market. 
Congrats @Michael Noto !  These posts are great!  I actually walked this property myself when it was on the market.  Will you be turning it into a 3 family?  I think the 3rd floor had its own bathroom from what I remember. I was also wondering what flooring type/model did you use.  I like the look of it.
@Michael Noto do you usually keep wood paneling in your rentals and just paint it the same as the rest of the apartments? Do you ever get comments about it?
@Stu Basham It depends how much of the apartment is wood paneling. If the entire apartment is wood paneling we will replace. In this case it was just one wall so we just painted over it. We have never gotten any comments either way.
A lot of it depends on the project, if this was say a single family flip with a healthy ARV then we would probably replace any and all wood paneling.
@Derek P. We will not be turning this into a 3-family. The home is currently zoned as a 2-family so we are going to stick with that. Getting a variance to change the zoning can be a lot of red tape and hassle that we don't feel we need to deal with on this particular project.
The 2nd/3rd floor apartment is a large 3bed/2bath townhouse style apartment. We sold a place around the corner this past fall with a similar 2nd/3rd floor layout and we found investor buyers and owner occupant buyers liked the uniqueness of the apartment as the market does not have many 3 bed/2 bath units.
I'll post the link to the flooring here shortly also.
@Michael Noto Thanks for the reply.  I guess converting to a 3 family for that property isn't worth it.  I'm curious to know your overall RE investment plan with the money being made on these flips.  What kind of properties do you like to buy and hold if any?  I'm sure some of these small multis you are flipping would have decent cash flow if they were held long term.
We did several BRRRR deals on 2-4 unit multi family between 3 and 5 years ago and all of them cash flow pretty well.
In the last 2 years we have primarily flipped the smaller multi family in order to purchase buildings that are 5+ units.
As a whole we are seeing that the local market is valuing completely redone small multi family more so than they did 5 years ago when our partnership started which is why we tend to rehab and sell more lately.
Either strategy is viable in this market with small multi family in my opinion because if the numbers work for a BRRRR where you will be getting most of your cash out than they will certainly work for a flip.
@Michael Noto Sounds like a solid strategy. I'm currently looking for my next BRRRR deal. Probably another small multi or something 5+ (commercial). Do you have any local commercial lenders you might recommend? Feel free to PM if you do. Thanks!
Bristol, CT 2-family rehab update
The painting has started on the 2nd/3rd floor 3 bed/2 bath apartment. All of the trim and ceilings have been painted and even some of the walls are done. Below are some pictures. Now that our 3-family project in New Britain is complete and will be going on the market on Monday we can focus all of our attention on getting this apartment completed starting on Monday.
@Michael Noto Looking good so far!  Any idea of what a new roof will end up costing you on this one?  I may be in the market for new one soon.
@Michael Noto  Sounds like a fair price for around here.  Thanks for sharing.
@Derek P. That is definitely a fair price. The roofing company we use is always very competitive and most importantly they do clean work and get the job done fast.
2-family deal diary in Bristol, CT update
The work continues on the 2nd/3rd floor unit. The tile backsplash is installed and we are re-configuring the kitchen a little bit, the work associated with that is done also.
We re-worked the layout so you do not have to walk through someones bedroom to get to the bathroom. That is the door opening you see in the pics below. We will also be creating another bedroom as a part of the re-work. In the end this will be a functional 3-bed/2-bath 2-story apartment.
The entire 3rd floor has been painted.
The roof is scheduled to the installed the week of 6/25 and should only take one day since there is a lot of daylight around here this time of year.
Here are some progress photos:
Wow amazing progress, its incredible how much painting wood grim really modernize the place. I've been going back and for about painting my trim as I feel like it give character to my duplex but I'm not sure if my preferences are overiding what tenants are looking for.
Would you mind sharing what paint color you used for the grey rooms and your roofing contractor?
@Kyle O'Connor  We use Navajo white from Sherwin Williams for wall paint, white for the trim, and white ceiling paint. 
PM me in regards to the roofing contractor. Pretty sure we are not allowed to promote specific companies in the forums. 
2-family rehab in Bristol, CT Update:
The pictures below show the re-working of the 2nd floor layout. We are opening up the dining room/living room area by taking out most of the wall that separated the two.
A part of the re-work is also adding a bedroom off the dining area which is shown in the pictures.
Lastly, the pictures show some of the tile work in the 2nd floor bathroom as well as one of the other bedrooms which is now painted along with the rest of the apartment. The only painting left is the front common area.
The roof is getting installed tomorrow and the install is expected to only last one day which is the benefit of having a lot of daylight around here this time of year.
The tenant for the first floor is scheduled to move in on 7/1.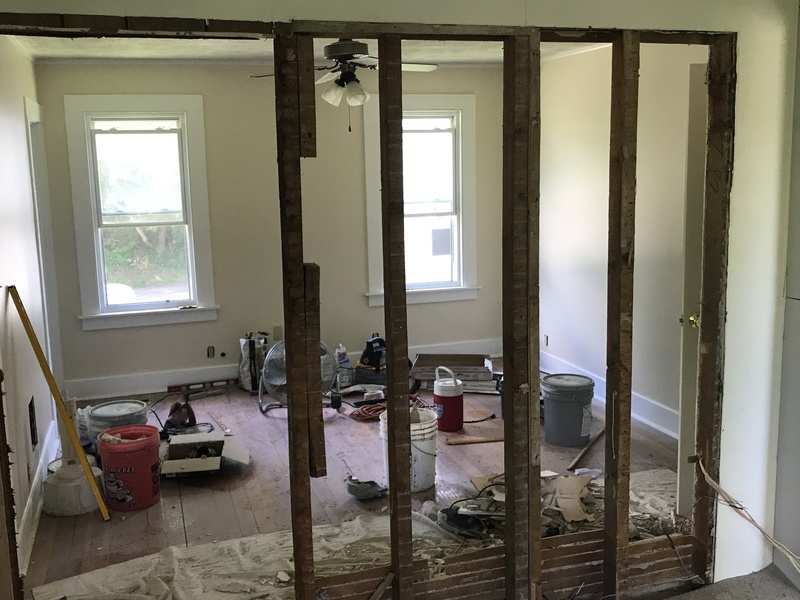 Here is a picture of the completed roof. Took the roofing company 1 day to complete.
Free eBook from BiggerPockets!
Join BiggerPockets and get The Ultimate Beginner's Guide to Real Estate Investing for FREE - read by more than 100,000 people - AND get exclusive real estate investing tips, tricks and techniques delivered straight to your inbox twice weekly!
Actionable advice for getting started,
Discover the 10 Most Lucrative Real Estate Niches,
Learn how to get started with or without money,
Explore Real-Life Strategies for Building Wealth,
And a LOT more.
Sign up below to download the eBook for FREE today!
We hate spam just as much as you
Create Lasting Wealth Through Real Estate
Join the millions of people achieving financial freedom through the power of real estate investing