11 Unit in Livermore, Maine
46 Replies
I've been wanting to start one of these from the start and just haven't had a minute between my job and getting this deal done. The property is an 11 unit converted motel in Livermore, ME. Each unit is 1 Bedroom/1 Bath and sits on 7 acres of land. Purchase price is $275,000 and I will be financing 80% of the purchase price and the other 20% is all cash.
I found this deal through a contractor that I've done a good amount of business with on my personal residence and in some of his other ventures. I had him come out to look at a property with me and that property ended up having really bad foundation issues so I passed. However he mentioned that he had a property he was looking to sell close by so he could invest into a new project at this old ski resort he just bought.
We did not use real estate agents and are using my agent as a transactional agent only for a $1,000 flat fee.
Since bing under contract we had an inspection that went really well and some minor things will be fixed before closing like painting some exterior and redoing a ground level entry deck.
One big thing we ran into is one edge of one of the buildings is in a Flood Zone A bit with NO base elevation study done. Basically meaning FEMA has no big reason why the flood zone just skims one of the buildings. The owner never knew this due to a technicality with the mortgage. Essentially the land and one building is listed as one number and the building in the back is listed as another but the mortgage has the non flood zone number listed. We came to an agreement on splitting the cost of an elevation certificate and FEMA paper work and had the surveyors out yesterday. The company we used us a high % of success rate within FEMA on the flood plain changes for the ones they think they can appeal. This is one of those. I'll post an image in a future post.
The property currently cash flows $6500 a month and has the potential to cash flow more as the rents are under market. Also there is a laundry room that he currently doesn't charge for, I'll be adding coin op laundry and charging a small amount.
I've already selected a property management company as well out of a few I've interviewed. They came back highly recommended and have already made a great plan. I had initially planned on 10% but they are giving me a 7% rate which is meant more for people with 50+ units.
In my next post I will lay out the numbers a little better and show what I'm dealing with now and where we plan to be by end of year. I'll also post pictures as well. My plan is to update this as new things happen.
Forgot to mention the property is currently fully rented and does have smokers who smoke in the buildings. I plan on putting down new rules and cleaning, painting, and buying an o zone machine for when people move out. One person did just move out and it's already filled. The unit is being repainted and cleaned now and is being placed with a security deposit. All other tenants have no deposit or leases due to poor management/ current owner just being too nice. That is changing as people move out which I'm sure will happen.
Also right now I pay for electrical but the apartments are already pulled separately to be metered and paid by the tenants so I will be having them submetered and having tenants pay electric which is $800 a month right now. It will cost $8,000 for the changeover.
Michael Webster

Real Estate Agent

from

Portland,

ME
replied about 3 years ago
Nice work Cody. Sounds like a great project!
Pictures of one of the units currently being turned over. All walls were cleaned and being painted! Also had a shower leak that showed on the inspection tat is being fixed.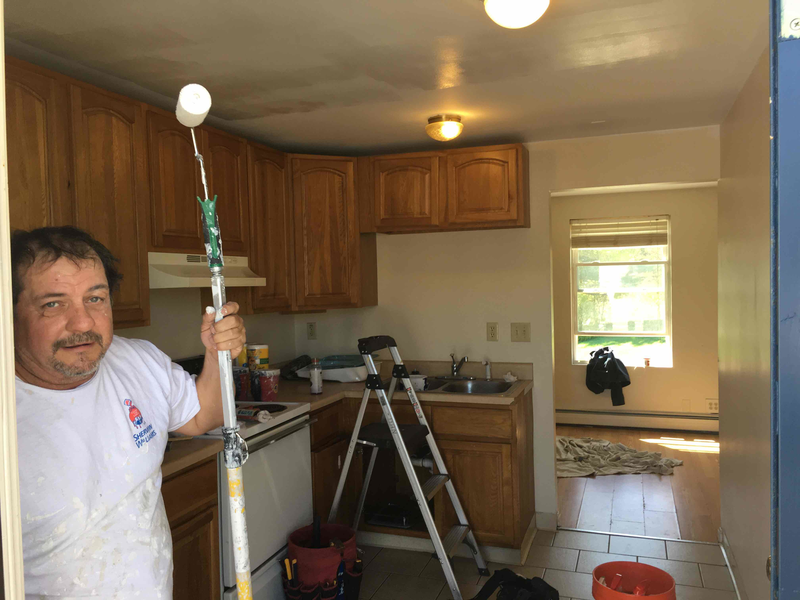 Numbers attached. I used 7% across the board for Capex/Repairs/and Vacancy. I don't plan on spending any profits the first year and plan to reinvest anyways back into turning the units and some much needed outdoor maintenance. The major things like plumbing, electrical, and siding are all brand new in 2010 and the roof still has a good 10+ years left on it so my Capex will probably be put towards a new roof on the buildings come time. There isn't any high cost maintenance beyond that. Also Flood insurance will be going away if all goes well. The cost also should go down with the elevation certificate as well.
My loan is 4.75% for 5 years then variable after 5 years based on a 20 year amortization or I could do 7 years same deal at 5.35%. I have a minute to decide what I want to do I was told but going to figure out what is best. I plan on holding super long term as the area is outside of two different growing cities.
I also forgot to add they put a Dollar General right next to the property last year. The current residents have told me its a been great to literally walk next door for last minute groceries, etc. Also I will probably be utilizing some payment system for rent so my tenants could pay rent by cash/card/money order there.
Should have my elevation certificate this week, but my bank used a third party surveyor and was told that the building isn't in a flood zone. So essentially paid to have an elevation certificate possibly not needed. I'm going to chalk it up to a learning curve. Good thing is the owner and I split it.
The current owner filled the vacancy at market rate and with a security deposit. We didn't want it sitting vacant and the guy is willing to sign a lease once I take over.
No news. Waiting on bank appraisal and this time of the year it's slow. Aiming for an end of July close. Already working on my second deal
Vinay H.

from

Cambridge,

Massachusetts
replied about 3 years ago
Nice work and great updates
Appraisal is this week I've been told. I also found out that I will not need flood insurance. My net just went up $400 a month!
Finally got the appraisal back. $297k appraisal. Already have some built in equity from the start.
Closing tomorrow. One thing that is frustrating is the work I needed done before closing was not done. The seller is an acquaintance so we're drawing up a separate contract. I know he will have it done just sucks that he had 3 months to do it. Either way it's not the end of the world they aren't things that are hurting at all (redo a deck and paint one back wall of a building). Signed on property management as well at a great rate of only 7% of gross rents with only half of first months rent for any vacancies filled. They have been great already and we have a plan moving forward with updating the curb appeal and trying to softly get rid of smoking. I'll update with more photos tomorrow at my final walkthrough.
Closed on the property today. All residents have been served papers for the transition to new property management. I'll have quotes end of next week for landscaping, new sign, and switching over to coin op. Was told at closing one resident may not be staying much longer so I'll have my first turnover. Sort of a bummer as she was a great quiet tenant and had been there for 8 years. Good thing is the turn over will be easy as her apartment when I was in it was immaculate.
Marla B.

Real Estate Investor

from

Takoma Park,

Maryland
replied almost 3 years ago
Great and inspiring story - congratulations!
Things have been gearing up! We received about 10 service calls within the first 2 weeks and everything was fixed. Currently still hashing out quotes for various things but should have a new sign, landscaping, and laundry in within the next month.
We already have our first turnover and possibly more if we have to evict 1 or 2 of these tenants. Either way thats fine with me as the cash flow on this property is pretty solid and no one has a lease do I'd rather get some new tenants in there if we have to. Below is the new logo and signage for the front.
David Morse

Flipper/Rehabber

from

Portland,

ME
replied almost 3 years ago
Love this thread Cody. Great work!
whose local lender?
ive gone thru 3 in last 4 months to cash out my 3 unit.
@Jeremy A.
Candelaria National Bank. Commercial division since it's an 11 Unit.
yes. Auto correct messed that up. Camden National bank
Ty McAllister

Real Estate Agent

from

Fort Worth,

TX
replied almost 3 years ago
What a great deal, congrats on this! Love reading the minutiae of rentals.
Here are some photos of the new sign. The landscaping hasn't fully been done yet, however we aren't doing a full landscape job until the Spring to first save money, and B winter is coming and honestly it's not going to make a difference currently.
replied almost 3 years ago
Very good deal Cody thanks for a great report and updates! All the best.
Timothy Swenton

Rental Property Investor

from

Gray,

ME
replied almost 3 years ago
@Cody DeLong
Cody just read all of this thread. Congrats on this! Really kicking *** here! I have a 4 unit in L/A. Looking into some more properties now. I'll keep following this thread. Hit me up if you ever want to chat REI in maine. i called the hard money firm you recommended to me on my recent posr, (milk street capital) I may pursue them! thaNk you. Also side note. I own an excavation company in southerrn Maine based out of gray. We go up to Androscogggin if the job is worth it . So if you ever need any excavation/hardscape work let me know. (We do some "landscaping" such as grass Installations sometimes) -tim
Carl Hebert

Rental Property Investor

from

Auburn,

ME
replied almost 3 years ago
Had my first turnover ands put in brand new flooring last month, already rented out. Just got an awesome call from a tenant today letting me know he's leaving as the two apartments on the dies of him are still smoking with the no smoking policy. His apartment reeks of smoke all the time and he is not on a lease due to him being an inherited tenant.
So here is my dilemma, I want a non smoking apartment complex. I also want everyone on leases as people leave. Knowing this guys apartment reeks of Cigarette smoke, what would you do? I could offer leases for the two people staying letting them know that they can no longer smoke, I can just keep them there and fill the middle apt, or evict the problem tenants and have 3 to turnover mid winter. I have 11 units total in this complex, we already did a ton of fixes the last 3 months to the point where this winter should be smooth sailing besides if something with heating goes.
What would you do?
Free eBook from BiggerPockets!
Join BiggerPockets and get The Ultimate Beginner's Guide to Real Estate Investing for FREE - read by more than 100,000 people - AND get exclusive real estate investing tips, tricks and techniques delivered straight to your inbox twice weekly!
Actionable advice for getting started,
Discover the 10 Most Lucrative Real Estate Niches,
Learn how to get started with or without money,
Explore Real-Life Strategies for Building Wealth,
And a LOT more.
Sign up below to download the eBook for FREE today!
We hate spam just as much as you