Toilet rough in disadvantages
9 Replies
Bryan N.

Investor

from

Hampton Roads ,

Virginia
posted almost 4 years ago
So, after putting ceramic tile in I went to reinstall the toilet.  Of course, I dropped it and it broke.  I measured the rough in at 14" and went to Lowes.   They said all they had is 12" and would have to order 14".  So, I went to Home Depot.  They said I could install a 12", but the tank would be a couple of inches from the wall which could cause the bolts to break the tank when someone leans back on it.  The local plumbing supply told me something similar.  
So, I paid the sucker fee of an extra $50 from the local plumbing supply for the in stock 14".  I decided not to install tonight.  I may return it in the am and go buy the 12" for $50 less from Lowes or home depot. 
I'm curious how everyone has approached this.  12" because it's cheaper and works? Any disadvantages?  Or, get the 14"?
Jim Ness

Commercial Real Estate Agent

from

Mankato,

Minnesota
replied almost 4 years ago
I have had the same situation in some rehabs that I now use as rentals.  I have gone with the 12" and have not had a toilet break yet.  I also had the same situation in my own home. I am a couple of inches from the wall - no problems.  It actually made the wall easier to paint when we repainted the bathroom.
Very good points.  The painting is a good point.   Thank you. 
Sam Leon

Investor

from

Fort Lauderdale,

Florida
replied almost 4 years ago
If you have a big guy sit on the toilet and lean back yes it could "flex" the tank, but I don't think this is a big concern.
There is a third solution but perhaps a bit more expensive, and that is to get a toilet that can accommodate 10"-14" rough in dimensions.
Toto, which is pretty much the only brand I ever buy, has a "unifit" rough in system.  The bowl's trapway does not end on the floor and seam with a wax ring, but instead, you buy one of these with the toilet.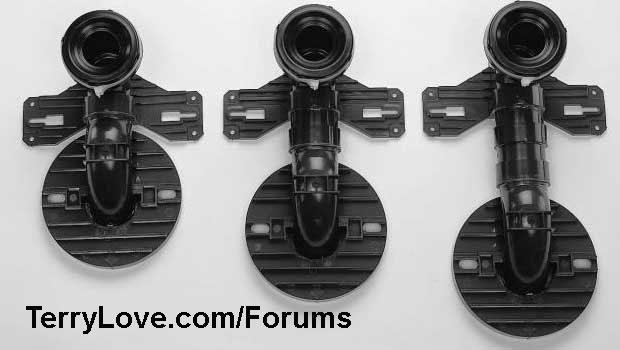 10", 12" or 14" unifit rough in.  Then you install that onto the floor.  Like this.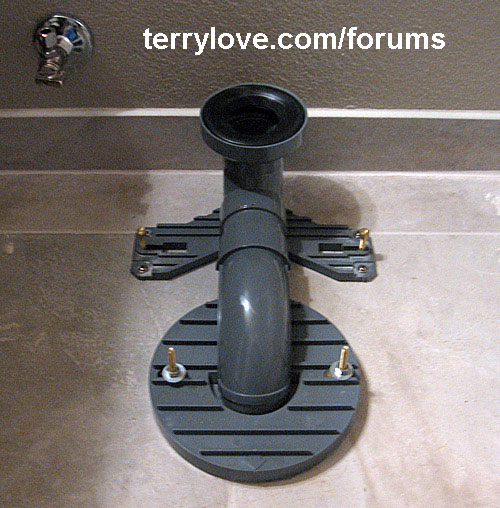 The end of the trapway is recessed into the bowl, and seals with the top of the unifit adapter.
It is more expensive, I have done it because I never had to deal with a clogged Toto.
Otherwise, live with the 2" gap.
I think I'll return the 14" and get one of the 12" ones from Lowes.  It's weird all the home improvement stores and plumbing supply stores here said it won't work even though it will.  
Kyle Hipp

Investor

from

Appleton,

Wisconsin
replied almost 4 years ago
You can also build a toilet topper shelf. It would be about 2" deep to fill the gap, and width just shorter than the width of the tank. Then cut a piece of wood to mirror the top of the tank cover. It just sets on top of the tank top and prevents major tank rock and gives you a nice surface to place items on.
Mark Brogan

Investor

from

Moneta,

Virginia
replied almost 4 years ago
i am a licensed plumber 
i have never seen a problem with a 14 inch rough in 
just install toilet and make sure tank is properly secured 
you should never have any problems 
good luck@Bryan N.  
Pat L.

Investor

from

Upstate,

New York
replied almost 4 years ago
I like to install the all-in-one toilets to avoid the issues with tank bolts & seals. It would also eliminate your fear of a tank breaking from someone who likes to put their feet up & lean back on the throne.
I got the last couple @ an auction for $88 & they have been great.
Missy H.

Investor

from

Bloomfield,

New Jersey
replied almost 2 years ago
@Bryan N. , @Jim Ness , @Kyle Hipp , @Mark Brogan , @Sam Leon , @Pat L.
Great post!!  Now it's 2 years later and I am in the same predicament with a 14" rough in.  Thank God for BP and the community.  My handyman told me that it is a 14" and I looked at Lowes (didn't have it) and HD (have to order it - will take two weeks).  
After reading your post and responses, I will just tell him to install a 12".  The tenants are not big people and I don't foresee them leaning back to read.  LOL!!
Thanks again
Kurt Huck

from

Brookfield,

Wisconsin
replied almost 2 years ago
I have a house that was built in 1950's, in my half bath a 4'x4' room. The previous owner had a toilet put in that must be for a 10" rough in. 4" away from wall! In a 4'x4' small room this is crazy! So now I went to Menards, the guy said all they have is 12". I need a 14". I will now need to do some research for a 14". They are out there but got to look.
Free eBook from BiggerPockets!
Join BiggerPockets and get The Ultimate Beginner's Guide to Real Estate Investing for FREE - read by more than 100,000 people - AND get exclusive real estate investing tips, tricks and techniques delivered straight to your inbox twice weekly!
Actionable advice for getting started,
Discover the 10 Most Lucrative Real Estate Niches,
Learn how to get started with or without money,
Explore Real-Life Strategies for Building Wealth,
And a LOT more.
Sign up below to download the eBook for FREE today!
We hate spam just as much as you
Create Lasting Wealth Through Real Estate
Join the millions of people achieving financial freedom through the power of real estate investing