What Floor for a Kitchen that connects to Oak-Floored Hallway?
8 Replies
Mindy Jensen

BiggerPockets Community Manager

from

Longmont,

CO
posted over 3 years ago
My neighbor is redoing her kitchen. The kitchen connects to the hallway, which has 50-year-old oak flooring she's not interested in changing.
Grey cabinets, white countertops, grey-ish tile backsplash.
Wood flooring is what Pinterest shows, but she doesn't want actual wood in her kitchen, and wood-look tile will look weird butting up to the oak hallway.
Suggestions?
I personally like other tiles and not wood-look anyway. I'm personally obsessed with slate-like tiles, I feel like the dark contrast to white and grey kitchens are really nice, and they sometimes have enough copper-y tones to look really sharp against wood.
I guess something like this -
Johann Jells

Rental Property Investor

from

Jersey City,

NJ
replied over 3 years ago
Agree with tile or stone. If you don't want the real thing there's the 5mm click vinyl planks in stone pattern that I've been using from Lumber Liquidators. Pic from their site: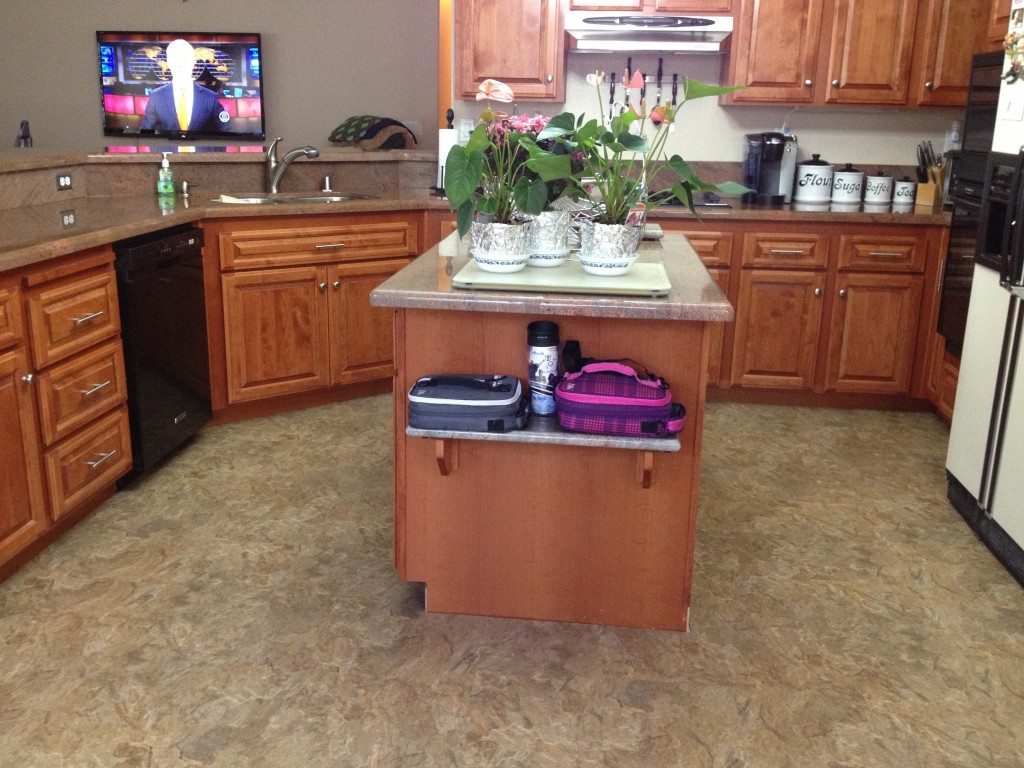 French laid travertine with grey and oak tones. Looks rustic.
Karen S.

Investor

from

Sewickley,

Pennsylvania
replied over 3 years ago
we are using vinyl click tiles from HD in a light gray stone color for a kitchen that leads to a 1950s oak hardwood floor. They are gorgeous! The main difference from real tile is that there are no grout lines or spaces between them. The original floor was asbestos (likely) vinyl tile so need to get that covered and the floor is not level enough for real tile. this is not the tile we used, but it's similar (darker):
Sannita Neutral 12 in. x 24 in. Luxury Vinyl Plank
Ed S.

Investor

from

Oskaloosa,

Iowa
replied over 3 years ago
Silly question:
When small pics are posted here, any way on the site to enlarge them to see more details?
Thanks
Jim Adrian

Architect

from

Papillion,

NE
replied over 3 years ago
I know im probably too late here. There are options here. Ceramic wood looking tile in a different color and pattern would look good. Maybe a "stand bond" pattern or "off center staggered" pattern. Otherwise go completely away from wood. A stone looking ceramic tile as there are lots of color/style options. Sheet vinyl will be the cheapest option again lots of options. Vinyl planks are an option and there are those click-in tile system but no experience with them. Pictures always helps and it also depends on how much they want to spend. PM if you have questions or need help.
I would have them look on https://www.houzz.com/ for ideas. It all depends on their flavor of style.
Marian Smith

Real Estate Investor

from

Williamson County,

Texas
replied over 3 years ago
I have always read light dark light...so unless the cabinets are a light gray, go light on the floor. Natural stone can have weird undertones (pink) and can be higher maintenance. So maybe a light gray stone/travertine porcelain. I like Fusion 100% acrylic grout to minimize staining and eliminate sealing. Home Depot has a nice stone vinyl in their lifeproof collection called scratch stone.
Free eBook from BiggerPockets!
Join BiggerPockets and get The Ultimate Beginner's Guide to Real Estate Investing for FREE - read by more than 100,000 people - AND get exclusive real estate investing tips, tricks and techniques delivered straight to your inbox twice weekly!
Actionable advice for getting started,
Discover the 10 Most Lucrative Real Estate Niches,
Learn how to get started with or without money,
Explore Real-Life Strategies for Building Wealth,
And a LOT more.
Sign up below to download the eBook for FREE today!
We hate spam just as much as you