Kitchen layout - gas range at the end
10 Replies
posted almost 3 years ago
The kitchen layout of this small property looks a little strange to me. It's NYC so you take what you can get. I was just wondering if it is okay to have a gas range at the very end of the kitchen. I've never seen this layout before, and would think that there should be some buffer if a boiling pot of water spills over. Was wondering if anyone knows if there are any building code violations here.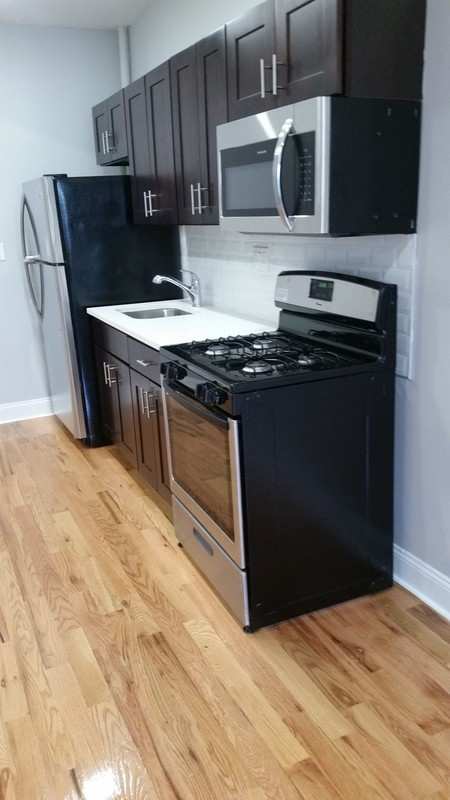 Aaron K.

Specialist

from

Riverside,

CA
replied almost 3 years ago
I've seen this type of layout before what was done when the kitchen needed to be remodeled was a small piece of counter (maybe a foot or less was added on the other side of the stove with a cookie sheet type cupboard underneath. It wasn't super functional but made the kitchen look better in my opinion.
you could add a full height pantry cabinet or a wing wall to the right side of the stove.
you should also think about changing the swing on your refrigerator. If FHA applies to this unit it would be a violation
Jason Lee

Real Estate Agent

from

New York,

NY
replied almost 3 years ago
There is no code violation. It's just poor design to have the side of any appliance exposed. Same goes for the microwave. At the very least it'd be nice to have a decorative panel that covers the side of the wall cabinet and microwave. But again, that's an aesthetic and budget choice. And yes, it'd be nice if the fridge hinged on the left side.
Alex Furini

Architect

from

Brooklyn,

NY
replied almost 3 years ago
You can build a Small knee wall to conceal the side of the range and provide a visual termination point for the kitchen. Its not a code violation, its just not an elegant solution to a small kitchen.
The range being at the end is not a code violation but building codes are not ment to be a design guide but rather a design minimum. If you are worried about a boiling pot of water falling off the right side and burning someone then you should definitely add something to prevent this.
Johann Jells

Rental Property Investor

from

Jersey City,

NJ
replied almost 3 years ago
Coulda been done better, but LORD I've seen worse in my time living in NYC! Like ranges and sinks with no counter whatsoever. Why did they end the cab run when it looks like at least another 15" could have been added?
As for the fridge, lazy delivery guys. Last time for me they claimed I had to tell the salesman that it was going to be left hinge, since they all come right hinge stock. I explained I ORDERED ONLINE AND THERE WAS NO QUESTION ABOUT THAT! It took more bitching by me and calls to management by them before they moved it. I think it was BestBuy.
Dale Carlson

Rental Property Investor

from

Port Washington,

WI
replied over 2 years ago
i see what you are saying on the fridge, but i have had fridges open to the wall, and then the handle blocks the door from opening more than half way. can be a pain, especially if you have the french door fridges!
Mike H.

Rental Property Investor

from

Manteno,

IL
replied over 2 years ago
Based on the pic, it looks like there is some room to the right of the stove for another cabinet. They have 9 or 12 or 15 inchers. And given it looks like a standard espresso shaker cabinet, I'm guessing you might be able to find a color match.
If you can't match the other countertops, then you could throw a butcher block countertop on the new base. Or given how small it is, just replace all the countertop there. It wouldn't be much.
I don't see what else you could do with it though. You don't want the stove next to the sink - thats for sure.
Colleen F.

Investor

from

Narragansett,

Rhode Island
replied over 2 years ago
A base cabinet to the right of the stove, not so much for a buffer but so you have surface area to put utensils and such on. Also you could put a wall cabinet over the base, either one that sits on the counter and holds spices and such or maybe a wine rack type. If it is a regular cabinet and doesn't sit on the counter to look right the backsplash should extend the width of the cabinet.
Free eBook from BiggerPockets!
Join BiggerPockets and get The Ultimate Beginner's Guide to Real Estate Investing for FREE - read by more than 100,000 people - AND get exclusive real estate investing tips, tricks and techniques delivered straight to your inbox twice weekly!
Actionable advice for getting started,
Discover the 10 Most Lucrative Real Estate Niches,
Learn how to get started with or without money,
Explore Real-Life Strategies for Building Wealth,
And a LOT more.
Sign up below to download the eBook for FREE today!
We hate spam just as much as you