I'm not sure how I originally heard about the Realivent site, but there was something tempting about a site that "is looking for beta testers." A few weeks ago I filled out their tester sign-up form, and on Saturday, was admitted into their Beta program. After filling out a simple registration form, I was able to access the various functions of this site, which looks like a consolidator of real estate blogs, news, and property listings.
Here are the site's real estate tools:
Property Listings: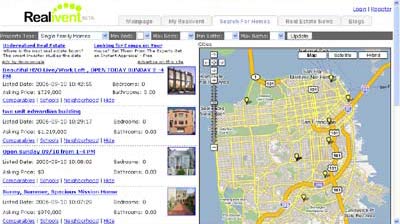 It seems like the site is just scraping Craigslist's listings and integrating the location into Google maps like many of the other real estate mashup web 2.0 sites. In addition to showing the basic property info (asking price, beds, baths) and a photo, it appears as though Realivent will eventually have comparable data, school and neighborhood information. Click on a property listing, and you're taken right back to Craigslist. In its current state, the site only shows a handful of San Francisco listings, and has basic search functionality; this section looks nice, but is not currently functional. I'm not sure if they are going to just crape listings from other sites, or if they will have their own listings — we'll see.
Real Estate News:
The real estate news section of Realivent appears to function like sites such as Netscape, Shoutwire, and the original news rating site, Digg. Users can post links to real estate news with a brief summary, and others can rate that story. Unlike the aforementioned sites, the articles with higher ratings and greater interest do not move to the top of the page; they are simply given a one through five star ranking to determine popularity. In addition to rating articles, the site lets you post a comment about the article, email it to a friend, and lastly, report the story (if SPAM, I'm guessing).
Real Estate Blogs:
Realivent lets users add blogs to the site. This section functions in the same way as the real estate news section, except that once added, articles posted on the blogs will appear on the site. You can rate, comment, email and report any of the stories.
The last thing I noticed about the site is that there is a search bar that includes videos. I'm not sure what kind of videos they intent to have on the site, but it seems like a strange fit with a real estate site.
Overall, the site appears to be an aggregator of various real estate information. It looks nice, but doesn't bring anything technologically new to the online real estate world or the web in general. We'll wait and see what else they bring to the picture once the site is fully functional, and will reserve judgement until then.
The site does not list a date of public release.