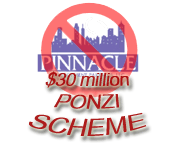 Here is an update for everyone with the latest news on Pinnacle Development Partners LLC. According to Reuters (full article), the U.S. Securities and Exchange Comission (SEC) today filed fraud charges against Pinnacle and its founder, Gene O'Neal, claiming that it operated a ponzi scheme.
"The U.S. District Court for the Northern District of Georgia froze the assets of Atlanta-based Pinnacle Development, which had been running a nationwide advertising campaign, the investor protection agency said . . . Pinnacle promised investors a 25-percent return in 45 to 60 days and a second 25-percent return, and the return of investor capital, after 90 days, the SEC said . . . The exorbitant returns promised to investors were generated by the partnership selling the property to other investor partnerships controlled by Pinnacle, the agency said."
This afternoon, Hays Financial Consulting, LLC was appointed receiver by the US District Court.
We have been operating a discussion thread about Pinnacle Development Partners here on BiggerPockets since August 8, 2006, which has generated huge interest, hundreds of posts, and tens of thousands of visits. Linda Baldwin at the Hays posted the following message this evening on our forums:
To all Pinnacle Investors:

I was appointed Receiver by the United States District Court this afternoon for Pinnacle Development Partners, LLC. I have been investigating Pinnacle since that time. My principal effort today was to secure assets and freeze bank accounts. The Receiver's team and I will be working diligently to identify other assets to secure on behalf of investors.

My investigative team in this case is comprised of accountants, fraud investigators, lawyers and computer experts. Today we met with all Pinnacle employees and began a hands-on investigation. We will be at the Pinnacle offices all day tomorrow.

We have posted the SEC's complaint and the Court Order appointing me as Receiver on my web site at: www.haysconsulting.net. Please click on the Pinnacle logo on the home page to view these documents. We will post additional information for investors as it is available. We will write periodic reports to keep you advised of the status of our investigation.

PLEASE DO NOT CALL MY DIRECT OFFICE LINE AT THIS TIME. This evening, my voice mail inbox was full, which prevents me from receiving important messages in connection with my investigation. I understand there are over 2,000 investors. Please understand that I can't possibly return all of your calls and emails while undertaking the important task at hand.

We will draft a claim form and post it on the website in the near future. At this time please gather all documents regarding your investment along with copies of your checks so that you are prepared to complete the claim form.

We will provide periodic blog updates and we will write interim reports which will be posted on my website. Additionally, we will set up a hotline as soon as possible.

S. Gregory Hays

A final message from Linda (Value Adder); I have posted my real name as well here to further show that we are genuinly concerned for each one of you. I will also set up a user account for Greg so that he may also post updates directly. Thank you, in advance, for your understanding while we begin to investigate and recover assets for you, and thank you to Joshua for maintining this forum for the investors. If we work together it will bring a better result for all.

Linda Klinner Baldwin CPA, CFE, CIRA
We'd like to thank Linda and Gregory at Hays Financial Consulting for keeping everyone in the loop. We will continue to bring news of this company to you through this blog and through our discussion forum.
For more information about Pinnacle, read:
– 9/21/06 Pinnacle LLC Under Investigation
– Pinnacle Development Partners LLC Discussion