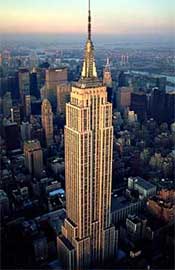 Thank you, Josh, for inviting me to join the Biggerpockets.com blog community! And I also wanted to congratulate him on his recent nuptials & honeymoon to Thailand & Hong Kong. I've spent some time there myself, & they are such amazing places to visit, Thailand with its exquisite beaches & Hong Kong with its fast-paced vitality. Speaking of fast-paced, vital cities, I'm writing from New York. Love it or hate it, there's always something happening here! It's fun to be living here, & although the competitive nature of the place gets to me sometimes, I still can't imagine living anywhere else.
New York City has probably led the country in the real estate run-up, & though many say that prices are softening, I don't really see all that much of it. Maybe the bidding wars of years past have subsided somewhat, but prices here can still take your breath away. There's still a lot of new construction going on, & those prices are still astounding. Here's 2 examples of some family-size apartments in these new developments that I have personally looked at for my family of 4:
170 East End Avenue: Apt. 12 B (3 BR, 2,716 sq. ft.) at $5,395,000
310 East 53rd St.: Apt. 11C (3BR, 2,313 sq. ft.) at $3,550,000
Both are beautiful, glass-encased beauties, with the one in midtown (E. 53rd St.) slightly priced better, probably because of its midtown location, a less residential area that is further away from most schools. The developments downtown in the financial district are priced even better, but who wants to spend the whole day in transportation in getting the kids to and from school?
Of course, when my husband & I visited the sales offices for the properties listed above, our eyes sort of just glazed over. They are so far from what we are able to afford, but yet as middle-class citizens of Manhattan, is it so ridiculous for us to be interested in a nice, new 3BR apartment? The answer, unfortunately, is yes. Meanwhile, we retreat to the comforts of our cramped rental apartment & the search continues….