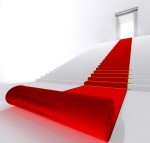 I wanted to extend a warm welcome to Bea Chenowitz, a new contributor to our blog. Bea is a wonderful writer from New York, and will help share her unique views of this crazed real estate market.
Here is a brief bio she threw together for us:
"I have lived in New York City for 16 years, and sadly, my number 1 passion is looking at real estate ads and going to open houses for fun. Currently living in a rental apartment after having bought and sold real estate in Manhattan, I really would like to buy something again. If I can only persuade my husband, who seems pathologically unable to pull the trigger."
Please help make Bea feel at home here!