You don't need the construction skills of Bob Vila to be a rehab professional, yet it's no secret you can save if you do some of the work yourself. As a general rule, estimates from contractors in our area run 1/3 for materials and 2/3's for labor. So theoretically, we save 66% by doing the project ourselves, right?
Well… maybe.
To decide, consider:
Cost of materials: Can materials be purchased at contractor cost or will you pay a hefty up-charge? Is it possible to find materials at salvage or a Habitat-type store to increase your margin of profit?
Cost of time: How much longer will this take to DIY? And in real dollars, how much will this add to holding costs? Holding costs include but are not limited to mortgage payments, insurance (generally higher when property is empty and/or under construction), utility bills, and lost rent. If it takes 2 weeks working nights and weekends to complete a project your contractor can finish in 2 days, add 10 days of holding costs.
Just an Opinion:
The decision to DIY should be a simple mathematical equation where you:
price materials
estimate the time needed to complete the project
multiply the number of days/weeks by the daily/weekly rate for holding costs, then
subtract that amount from the contractor bid
Of course it's not that easy… how much fun would that be?
For starters, you may not be delaying completion of the project if other work is going on anyway. Contractor delays are a common problem and if your's has a history of putting off your projects for another day, you might be able to finish sooner than he can anyway. But besides that, there's value hidden away in DIY projects that can only be mined by rolling up the sleeves and getting your nails encrusted with something icky.
By learning a new skill, you increase both ability and confidence. You're also learning to identify quality work, the amount and difficulty of labor, special tools needed for the job, and reasonable time estimates for completion. If you decide to hire someone next time, you'll have a much better idea what's involved in the project and if bids are reasonable. That type of knowledge is invaluable to the rehab professional, paying dividends with every new project.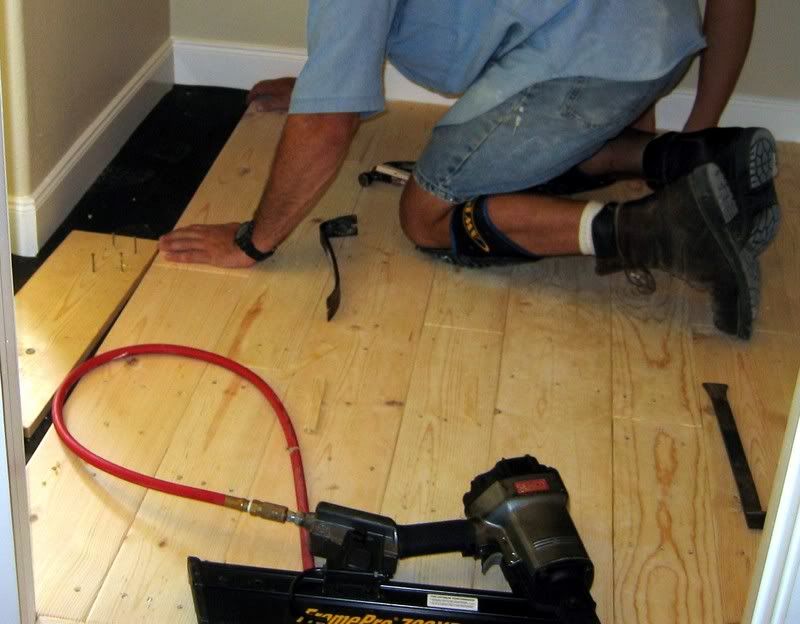 One of the mister's favorite DIY projects is installing pine flooring in our rent houses. For more info, click here.
Just Another Opinion:
Consider taking on at least one new project with each rehab, even if it's as simple as replacing a light switch or changing out a door knob. With experience, you'll learn which repairs save the most and which are best left to others. During your first few houses, try to be as hands-on as possible and consider it part of your rehab education.
If you have no handy-man skills whatsoever, you might try working alongside your contractor (if he'll have you). He may tell you to pound sand (politely of course), but if you have a good working relationship, it's worth a shot. Later, you may find that hiring reputable contractors for most (if not all) of the work will save enough in holding costs to justify the expense.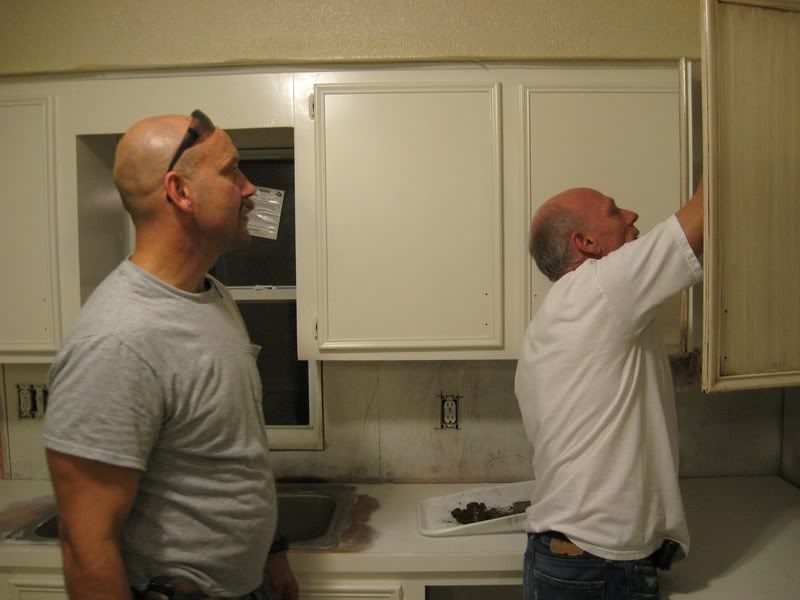 Working alongside a professional is one of the best ways to learn a new skill. Here, Mr. Brz watches while our friend Marc Bridges demonstrates proper glazing technique.
And working with a friend is lots more fun. We'll probably need Marc to teach us something else next time around.