BiggerPockets Gets an Upgrade!
After crossing the 20,000 member threshold last week, early this week we launched the next stage in development for BiggerPockets.com. Some of the changes have been only months in development, while we've been working on others for a few years. Of major note are the forums, groups, and articles
Lets take a look at what's new!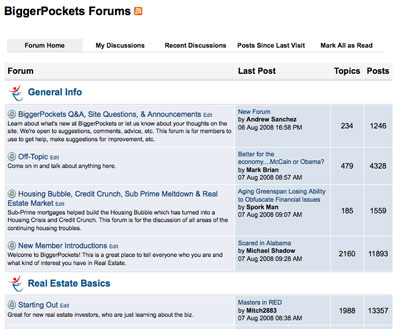 Our newly upgraded forums are built on a completely custom platform.
The forums are loaded with RSS Feeds. Members can now subscribe to a feed from the forum as a whole, any forum category, or any discussion thread.
My Discussions: In launching the new forums, we've made it much easier to find all discussions that you've been posting in with the My Discussions tab.
Recent Discussions: Tracking the latest posts on the forum couldn't be easier! Now, just go to the Recent Discussions Tab and you'll be able to see the last several hundred posts on BiggerPockets.
Abuse Reports: Members can now easily report any abusive posts, spam, or other unwanted posts on the forums with the Report Abuse link found on the forum.
Quick Reply – We've added the ability for a member to quickly respond to a post with the quick reply button. You no longer have to wait for a new page to load before you respond to a discussion. Hit quick reply and get your post in before you forget.
Monitor Topic – We've improved the ability for members to monitor and track topics. Users can select to be notified when a topic is updated with new posts, and can track all monitored discussions through the forum section of their dashboard.
BiggerPockets members now have the ability to create or join customized groups for their interests. There are three types of groups: Public, Moderated, and Private. Public groups are those that any BiggerPockets member can join. In a moderated group, the groups moderators or administrator has to authorize your membership, but anyone can choose to join. Finally, private groups are invite only.
Groups are the perfect way to network with people in your community, city, state, region, or country.
Groups are also perfect for networking with other local professionals or people of any other interest.
Group members have their own private forum
Group founders (administrators) and moderators (set by the admin) can post news or announcements for the group, where members are notified by email and kept in the loop (you can shut your notifications off in your settings tab of the Dashboard).
Group members can invite any of their colleagues to the group, or they can invite people who are not yet members of BiggerPockets with the email invite function. Once someone joins the site through this method, they automatically are registered as a member of your group.
Groups allow people to essentially create mini communities within the overall BiggerPockets community.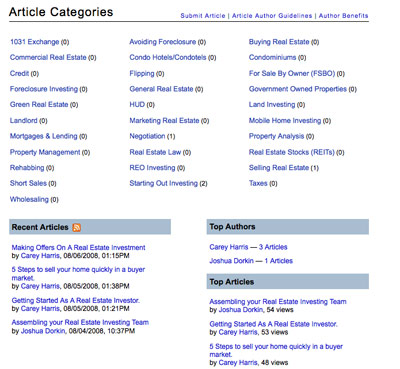 The BiggerPockets article directory, like the group functions, is brand new! All members of BiggerPockets can submit an article to the directory and share their expertise with others on the site and around the web.
One of the most effective methods of marketing your company, product, service is by writing relevant articles on related topics. Not only is it free to submit, but you can syndicate these articles across the web through our platform. Article directories are incredibly popular and we've set out to build the first Free Real Estate Article Directory that is open, not only to the gurus and "experts", but also to the citizen expert – the guys on the ground who are really doing it.
Our New Article Directory allows members to:
Submit any real estate related article for inclusion in our directory (all articles must be approved by the site admins and must fufill our quality guidelines)
Include a signature/byline with their articles for marketing purposes. These signatures may contain contact information, notes about your product/service, and may also contain up to 2 links to your website(s).
Subscribe via RSS Feeds, to all articles, articles of a specific topic, or articles from a specific author.
Save their favorite articles in their Dashboard for easy retrieval
Dashboard:
Our Dashboard has been completely redesigned for ease of use.
Profiles:
Members can now see their latest forum posts, article submissions, and group memberships on their profiles
Privacy:
BiggerPockets is a professional website for people in the real estate industry. As such, and as other similar networks have done, we've begun to move away from the use of member usernames across the site and forums. That said, some people don't feel comfortable posting on the forum with their real name, so we've included the option to show your real name or user name when posting on the forums.
What's Next?
We've got a lot more tricks up our sleeves and are going to be bringing even more great features to the site to help our members with their real estate marketing, education, networking, and dealmaking.