Just Launched: BiggerPockets Bulletin!
Yesterday afternoon we launched BiggerPockets Bulletin!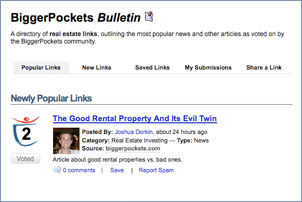 Members can use this social bookmarking application to share their favorite real estate related stuff with their friends, colleagues, and the world.
Features include:
Post real estate related links, photos, movies, articles, blog posts.
Vote on your favorite Bulletins and help make it popular.
Share your thoughts on different Bulletins by leaving comments.
Save your favorite Bulletins in your Dashboard.
Email cool Bulletins to your friends and colleagues.
Some benefits of sharing your content include:
Exposure from a vast audience of people in the real estate world
Increased traffic to your website and posts
The opportunity to get new feedback from our users
A new way for people to share your work with others
We've heard some skepticism about the idea because other sites have been built with the same goal, but these have all been overrun with SPAM and nonsense. Between our filters and moderators, we will be working to ensure that BiggerPockets Bulletin does not fall victim to the same problems as these other sites. Additionally, we've already got a built-in audience of well over 100,000 monthly unique visitors to keep the traffic flowing.
Jump on BiggerPockets Bulletin Today and start sharing!