Download Your FREE guide to evicting a tenant!
We hope you never have to evict a tenant, but know it's always wise to prepare for the worst. Navigating the legal and financial considerations of an eviction can be tricky, even for the most experienced landlords. Lucky for you, the experts at BiggerPockets have put together a FREE Guide to Evicting Tenants so you can protect your property and investments.
If you're part of the BiggerPockets community, you already know there are some awesome opportunities in real estate.
It's a profession like no other, with amazing potential to build wealth and financial freedom.
Source:

calitreview.com
…but sometimes the journey can be difficult, and it's not uncommon to feel "burnt-out" on real estate investing.
Source:

ebaumsworld.com
So how can you find the strength to keep going when you're mentally exhausted and ready to give up?
Source:

littleanimalgifs.tumblr.com
1. First of all – let's acknowledge that
it's okay to have bad days

…      we've all been there.
Source:

reddit.com
2. Even the most successful investors experience regular setbacks in their journey.
Source: 

ebaumsworld.com
3. Sure, the learning process can be time-consuming. It might even leave you feeling drained of all energy and motivation.
 Source:

i.imgur.com
4. …but don't forget about the excitement you felt during your first week as an investor!
Source: 

ebaumsworld.com
5. Do you remember the thrill of closing on your first profitable deal?
Source: 

ebaumsworld.com
6. If you haven't experienced it yet, TRUST ME –
it's worth the trouble

.
Source: 

ebaumsworld.com
7. You don't need a builder's license to start making money in real estate.
Source: 

lavenderflames.tumblr.com
8. With the right connections and relationships, you can have sellers calling YOU.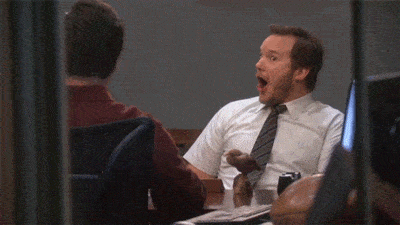 Source: 

ebaumsworld.com
9. There is
always

opportunity for real estate investors. Even when the market is doing this:
Source: 

reactiongifs.us
10. With enough experience, you can start identifying motivated sellers within the first few minutes of conversation.
Source: 

ebaumsworld.com
11. It's an amazing feeling when you make an offer to someone and they say "Yes".
Source: 

ebaumsworld.com
12. That first taste of success can change your whole outlook about life. Your boss might even wonder what's gotten into you.
Source:

senorgif.com
13. If you stay consistent and stick to your strategy, your banker and accountant will be amazed when they see your rapidly-growing bank account.
Source: 

ebaumsworld.com
14. It's important to recognize that when someone is trying to discourage your dream…  this is usually how they feel about their own day job.
Source: 

ebaumsworld.com
15. After all, it doesn't feel good to wake up each morning and realize you're still poor and broke, with no options in life.
Source: 

ebaumsworld.com
16. Remember, you're on the path to a retirement that looks like this…
Source:

i.imgur.com
17. …and there is nothing better than when someone says you can't do something – and then you do it.
Source: 

reactiongifs.us
Photo: echo0101