Transporting a mobile home may seem as easy as hitching the home up to a truck and pulling it down the road. However, there are obviously more steps to the process than that. Between physical limitations, costly mistakes, legal setbacks, and general human error, there can be a number of mistakes that may happen along your journey. This article contains five must do's when transporting or moving a mobile home.
5 Things You Must Do When Transporting or Moving a Mobile Home
1. Get referrals.
Many mobile home transportation companies may disappoint you. Over the years working with multiple mobile home movers and mobile home transportation companies, I have heard lies, I've been the victim of theft, and I've been taken advantage of multiple times. When having a company completely pick-up, move, and set up an entire investment property, make sure you're dealing with reputable, honest, and qualified people.
Pro Tip: Reach out to local mobile home parks and local mobile home dealers to find out who they use on a regular basis to move mobile homes. Let these mobile home parks and dealers tell you who they would recommend and refer you to when it comes to moving and setting up manufactured homes.
Related: 4 Reasons Mobile Home Investors Have a Natural Edge in Many Markets
2. Pull permits.
In most areas throughout the country, permits to move the home and set the home up in a new location are oftentimes required before transporting a mobile home. Many movers may handle this process for you. In addition to "moving permits," you may also be required to obtain electrical, plumbing, and gas connection permits. The local mobile home park or city you are moving to should be able to point you in the direction of the permit office or local contractors/professionals that will be able to connect these utilities and pull permits on your behalf. If not moving this to a nearby pre-exisiting mobile home park, still call these folks to ask around for competent electricians and/or plumbers.
Pro Tip: Make sure to call multiple movers to ask them what services are included and what prices they would charge to move a 14 x 70 mobile home 50 miles or less. This will give you a good gauge as to who is offering what price and what is included for this money.
3. Know laws and zoning regulations.
This ties in very closely to permits, but before pulling permits, make sure to call the local zoning department in the area where you will be moving the mobile home. You are calling the zoning department to find out what restrictions are placed on used mobile homes being moved into the city, county, parish, or township. For example, some cities may require only homes 20 years and newer to be moved into the city. Other areas may have restrictions on the sizes of homes, the exterior construction, the foundation, and the specific rating of the home when it comes to wind protection or snow loads.
Pro Tip: Make certain to ask the local zoning department about setbacks on the property you are planning to move the home to. If this is private land you own, you will need to know what distance the home is required to be from the edge of the property. However, if this mobile home is being moved to a pre-existing mobile home park, the park manager will typically already understand the setbacks and tell you and your mover exactly where the mobile home should be placed.
4. Connect utilities.
Correctly connect all utilities once the home is moved. Some mobile home transportation companies offer a "one-stop shop" when it comes to moving and connecting the home to utilities. Other manufactured home transportation companies will tell you to outsource these connections to a locally licensed electrician and plumber. Make sure to call around to compare prices with various electricians and plumbers. Many plumbers and electricians will pull permits directly for you where applicable.
Related: What Investors Should Consider When Buying Insurance for Mobile Homes
Pro Tip: Almost all mobile home transportation companies do not reinstall mobile home skirting once the home is moved and set up correctly. The movers will tie the home down securely to the ground so the mobile home is up to code, but skirting will still need to be added. The reason this is not included is because often the mobile home will be placed at a completely different height off the ground than the previous location. This will require all new skirting be cut and added to the mobile home. Skirting materials and costs will vary.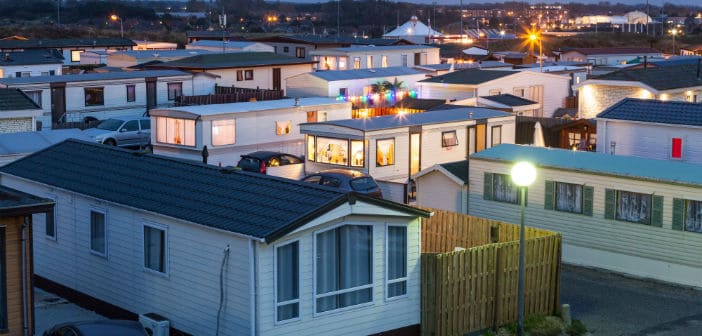 5. Learn park rules.
Mobile home parks are typically owned by a single owner or a group of owners. These owners write the rules when it comes to what procedures need to be followed once a mobile home is moved into the community. Some rules that may directly apply to you as an investor are that the community may require all used mobile homes moving into the park to be or have:
Vinyl siding
Built after 1990 (or other age)
A certain length and width
A deck added at all doors
A carport added
The tongue and hitch removed
A shed added
Curb appeal with landscaping
In conclusion, if you are an active mobile home investor, it is not a question of if you will move mobile homes but when you will be moving mobile homes. In all reality, when you are working with a competent and experienced mobile home transportation company, the process of relocating a manufactured home may be very simple and easy for the investor. Do your research now. Put in the time and energy to vet local mobile home transportation companies now before you need the help.
What would you add to this list?
Leave your comments below!