Free Webinar
The world's #1 destination for those looking to use real estate to better their financial future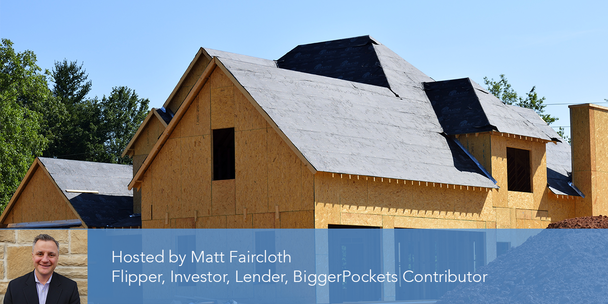 DECEMBER 17, 2018
2:00pm - 3:00pm PST
How to Analyze Any Rental Deal in 20 Minutes or Less
In order to be a successful investor, let's be honest - you need to become a MASTER at analyzing rental deals accurately and quickly. This "must have skill" will not only save you tons of money but help you avoid buying "bad" rental properties. In this free webinar, Matt Faircloth (Author of BP's new book on Raising Private Capital) is going to help you strengthen your skillset to become a master at analyzing any rental deals.

We'll be covering:
How to REALLY find great deals in ANY market
A deep dive into the 1% rule, neighborhood factor, 50% rental income rule
Real life case study of one of Matt's rental properties
Analyzing REAL rentals deals together and determining "deal or no deal"
Plus a lot more!

Don't miss this fast paced FREE online webinar! Sign up now to hold your spot!
How to Analyze Any Rental Deal in 20 Minutes or Less
MONDAY December 17
2:00pm - 3:00pm PST
DECEMBER 19, 2018
4:00pm - 5:00pm PST
How to Evaluate and Offer on Rental Properties
Everyone knows rental properties can add to your net worth and provide consistent cash flow. But how do you ensure you build your portfolio with solid properties that make that goal a reality?
On this FREE webinar, Brandon Turner (co-host of the BiggerPockets Podcast) shares the exact step by step process that even "newbies" can use to weed out the bad deals and snag the best!
How to Evaluate and Offer on Rental Properties
WEDNESDAY December 19
4:00pm - 5:00pm PST