What is the REAL rate of inflation 2.5% or 12.5%?
2 Replies
In my opinion, inflation rates are extremely understated, please see these two articles that drive the point home:
http://www.businessinsider.com/if-people-knew-the-...
https://www.zerohedge.com/news/2017-05-09/devonshi...
Essentially, in times when the dollar is depreciating rapidly, in our situation due to excessive years of "easy money" and quantitative easing by the Fed, low fixed-rate debt is the best tool to combat inflation. The way that I have rationalized it is that, if I can lock in an interest rate (say 4.375%) that is below the real rate of inflation (7.5% minimum), in this case several magnitudes, I can come out way ahead. The CPI has been manipulated to exclude the cost of day-to-day living, and intuitively we know this because we have less buying power year after year, consider the price of any staple you consume.
Current Prices vs. Historical Prices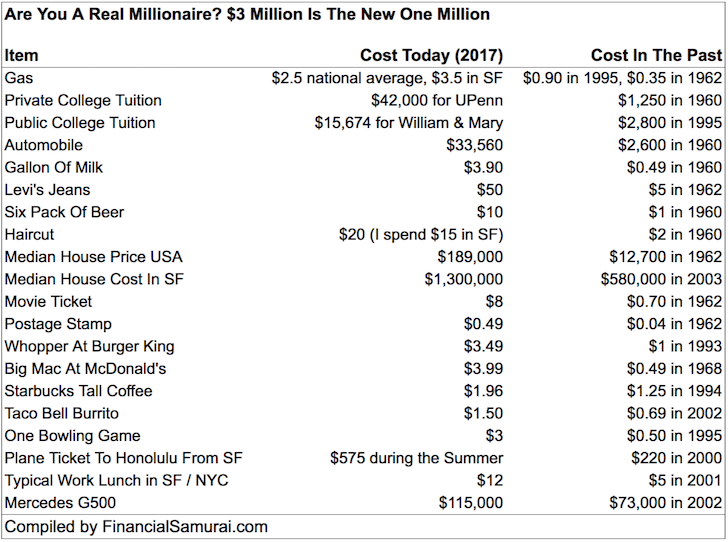 Source: https://www.financialsamurai.com/are-you-a-real-mi...
We had the dot-com bubble in the late 90's, followed by the housing crisis (collapse) of 2008, and in my opinion the dollar is the next bubble, see Forbes article below:
https://www.forbes.com/sites/kenrapoza/2015/01/26/...
Additionally, if you do agree that there is a much higher inflation rate than the Fed reports, stashing cash and earning interest below 8% is a LOSING proposition.
So, my bulletproof investment formula is the following:
Maintain at least a 40% savings rate, invest your savings at >8% returns to outpace the real rate of inflation, save until you can afford to put a large deposit down, flip that into a low fixed-interest loan, to generate at least a cash-flow neutral investment return on an appreciating asset. 
Will G.

Rental Property Investor

from

Maryville,

Tn
replied 10 months ago
great post, still not sure though. Adding money to the system is inflationary, but a lot of that money was added in response to a credit bubble popping(deflationary force) Our economy is built on credit and there is more of it now than  in 2008, (think effects of artificially low interest rates) so if for instance, the govt decides to forgive all student loan debt, that removes a trillion from the system which is deflationary. If the giant amount of subprime auto loans go bad that also removes money from the system and deflates. The other hugh factor is velocity, you can double the money supply but if it all goes into savings,  and is not spent it is essentially the same as removing the dollars from the system. The other thing that makes me cautious is EVERYONE(except harry dent) is counting on hugh inflation, and you know if everybody thinks the market is going one way it usually goes the other. I am not picking on your stratagy, and will prob act similarly, just not convinced its already baked in. Certainly wish we had a stable monetary system and were not constantly having to change strategy every few years!
Bill F.

Rental Property Investor

from

Wilmington,

NC
replied 10 months ago
@Sean Griffin Great savings advice no matter what the inflationary environment looks like.
Interesting thoughts and articles, though the Zero Hedge is a but more well constructed than the Business Insider; the burrito index is a joke. My issue is that they all focus on the CPI and paint it as the only measure of inflation, but its not. The Fed doesn't even use the CPI to measure inflation, it uses the PCE. 
 Zero Hedge bring up some valid points about the widely varying measurements, what is excluded from both measures, and and points to some reasons. However, I come back to Occam's Razor. It could also be that inflation is really really hard to measure never mind do so accurately. 
Over the past 35 years the costs of wants (TV, electronics ect) have dropped, while our "needs (education, food, housing) have soared (I'll point out the the majority of "needs" that have risen in price are heavily subsidized by the government) and that is a factor in keeping the average America's from growing their wealth.  Also American's adversarial relationship with saving money and an addiction to debt don't help the problem.
Also, love reading Sam from FS. Glad to see someone else on BP does too.
Free eBook from BiggerPockets!
Join BiggerPockets and get The Ultimate Beginner's Guide to Real Estate Investing for FREE - read by more than 100,000 people - AND get exclusive real estate investing tips, tricks and techniques delivered straight to your inbox twice weekly!
Actionable advice for getting started,
Discover the 10 Most Lucrative Real Estate Niches,
Learn how to get started with or without money,
Explore Real-Life Strategies for Building Wealth,
And a LOT more.
Sign up below to download the eBook for FREE today!
We hate spam just as much as you
Create Lasting Wealth Through Real Estate
Join the millions of people achieving financial freedom through the power of real estate investing