$200k in six months - long distance RE challenge
228 Replies
Sam B.

Rental Property Investor

from

Houston,

TX
posted almost 3 years ago
I day traded currency futures in a past life and always kept an online journal to keep me accountable, share what I was doing with the community and have a little bit of fun.
Even 10+ years later, I enjoy reading back over it, reliving the sweaty palm wins, the heart sinking losses and more importantly, seeing the evolution of my mentality and how I dealt with the highs and lows of risk, wins and losses.
With that said, I've set a challenge for myself to make $200k in equity over a six month period, June-Dec 2018, investing in a market that I know well but am not physically located in.
Details are below - enjoy.
Goals

1) Buy (5) single family properties in 2018 and get them refinanced into long term mortgages

2) Purchase under market and achieve a minimum of $40k in equity per property after all repairs are completed

3) Cashflow $250-400/mo after expenses & debt service per property

Funding

1) A single line of credit established on an existing single family property

2) Private money from existing private money lenders that I've worked with over the years

3) New lines of credit that I'm currently in the process of setting up on existing properties - probably will not be established until late August

Background

I work in oil & gas and I'm currently on assignment in Mexico and will be here for another 10 months. The area I'm focused on is Southeast Texas, where I know the market, rents are strong and rising, housing supply is limited and there is major industrial capital expenditure committed to the area over the next 10 years.
I'm an experienced investor, having built my portfolio almost entirely while abroad and avoiding turnkey companies. I focus on building quality teams, finding decent opportunities and most certainly over-communicating.

The Team

1) Project coordinator – my boots on the ground. This is our first project together but we've built a relationship over the last few months and he's an active investor in the area.

2) Various contractors, some that I've worked with before, others only via reference. Despite not being in a HCOL, contractor prices tend to be higher in Southeast Texas due to labor demand in the area. A high school graduate that wants to work 60-70 hours a week can make $80k+ and those with further aspirations can make much more in supervision. So trying to find a decent contractor at a reasonable rate is difficult. Hurricane Harvey has further compounded this problem as rates have skyrocketed.
3) Agent - young, hungry, willing to write a lot of offers.

Let's get started!
Account Closed
replied almost 3 years ago
replied almost 3 years ago
Sam, I know some monied interest looking to get involved in Houston area. Can we connect?
Property #1
Purchase Price: $83k
Estimated Rehab: $52k
Estimated After Repair Value: $230k ($100 sq ft)
Estimated Monthly Rent: $1800
Source: MLS
Funding: Purchasing cash via line of credit, private money
Rehab Schedule: Six weeks

This 2300 sq ft home is in a desirable local neighborhood consisting almost entirely of owner-occupants. Two level, two car garage on a large lot. My project coordinator has a flip on-going in the same property that went under contract at $111/sq ft and there are another couple coming on the market at $105/sq ft (expecting over asking), so I feel my comps are conservative at $100/sq ft.

This house flooded during Hurricane Harvey with the lower level being impacted. The remediation was performed prior to myself purchasing it and I obtained the certificate with the closing documents. Being that this is my first flood rehab, I did a good bit of research prior to purchasing and also put in a good bit of padding in the scope of work.

Scope of Work Summary

Insulation and drywall for walls on the first floor. Doors, door trim, paint, baseboards, flooring, kitchen and downstairs bathroom. The previous owners were living in the house, upstairs, so I know that HVAC, electrical, plumbing and water heater is probably OK. The intent is to leave the upstairs as-is, clean the carpet and repair the carpet on the stairway (see photos below).

This is a rental property and I don't want to over renovate.

Scope of Work Details/Estimate: (first pass, before getting inside the property or getting contractor bids):

Drywall (Walls) floated & taped all-in @ $7500
Insulation all-in @ 1500
Paint all-in @ 3000
Flooring Install/Carpet Repair all in @ 3500
Floor Baseboard all-in @ 1000
Door Jam/Trim all-in @ 750
Kitchen Cabinets all-in @ 5000
Kitchen Countertop all-in @ 1500
Kitchen Sink/Faucet all-in @ 300
Dishwasher all-in @ 600
Fridge all-in @ 350
Stove all-in @ 350
Bathroom Vanities (x1) all-in @ 800
Bathroom Shower (x1) all-in @ 3000
Bathroom Toilets all-in @ 300
HVAC all-in @ 5000 (left in as contingency - HVAC operating OK)
Hot Water Heater all-in @ 800 (left as contingency - Water heater operating OK)
Interior Doors all-in @ 2000
Interior/Exterior Lighting all-in @ 1000
Electrical all-in @ 1000
Plumbing all-in @ 1000
Misc all-in @ 10000 (being my first flood house and limited inspection performed, I'm leaving $10k missed scope/overruns)
Project Coordinator all-in @ 1800
TOTAL @ 52,000

Listing Photos
The interior concept will consist of grey walls, white ceilings, dark floors. Concept photos below...
Some budget updates based on actual spent...
Drywall (Walls) floated & taped all-in @ $7500 actual $7926 all-in now. My materials estimate was short.
Insulation all-in @ 1500 actual $1367 all-in now. My material estimate was a little long.
Paint all-in @ 3000 actual $3950 all-in now. My materials were based on lower quantities (painting only downstairs). After feedback from the coordinator and others, I'm going to repaint the upstairs as well as the downstairs for better flow and to eliminate any lingering flood water smell. Same goes with the carpet, see below.
Flooring Install/Carpet Repair all in @ 3500 actual $6000 all-in now. The upstairs carpet soaked up the flood smell and will be ripped out. I'll run the same dark laminate upstairs as I am downstairs.
Floor Baseboard all-in @ 1000 actual $1750 all-in now. Updated to include increased quantities per the above.
Insulation and drywall kicked off, paint to start after.
The flooring/kitchen/bathroom contractor went through to assemble his estimate. Waiting for that to come back and it should be interesting. This guy is new to me but comes heavily referenced from guys I trust. Just worried he may be coming in too high......always fun seeing how your estimates mate up to actuals :)
Progress photos...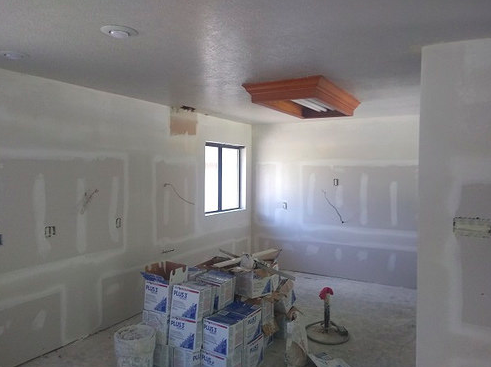 I will be following this thread! :D
Property #2 has closed, numbers below.

Property #2
Purchase Price: $87.5k
Estimated Rehab: $40k
Estimated After Repair Value: $157k (1825 sq ft, $86 sq ft)
Estimated Monthly Rent: $1600
Source: Wholesaler, off-market
Funding: Purchasing cash via line of credit, private money, personal loan
Schedule: 4 weeks

This 1825 sq ft home is in a good area of the best local zip code and elementary school. Owner occupant mix vs renters @ approx 70/30.

Single level, two car garage on a large lot. Comps are conservatively $86/sq ft, rents conservatively $1600 (likely closer to $1750+).

No history of flooding, the home is in good condition and requires mostly a cosmetic rehab. The below rehab goes all-out but I think I can cut the kitchen and cut a large portion of the flooring (leave the wood floors in place, just replace bathroom and kitchen flooring) - kitchen, leave the cabinets, replace hardware, replace the countertop with granite and new sink/faucet. Potential savings there...but we'll keep the budget fat for right now and slim it down as we go.

Scope of Work Summary:

Complete interior paint inside, baseboards, new flooring throughout entire home, brand new kitchen cabinets/countertops. Bathrooms - cosmetic rehab only, likely paint over tile, new flooring, new vanity, toilet. HVAC, electrical, plumbing and water heater are OK, shouldn't have to touch much of that.

Scope of Work Details/Estimate: (first pass, before getting inside the property or getting contractor bids):

Paint interior all-in @ 4000
Flooring Install all-in @ 5000
Floor Baseboard all-in @ 1700
Kitchen Cabinets + Countertop all-in @ 7000
Kitchen Sink/Faucet all-in @ 300
Bathroom Rehab x2 Cosmetic all-in @ 3200
New Lighting Interior/Exterior all-in @ 3000
Exterior Paint all-in @ 4000
Misc all-in @ 10000
Project Coordinator all-in @ 1800
TOTAL @ 40,000
Listing Photos
Update

Property #1: Paint has been completed and it looks good. Flooring underway.

The original contractor that I had high hopes for to finish the house came in sky high on his estimate - $26k for flooring upstairs and down, baseboard, bathroom, doors hung, door trim, kitchen installation, stair repair and dealing with the fireplace. Labor only (ha).
No doubt this guy will perform top notch work but after respectfully grilling him on prices ($3/sq ft for click lock laminate flooring install - I can install 200sq ft per hour myself, 350sq ft per hour with a helper), $3/linear foot for baseboard - ehhh...chalk it up to post-Harvey inflation.

I sent it out to estimate again, my drywaller/painter came back with a decent price and we're moving forward. A bit of a gamble as drywall is his expertise but the work is not complex, just labor intensive, so we'll give it a shot.
I'll update the scope of work prices later this week but in short, we're doing all flooring, baseboard, doors hung, door trim, refreshing upstairs bathroom (paint), total downstairs bathroom rehab for $10.5k. Kitchen install will be sub'd out to an all-in specialist.
Progress photo updates of the interior paint shown below - The wall gray was a lot lighter than I wanted but I had to make some sacrifices to keep the contractor moving - my first choice was backordered a couple of weeks.

ALSO - I'm looking into painting the exterior and possibly adding some trim to pop like the below - I would leave the brick as-is (just power wash it to remove flood related grime). This will bust the budget a bit but I think the value is there for curb appeal.

Excuse the mess in the progress photos, it's not my contractors fault - My 15yd dumpster was late.
Exterior painting concept below
Sean H.

Flipper/Rehabber

from

Pittsburgh,

PA
replied almost 3 years ago
Great job so far. It looks like you may have set your goal a little low if you have two deals and over 60% of the way to your goal and it's not even August!
How are you compensating your boots on the ground?
@Sean H. Thanks Sean. And we'll see - projected margins are often a lot different than actuals, as you know. We'll see how things shake out in the end.
Boots on the ground is paid a fixed fee, 50% upfront, 50% once the project is completed.
I've structured these arrangements differently in the past, especially if the project coordinator brings his own contractors and/or if the rehab is fixed price- I'll install a schedule and budget bonus to keep him motivated to push the contractors and maintain budget. Money well spent, depending on the situation, especially once you start factoring in holding costs & vacancy if a project slips a week or two.
Update
Property #1: Floors on-going, kitchen design shown, granite picked out, picture update below.
Update
Property 2: Dumpster delivered, demo on-going - living room to the kitchen opened up as of this morning, on track to start interior paint next week.
I'm probably going to keep the kitchen as-is, just upgrade the hardware, probably install granite countertop and a new sink.
Significant room to keep this rehab around $25k if not surprises pop-up.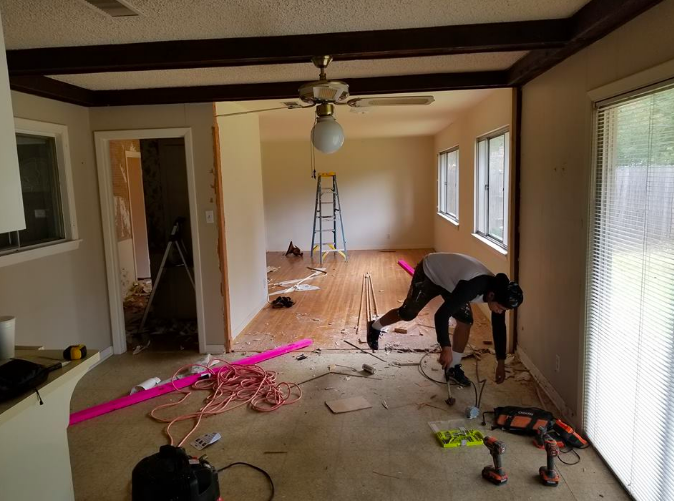 replied almost 3 years ago
Nice job on planning and posting Sam. I can appreciate your approach having challenged ourselves to accomplish as much as possible while working remotely. I think it forces focus on working on the business not in the business. We did our first small portfolio of single family rentals close to home, but traveled a great deal during the process.
Benjamin Kelly

Investor

from

Bonita Springs,

FL
replied almost 3 years ago
Nice job Sam. I really appreciate your detail in your posts. This definitely is motivating me to set a hard timeline for my next purchases. Keep it up!
@John Verduzco Thanks John. I agree, you definitely see some other benefits once you get the ball rolling and it becomes a lot more hands-off.
@Benjamin Kelly Thanks Ben. Post an investor diary here - always fun to encourage others and bounce ideas around.
Update
Property 1: Floors, trim, doors, kitchen, bathroom complete, except for a couple of hookups. Stairs were more expensive and more labor than estimated but came out great. I decided to build them all out, stain them as close as I could to the laminate vs installing the laminate and having corner joints (that didn't match exactly) all the way up.
Interior house should be complete by this weekend except for the replacement of the rear doors. Exterior paint to start next week.
Some before/after progress photos shown below:
Update
Property 1: Interior is essentially complete. Made a couple of HVAC repairs and I need to install new rear and side entry french doors - these are backordered due to demand from Harvey. About two weeks out, so we're probably looking at mid-August for being done-done.
Exterior paint started and finished this week. I picked out the paint myself, used the sample on the side of the house and was confident with my pick. The concept was a deeper blue with white trim.
A bit of stress set in as the paint started going on - the blue was quite a bit darker and before the white trim was done, the house looked dark and drab. Fortunately, as the trim was painted, the colors came together and I'm reasonable satisfied with the outcome.
If I could do it all over again, I'd probably go a shade or two lighter. All-in, this was about a $4.5k scope growth.
Photos below.
The original before and concept, side by side
Picking the paint
Testing out the sample
Cleaning prep begins
And about here I began to sweat a bit, the product looking a lot darker when applied en masse
I had some white trim photoshopped and felt a little better. Photoshop photos shown below
And finally the end product - not bad. Gotta love the bouncy ball that was left in the shot.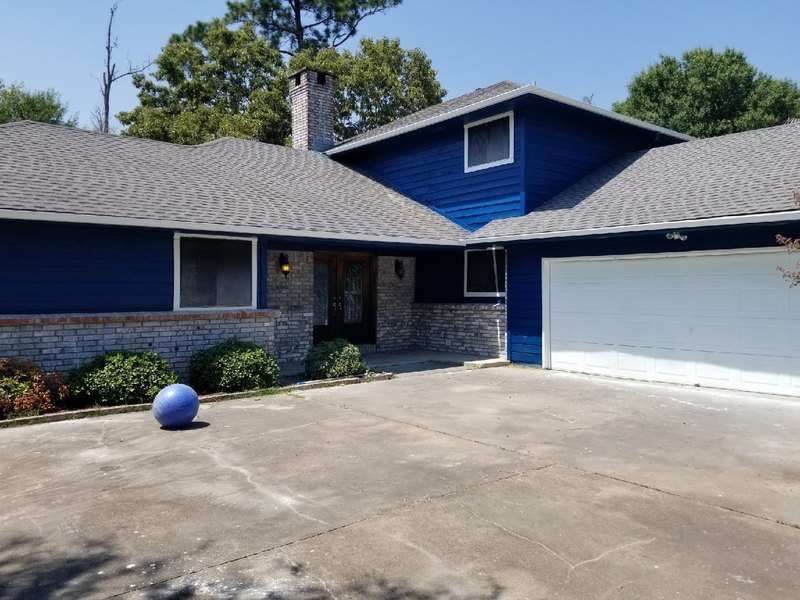 replied almost 3 years ago
wow man looks great, amazing all this is happening while you are not present, gives me hope that i can accomplish something along these lines myself.
Jay Swofford

from

Greenville,

South Carolina
replied almost 3 years ago
Very impressive!! Thanks for sharing!
Fahim Siddiqui

Rental Property Investor

from

San Antonio,

TX
replied almost 3 years ago
@Sam B. great work, very inspiring. Keep it up!
Austin Zahn

Real Estate Agent

from

Los Angeles,

CA
replied almost 3 years ago
Nice goals you've set, interested to see how it goes. Wishing you the best.
Free eBook from BiggerPockets!
Join BiggerPockets and get The Ultimate Beginner's Guide to Real Estate Investing for FREE - read by more than 100,000 people - AND get exclusive real estate investing tips, tricks and techniques delivered straight to your inbox twice weekly!
Actionable advice for getting started,
Discover the 10 Most Lucrative Real Estate Niches,
Learn how to get started with or without money,
Explore Real-Life Strategies for Building Wealth,
And a LOT more.
Sign up below to download the eBook for FREE today!
We hate spam just as much as you