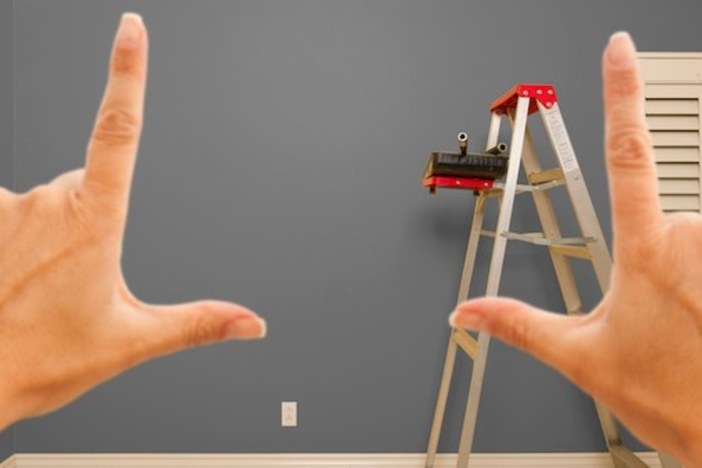 Last week we talked about the exterior of properties and what to look for to find the hidden issues and assess what you are potentially buying.
Want more articles like this?
Create an account today to get BiggerPocket's best blog articles delivered to your inbox
Sign up for free
So, you've checked out the exterior of the home. You've walked all the way around, made notes of what you've found, checked out the neighbors and the street, and made sure you had a good idea of the overall area, and it's time to walk inside.
The Front Door
You walk to the front door, and sometimes, depending on the house, you are greeted by the interior of the home before you even enter.
#gross #smellsfordays
You know the house I'm talking about. Mold. Dog crap on the floor. Grandma's house that smells "old." Musty, moldy, and who knows what has been growing in there forever. Oh yeah, you ready to walk in?
I ALWAYS have a full-faced respirator with me just in case. If you aren't sure about the mold or other things inside the house, wear one. I'm in a house like this likely every week, and it's way better to wear a mask to be safe than coughing and feeling terrible for an hour after. Been there, and it's not fun.
Overall First Impression
When I first walk in, I like to just take it in for a minute. What does it look like? Is there a strong smell of anything?
Mold: Where is it? How bad is it? Is it coming from the roof or from the basement? Are there noticeable stains on the ceiling? Is the ceiling caving in?
Dog/Cat Smell: So gross, people. I can't believe how people live in some of these! I've even been in hoarder houses where the people were still LIVING in them like this.
Anyway, I shall not digress anymore on this topic, BUT make sure you look carefully at what is going on where. Is it just carpet? Is the smell throughout the whole house?
Related: A Guide to Due Diligence for Houses: Key Items Investors Shouldn't Overlook
Note: If there is carpet in the house, get that out the day you buy that thing. We've had a heck of a time getting out certain smells from carpet. Be prepared to basically spray everything in there with Kilz. And you can run an ionizer (rent from Home Depot, etc.) that will help actually kill bacteria and get rid of the smell.
Overall Condition
One of the simplest things I do is to specify an overall level of rehab. Is it just carpet and paint? Touch-ups? Is it all the flooring, all the paint, etc.? This can help you start mentally and physically noting what your overall scope of work is based on its overall condition.
The other thing I start to notice right away is if it looks like someone patched and handy-manned it to death. What kind of problems will there be behind the walls? Is the overall craftsmanship of the house is decent, or was it really put together well?
Overall Layout
Once I've made my first impressions, I walk through the house naturally — whatever way it sends me. I'll walk through as anyone else would walk through it, with no intention to enter this room or that room first. Just walk it, discover, listen, and look. Learn whatever the story the house is teaching you.
Always remember: Just because you can rehab it doesn't mean you should buy it.
If it's a terrible layout to you, it will be a terrible layout to the potential buyer/renter.
There are always ways to change layouts; you can move walls, add headers, and vault ceilings. All of these things are very cool. And all of them add a LOT of cost. Just make sure you think through what you are going to do for rehab and build that into the cost of your deal.
Bedrooms
For bedrooms, we want them clean, safe, and nice. We go back to hardwood floors in almost all our properties here, assuming they have hardwoods. There are some nicer houses we have purchased that we put hardwoods down in, but those are definitely higher end homes, with higher end rehabs. If there isn't salvageable hardwood underneath the carpet or whatever flooring, then I start thinking about what I would do in those rooms.
We can usually redo hardwood floors in a basic C+ rental house for $1-$1.5k. Our guys are cheaper than some, and we definitely give them a LOT of business. Not sure if the property has hardwoods covered up by some sweet 1972 shag carpet? Check the corners of the carpet in the closets — this is usually the easiest place to get the carpet up. Or you could try my personal favorite: If the house has floor vents, pull one up (which may or may not be totally disgusting) and then look under there. No tack strip to get eaten alive with there!
In the bedrooms we always plan to replace lights if they look old or worn. I've moved away from doing the dome lights in bedrooms to doing basic ceiling fans. Tenants love them, and they cost me about $30 more per bedroom. A three-bedroom house costs less than $100 more to put ceiling fans versus just dome lights, so it's a big win. We also replace all the receptacles, cover plates, and switches. They are cheap, look like a million bucks new, and you know they work. There's nothing more annoying that spending $100 to send someone over to fix a "light that won't work" when you could have replaced all the switches and plugs in the house for a few hundred bucks (with a licensed electrician), knowing they will all work.
Paint/Ceiling/Walls/Trim
One of my big pet peeves is making sure the paint in the home is awesome. We use good paint. We use the same color for the walls and same color for the trim in every house. Look at the trim: Is it white or is it natural wood color? What condition is it in?
Look at the ceiling. Does it have popcorn, orange peel, or knockdown texture? What does it look like? Are there actual patches that have been done poorly or that need to be redone?
Sometimes it's just easier to scape popcorn and do a knockdown texture (which I like the best, but costs some money and time). Sometimes we just leave the popcorn and spray the ceilings out. And sometimes, it's just perfect — and there is no reason to do anything to it. And we leave it alone. Just remember, if you don't paint the ceiling, once you get brand new paint up next to it, you may wish you would have just gone ahead and done it.
Related: The Ultimate Guide to Analyzing Rental Properties (+ Free PDF!)
If you are painting trim from natural to white, make sure you are doing something to break down that poly/varnish on the trim, put a primer on it, and then paint it. Otherwise, you can have some serious trouble getting the paint to sit right and look good.
We paint every room in the house the same color on the wall, and we use a primer/ceiling paint on the ceiling and a strong semi-gloss paint on the trim that will take a high level of abuse.
Now, this is already a lot to digest. So go back, read through the first post from last week, and read through this one again.
Next week I will go through:
Kitchen
Bathrooms
Flooring
Windows/Doors
Basement Areas
Foundation Issues From Inside
HVAC
Plumbing/Electrical
Vacant/Occupied
Want me to hit up anything else? Questions about the above information?
Leave it in the comments!