Technology revolutionizes every direction it moves in. And it has quickly moved from being on the horizon of real estate investing to now racing with a thundering gallop across the landscape. Its swift and efficient movement, coupled with the rising cloud of dust signaling its advance, leave us unable to deny its approach at our door.
The rapid forward momentum of the iBuying platforms are beginning to transfix computer-savvy sellers.
We ignore this market shift at our own peril.
What Is iBuying?
Many of you may be asking, "What is iBuying?" The question is a valid one, as iBuying's first identified platform was only established as recently as 2014, with the creation of the website Opendoor.
In a nutshell, iBuying is the latest, most advanced technological evolution in buying and selling real estate. Fueled by the deep pockets of large corporations, iBuying uses instant offers, home "trade-ins," all cash payouts, and expedited escrows with closings scheduled as the seller chooses.
Now, that is a simplified explanation of the technique, but one comprehensive enough for a broad understanding. Basically, iBuying is designed to be easy, convenient, uncomplicated, and fast for the seller. Many options for personalizing the deal are built into the structure.
How Is It Different?
Jon got a new job that minimized the constant long-distance traveling required by his former job. He decided, with more time available to enjoy being at home, he would sell his current house. He liked the idea of shedding his cookie-cutter, early 21st century house, with its postage stamp yard and block wall fence, sitting squarely in a quiet cul-de-sac-laced suburban neighborhood.
He had always wanted an early 20th century Craftsman cottage in the heart of the urban core, surrounded by a wraparound, landscapable yard—all within walking distance of neighborhood haunts that were bustling with energy and activity. He believed now was the time.
With his new job and a house transition in view, Jon had a lot of tasks to start on. First, he decided to sell his existing house quickly, so he could focus on his new position. A buddy gave him the name of a Realtor he had used, and Jon set up a meeting.
The Realtor explained what Jon was going to need to do to get the house ready for the required showings, open houses, and tours. It was not going to be terribly costly, but it would still require scheduling contractors, getting bids, and making time for the repairs. Jon would have to work his schedule around people traipsing through his house—often with only an hour's notice.
He also had to make sure to take his dog Scrapper with him, because, as his realtor explained, pets needed to be off the premises during showings. Naturally, this would make it really difficult if the notice of a showing came while he was at work.
Related: 6 of the Best Home Staging Strategies for Sellers
On top of that, he needed to start looking for his potential new home. But looking at listings, setting up tours with real estate agents, and strolling through house after house required even more time that he really didn't have.
Also, Jon did not have the cash reserves to buy another home until he sold the one he was in. This would put him in a difficult spot when he did find a property he wanted. He couldn't close on a new house until he had his money out of the sale of his existing house.
Suddenly, the exciting idea of buying a new home was becoming more like work than his new job. Finally, out of frustration, Jon decided he would just have to wait until he had more time in his daily life to continue the dream of buying a new house.
About two months later, Jon was chatting with Monica at work. She was excitedly reveling in her joy at shopping for new items for her recently purchased home. Jon confided to her about his experience and how dispiriting it had been. He asked her how she had found the time and energy to get all the pieces to fall in place.
Monica told him she had not experienced any of those issues or, as she described them, those "old style" problems in selling her home. She explained to him she had used an iBuyer. She went to their website, and plugged in her house info. Within 48 hours, she had an offer and an explanation of their fees. The offer was more than she had expected. She liked it, so she accepted it.
The iBuyer had scheduled a convenient time to have an affiliated Realtor do a walk-through of her home to verify its condition. Once that visit was completed, they asked her when she wanted to close the transaction and receive her funds. They also gave her the option of receiving all cash or, if she wished, using her house as a "trade-in" on another home to make her financing simpler.
Monica chose to get a payout of her profits, but she wanted to stay in her old house until she chose her new home. The iBuyer was fine with that. So, Monica took another six weeks to find her new home.
Once she was able to give the iBuyer a move-out date, her sale was finalized, and she arranged her move. This spared her the discomfort of figuring out where to live between closing on the old house and closing on the new home. She had found the whole process easy and relaxed, and she told Jon she had done the majority of it all from the comfort of her couch.
You can definitely see the benefits for a seller.
iBuying: A Brief History
I have been watching this industry with interest for a few years. It's a natural outgrowth of the type of buying and selling we have always done as real estate investors.
The classic formula we all learned and have grown familiar with in our industry is:
Buy
Add value
Sell or hold
Repeat
If you look at it objectively, that is exactly what the iBuyers are doing, too, except on a massive scale.
This same simple formula was originally automated on a large scale back in 1989 by the company HomeVestors and their brand We Buy Ugly Houses. They took the same process defined by those four steps and mechanized the transactions of offers and purchases.
In 2006, Zillow came along and launched the "Zestimate." This—for the first time—gave homeowners direct and immediate access to information about their home's value. With a few clicks of the keyboard, both buyers and sellers suddenly had a plethora of worthwhile data at their fingertips to help them make decisions.
Neither the seller nor the buyer was any longer dependent on a real estate agent to provide a valuation. Gone was the need to hang out on the computer at the county offices, looking at screen after screen of previous sales in the neighborhood to define a property value for a potential offer. This shift became the great equalizer for both sellers and buyers.
Time Moves Quickly in the Digital World
Fast forward to 2014: Opendoor launched its full-service platform, offering sellers a vast array of conveniences.
For home sellers, the "hassles" involved in selling were multifold. iBuyers like Opendoor directly targeted those hassles. By alleviating the seller's problems and simplifying the process, Opendoor increased the willingness of a seller to use their platform for the selling process.
Here is a partial list of benefits Opendoor offers sellers:
Immediate sale
All cash offers
Hassle-free sale
Short escrow
Quick close
No waiting for buyer to qualify
No risk of a buyer not qualifying
No staging
No open houses
No continuous showing appointments or last-minute notice of showings
No requirement to keep the home constantly pristine
An as-is sale with no repairs necessary (the iBuyer does any repairs after the seller has moved out)
No outside appraisal
No need to list the property
No signs in front of the house
Complete privacy
A Disruptor of Substance
From its inception in 2014, Opendoor offered home buying and selling. In 2016, they added the "trade-in" option.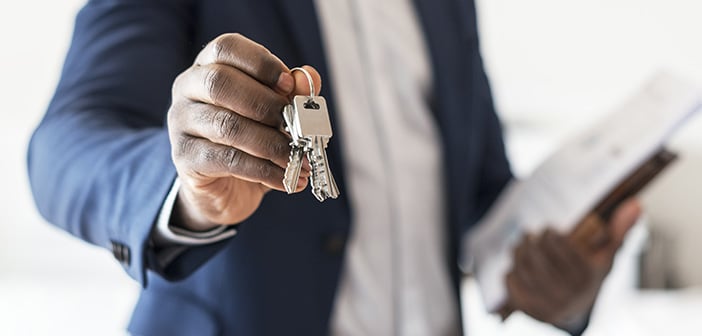 Sellers immediately understood this option because it is the exact purchase model they are accustomed to with car buying. Bring in your old car, and trade it in on the purchase of your new car. Because they were familiar with the process, home sellers were comfortable trusting it.
Since its launch just five years ago, Opendoor has already bought and sold more than 50,000 homes. It currently operates in 23 cities, with more cities planned. But here is the real kicker, this year alone it is on track to purchase $5B worth of homes. Those are some deep pockets, indeed.
Related: How Accurate Are Zillow Zestimates? I Tested the Home Valuation Tool Post-Upgrade
But Wait…. There's More
Today, Opendoor is not the only player in the iBuying realm. Currently, in the SFR (single family residence) arena, the established iBuyer players include:
These brands have even created cooperative relationships with each other under the funneling, lead-generating website banner of iBuyer.com. This website takes the seller's information and then directly connects them with the iBuyer portal (or portals) operating in their specific region.
Are There Multifamily iBuyers?
With this tsunami of change happening in the real estate industry, it has become obvious no sector of the asset class will be left untouched by the iBuyer phenomenon. This includes multifamily housing.
There are already several iBuyers in the multifamily playing field. Because of the overt success of the original class of SFR-specializing iBuyers, these start-ups have gained traction and venture capital very quickly.
As of now, the most established multifamily iBuyers are:
And that's not where it ends.
What About Vacant Land?
Yes, there are already iBuyers for vacant land, as well.
WeBuyLandOnline.com
Pacific Land Buyers
EasyLandSell
The iBuyer trajectory is shifting the current paradigm of real estate transactions. The ramifications of this are going to continue creating disruption and change across our entire industry.
Consider That Amazon Changed Retail Forever
In 1994, a company with the non-sequitur name of a river in South America opened an online bookstore, Amazon. And that was the ONLY product they sold: books.
Since that time, Amazon has become the dominant retailer on the Internet. In the process, the long-existent brick and mortar retail industry dramatically compressed. "Main Street" stores closed, as more and more retail moved exclusively onto the Internet. The remaining brick and mortar retailers have had to become more creative or be washed away by customers' desire for convenience, ease, and reduced hassle.
Amazon's entrance into retail changed the world of retail sales forever. It is important for us to look at this fact with clarity and uncompromised vision.
Today, Amazon sells over 606 million products, owns Whole Foods, Ring, Zappos, Alexa, PillPack, Goodreads, IMDB, Audible, and a host of other companies. Oh, and it still sells books.
Where Does This Leave Us as Real Estate Investors?
I believe the disruption Amazon brought to retail can function as an object lesson for us as real estate investors. After all, hindsight is 20/20 vision, and knowledge creates opportunities to make bold choices to create positive and effective change.
As much as retailers wanted to believe, during the first decade after Amazon entered the retail space, that Amazon and online buying was just a fad, it didn't go away. Instead, it grew. So let's be honest, iBuyer are not a fad.
They aren't going away. And they are already growing.
Preparing for and working with the reality of the ascent of iBuying requires, first, not denying it is happening, and second, coming up with a long-term game plan for how to go forward.
So, how do we effectively use the new disruption of iBuying as an opportunity to make our real estate investing businesses stronger, more effective, more profitable, more resilient, and more responsive to the things sellers are looking for?
Let's discuss in the comment section.