Troy Kingsbury

Investor

from

Richmond,

Virginia
posted almost 5 years ago
Anyone have a schedule they use when rehabbing? What do you do 1st, 2nd, etc.? I would imagine painting and floors are last.
Hello Troy,

Here is the order my crews prefer to do the work:

Demo - 1 or 2 days
Framing - 1 to 3 days
Mechanicals (Electric, plumbing, HVAC) - 2 to 3 days
Drywall - 3 to 5 days
Trim and Doors - 1 to 2 days
Paint - 1 to 2 days
Cabinets - 1 day (order far enough in advance)
Flooring - 2-4 days
Counters - 1 day (order when the cabinets are installed)
Fixtures (Fans, faucets, etc) - 1 to 2 days

Cleaning and staging - 1 day
Some touch up paint is needed at the end, but it easier for them to spray the home when there's nothing to worry about getting paint on (no cabinets or flooring). We generally do landscaping after flooring (as the flooring guys and painters will mess up the landscape dumping their buckets), unless we need to grow grass or something that will take a few weeks, in which case the landscaping is done first thing.
Thanks, Marc. What about replacing windows?
J Scott (Moderator) -

from

Ellicott City,

Maryland
replied almost 5 years ago
This is a graphic from the BiggerPockets Flipping Houses book: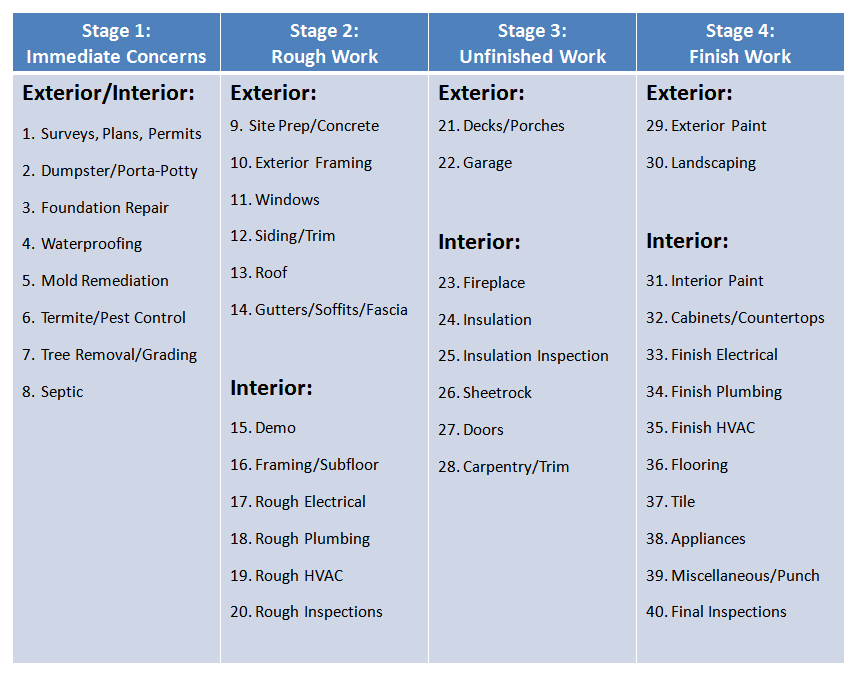 It looks like you've got a much more in depth schedule above me, but we do windows during the Framing stage. We do exterior siding during the drywall stage, so that we have people working inside and outside.
To you both, thanks a ton. We are starting on rehab #5 and believe its time for some consistency. Thanks, again!!
Free eBook from BiggerPockets!
Join BiggerPockets and get The Ultimate Beginner's Guide to Real Estate Investing for FREE - read by more than 100,000 people - AND get exclusive real estate investing tips, tricks and techniques delivered straight to your inbox twice weekly!
Actionable advice for getting started,
Discover the 10 Most Lucrative Real Estate Niches,
Learn how to get started with or without money,
Explore Real-Life Strategies for Building Wealth,
And a LOT more.
Sign up below to download the eBook for FREE today!
We hate spam just as much as you
Create Lasting Wealth Through Real Estate
Join the millions of people achieving financial freedom through the power of real estate investing