Wholesaling Instruction with TOM KROL
No Replies
06/14/18 06:00PM - 08:30PM America/Chicago
Embassy Suites Hotel, 2300 Woodcrest Pl Birmingham, Alabama 35209
Free
Disclaimer: BiggerPockets does not support or sponsor any meetups unless otherwise noted. Do your due diligence before attending any events. You may be agreeing to attend an event that includes promotion, pitching, or high-pressure sales tactics or techniques. There may be pitching of products, services or properties at this event!
Brian Trippe

Rental Property Investor

from

Birmingham,

AL
posted about 3 years ago
AlaREIA - The Best Networking and Training Event in Birmingham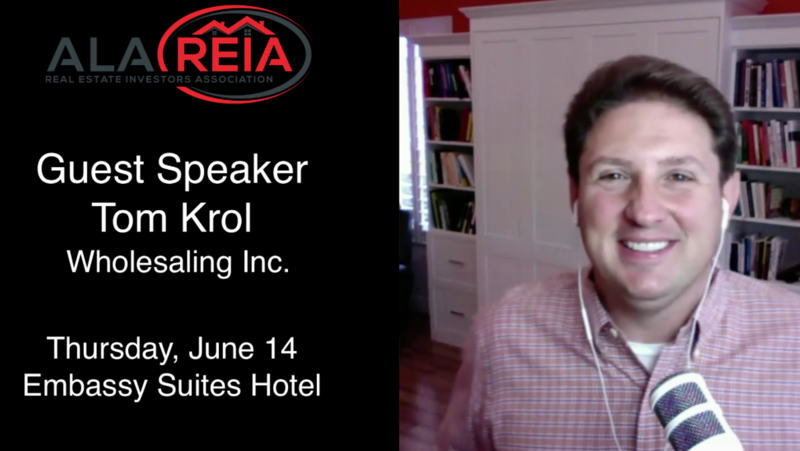 Tom is the most genuine and sincere real estate instructor in the country today. He mantra is, "Instruction, not education." He runs the single-most successful wholesaling coaching program in the country with hundreds and hundreds of students all throughout the country.

Tom is coming to Birmingham to teach us how to wholesale with INSTRUCTION. He warned me that he goes very fast. You better bring a pen and pad and get ready for actionable, step-by-step processes. He also warned me that he tends to go long. We will have no "opening act." Just Tom. Get ready for absolute FIRE!

If you only attend ONE AlaREIA meeting EVER, this is the one to come to. Period. End of story. If you have any desire to be great at finding deals, this is the one you cannot afford to miss. Mark your calendars RIGHT NOW!
We meet at the Embassy Suites Hotel in Homewood and get started at around 6 p.m. First-time guests and members attend FREE. We can't wait to see you there!