Austin Private Lender and Borrower Networking
2 Replies
12/05/19 06:15PM - 09:00PM America/Chicago
100 E Anderson Ln #100 Austin, Texas 78752
Free
Disclaimer: BiggerPockets does not support or sponsor any meetups unless otherwise noted. Do your due diligence before attending any events. You may be agreeing to attend an event that includes promotion, pitching, or high-pressure sales tactics or techniques. Poster certifies that there will be no pitching of products or services at this event.
Costin I.

Rental Property Investor

from

Round Rock,

TX
posted about 1 year ago
The purpose of this meetup is to promote financial relationships between private lenders and borrowers by networking and education. Anyone interested in Relationship Lending is welcome at this meetup. Whether you want to lend private money or borrow private money, or just learn about the process, please come build connections with others who share the same interest. Many of our members are interested in real estate, others have a variety of investments. Some of our group have self-directed IRAs, 401Ks or other trusts. Some simply have investment accounts. All share an interest in improving their financial lives through personal relationship lending or borrowing.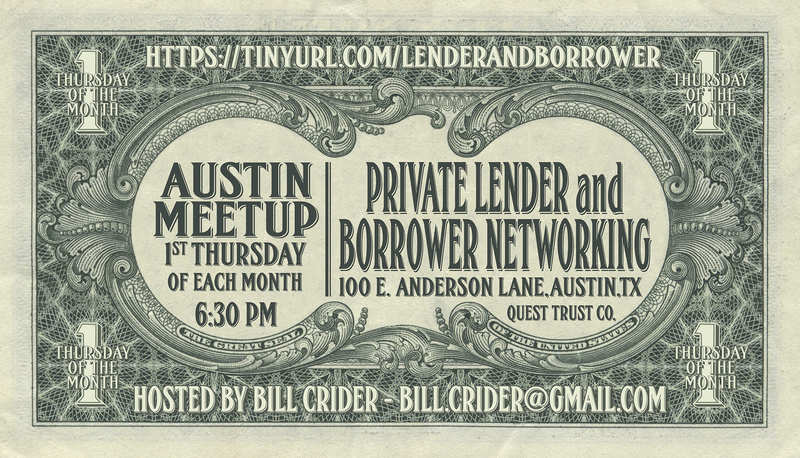 @Quest IRA, Inc - 100 E Anderson Ln #100 - Austin, Texas 78752 every 1st Thu of the month @ 6:30pm
Hello, Who can I contact who host the event?
How many people attended this?