Things are changing so fast online, and Web 2.0 is taking over. Mashups are the newest rage for now, and there will certainly be cooler stuff to come in the not so distant future. Hopefully these technologies will continue to make it easier to learn about, buy, sell, or rent properties. What are the coolest real estate web 2.0 sites out there right now?
UPDATED January 6, 2007
1)BiggerPockets.com
BiggerPockets (yup, that's us!) underwent a fabulous Web 2.0 transformation, and created the Premiere Real Estate Investing Social Networking site out there. With a focus on networking, dealmaking, and education, the site brings a professional approach to the world of real estate for both the consumer and professionals. Join the community and help build your real estate network!
Zillow came out of nowhere and took the real estate world by storm. It allows anyone to find rough estimates of the valuation of their home by searching comparible properties. While values are not always accurate, the site continues to get it better.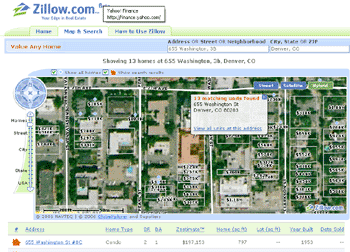 3) RealEstate ABC
RealEstate ABC just released their Beta property valuation tool to compete directly with Zillow. It uses Google Maps in its technology mashup and allows you to do cool things like adjust values of properties given certain market conditions, web 2.0 style, something Zillow does not have. They seem to have beaten Zillow at their own game.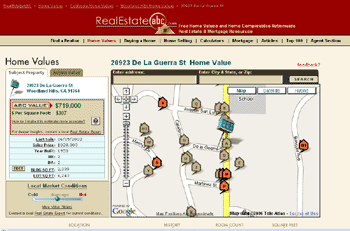 Trulia scrapes real estate sites to find listings and brings it all together in a clean, well designed site. Using Google maps and RSS feeds, the site seems to have taken the lead in the future of online property listings. I'm looking forward to see how they begin to compete with Craigslist for FSBO listings.
5) HotPads.com
Hotpads.com is an apartment, corporate housing, and roomate search site for the next era. With interactive mapping, great graphics and free listings, this is one site to watch! (Note: they don't have a ton of listings, yet, but this cool site will catch on)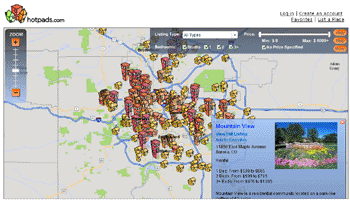 6) Propsmart
Propsmart.com no longer appears to be functional as of 4/2013
7) Google
Who better than Google to use Google's technology for real estate? The 800-Ton Gorilla is jumping into the game, bringing fear to the hearts of real estate web entrepreneurs everywhere.
HousingMaps (Honorable Mention)
HousingMaps.com is one of the innovators of the real estate space of Web 2.0. Dreamworks software engineer, Paul Rademacher, created a blend of Craigslist and GoogleMaps to introduce one of the first recognized nextgen real estate websites. While not the most beautiful site, this creation kicked off the revolution. A salute to one of the forefathers is in order, I believe!
These sites are all worth keeping your eyes on as leaders in the web 2.0 real estate space. We will look out for any new ones and will certainly keep you posted!
Note By BiggerPockets: These are opinions written by the author and do not necessarily represent the opinions of BiggerPockets.