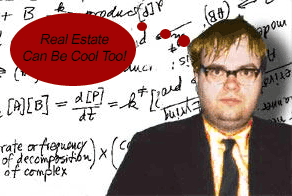 The Washington State University Department of Mathematics has blessed the real estate world with new definitions for some real estate terms we often see real estate agents and FSBOs use in the classified ads. Leave it to the math geeks to come up with something clever during the great housing bubble of the new millennium . . .
Old charmer – an old and ugly house
Stunning house – the house is not ugly
Tudor – two bedrooms are in the attic which is not insulated; very hot in summer and very cold in winter
Cape Cod – styled after Third World slum dwellings
Sunny corner lot – noisy intersection of two busy streets
Easy freeway access – noisy arterial street close to freeway
Low maintenance lot – no yard; the kids will have to play in the street
Meticulously maintained in the original condition – the appliances are 50 years old
Ready to remodel – the house is about to collapse; you will have to invest twice the asking price in remodel before you can move in
Newly remodeled kitchen – 50-year old cabinetry and faucets have been replaced with cheap modern equivalents
Ready to move in – the interior has been painted with one coat of cheap paint
Desirable neighborhood – this little house is extravagantly overpriced because the neighborhood has a snobbish reputation
1 car garage – you can drive your Ford Escort into the garage but there is no room to open the door
In-city living – it is not safe to walk in this neighborhood after dark
Recreation room with wet bar – basement has been painted and has a faucet
Large family room – large basement
Bedroom in basement – basement has a 1′ by 2′ window
Lots of storage space – basement too small to be called a family room
Partial mountain view – you can see the tip of Mt. Olympus if you climb the roof
Territorial view – good view of your neighbor's bedroom window
Build sweat equity – the house is not inhabitable
Storybook – the house is old and the roof is not flat
Efficiently designed kitchen – the kitchen is too small to fit two people at the same time
Seasonal creek – muddy ditch across the property
Usable land – all the trees are gone.
Doll-house – tiny place filled with ugly knick-knacks.
Country living – too far from anywhere to drive to work
Country in the city – a grotesquely overpriced large lot with a 2 bedroom house built before World War I
Cozy – not a single room could fit a full size bed
Three season sunroom – a small addition the owner did not have enough money to insulate
Close to all amenities – the backyard is a shopping mall parking
Beachfront property, complete remodeling in 1996, a steal at this asking price – hurricane Andrew motivated the remodeling; no hurricane insurance available, at any price
Must see inside – the outside is ugly
Motivated sellers – subtract 15% from the asking price
Easy to heat – see "cozy"
Wildlife nearby – children and pets get ticks and fleas
Near transportation – Amtrak train goes through the backyard, every 15 minutes, day and night
Pet friendly neighborhood – organic matter constantly deposited in the front lawn
Neighborhood watch – your next door neighbor has binoculars trained on your house
Just available – previous owner just died on the premises, hope you don't believe in ghosts
Thanks to the ConstructionDeal Blog for putting us on to this.