I love reading and am always on the lookout for the next book to add to my library.  This is one of the reasons that I love the weekly BiggerPockets Real Estate Podcast.  For those who have not listened to it, Josh and Brandon end every show with 4 questions, 2 of which are book recommendations.
Want more articles like this?
Create an account today to get BiggerPocket's best blog articles delivered to your inbox
Sign up for free
After listening to all 39 podcasts, here is the list of the top 10 business and real estate books according to the collective suggestions of the interviewees.
(The following Amazon links are affiliate links, which means BiggerPockets gets a small commission when you buy through these links! Thank you for supporting BiggerPockets!)
1. Rich Dad Poor Dad: What the Rich Teach Their Kids About Money That the Poor and Middle Class Do Not!

The granddaddy of them all!  This book is mentioned on nearly half of all podcasts and is personally one of my favorites.  Robert Kiyosaki describes the his 2 dads, his real father and his friend's father, and how they look at money.  This book completely changed my outlook on money and investing and is the basis for my real estate business.
Click to get "Rich Dad Poor Dad" on Amazon.
2. The E-Myth Revisited: Why Most Small Businesses Don't Work and What to Do About It

Another one of my favorite books.  Michael Gerber explains why most small businesses fail.  He discussed how most "entrepreneurs" work in their business instead of on their business.  He describes how to create systems in your business so that you can remove yourself from the day-to-day activities.
Click to get "The E-Myth Revisited" on Amazon.
3. The 4-Hour Workweek: Escape 9-5, Live Anywhere, and Join the New Rich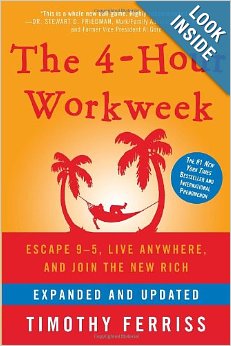 This book has been on my list for a while, but it wasn't until Brandon kept bringing it up that I dedicated to move it up on my list.  Tim Ferris describes strategies for reducing your involvement in your life and allowing you to live the life you want.  He talks a lot about lifestyle design and how to live the life that you want now, not 45 years from now when you finally retire.
Click to get "The Four Hour Workweek" on Amazon.
4. The Book on Flipping Houses: How to Buy, Rehab, and Resell Residential Properties

This is the first book on the list that I have not read, but I am ordering this week.  A quick visit to J. Scott's website 123flip.com will show you why the $49 investment in these real estate books are worth it.  Many books on flipping discuss it at a high level, and who knows if the authors have ever even done a flip.  J posts each of his deals on his website so you know he knows what he is talking about.  For anyone interesting in flipping, learning from an experienced flipper will save you thousands if not tens of thousands.
Click to get "The Book on Flipping Houses" on BiggerPockets.
5. Think and Grow Rich

Another one of my favorite books.  This book was originally published in 1937 and has withstood the test of time.  Napoleon Hill interviewed some of the richest and most successful people of the time to understand the core steps and principles of success.
Click to get "Think and Grow Rich" on Amazon.
6. The Total Money Makeover: A Proven Plan for Financial Fitness

Many people unfortunately find themselves in a less than ideal financial situation at some point in their life, which is why many turn to real estate as a way out.  Although real estate is a great avenue to accumulate wealth, it won't help if you don't understand how to manage your personal finances.  David Ramsey offers practical advice for how to become financially fit.
Click to get "The Total Money Makeover" on Amazon.
7. How I Turned $1,000 into Three Million in Real Estate in My Spare Time

Here is another one that I have yet to read.  When I searched for it on Amazon, the image of the book shown was obviously decades old, with the book jacket severely torn and tattered.  This is usually a sign of a fantastic book (my best books are worn, dog-eared, highlighted and flagged).  A quick look at Amazon reviews seems to confirm this.  Who doesn't want to turn $1,000 into $3,000,000?  And that was in 1959 dollars!
Click to get "How I Turner $1000 into Three Million" on Amazon!
8. The Book on Estimating Rehab Costs: The Investor's Guide to Defining Your Renovation Plan, Building Your Budget and Knowing Exactly How Much It All Costs

It's pretty impressive to make the top 10 list of real estate books recommended by real people on BiggerPockets.  Even more impressive is making it twice.  Estimating rehab costs is arguably one of the most difficult aspects of real estate investing,  J Scott breaks the process down and provides advice on all aspects of the process.
Click to get "The Book on Estimating Rehab Costs" on BiggerPockets.
9. The Millionaire Real Estate Investor

This is another one that I have heard about forever but have not yet read.  In a recent discussion with another local investor, he said this was the book that allowed him to understand the scale of real estate investing beyond just being a landlord.  I had to spend $500 (and eventually $15,000) to learn this.
Click to get "The Millionaire Real Estate Investor" on Amazon.
10. The 7 Habits of Highly Effective People: Powerful Lessons in Personal Change

This book is one of the ones that I go back to reading every few years.  Truly becoming effective usually means making a paradigm shift from how we look at things.  Steven Covey describes the 7 habits to personal and interpersonal effectiveness.
Free Bonus! These last two books tied with #10, so we will expand the list to 12.
Click to "The 7 Habits of Highly Effective People" on Amazon.
11. Rich Dad's CASHFLOW Quadrant: Rich Dad's Guide to Financial Freedom

A sequel to Rich Dad Poor Dad, Robert Kiyosaki expands on the concepts of the cashflow quadrants.  In many ideas that are similar to the E-Myth, he describes the employee, self-employed, business owner and investor roles and why you want to move from the left to the right.
Click to get "Cashflow Quadrant" on Amazon.
12. The ABCs of Real Estate Investing: The Secrets of Finding Hidden Profits Most Investors Miss

I also have not read this book.  From checking out reviews on Amazon, it sounds like this book has some practical information, unlike many of the other Rich Dad books which are all just theory.
(Note from the Editor: If you have any interest in multifamily properties – do not miss this book. It's my favorite on the subject! -Brandon)
Click to get "The ABCs of Real Estate Investing" on Amazon.
Have you read any of the these books?  What are your favorites?
Related: BiggerPockets Presents : The Best Real Estate Books Ever
Photo: Jody Sticca