My love for investing in garages began a few years after I had started investing in single family and multi-unit residential real estate.
I had taken some real estate courses to work toward my broker's license, and one of the topics we covered was the highest and best use of property.
What Is the Highest and Best Use of Property?
This concept really helped me to take a step back and look at property with a whole new pair of eyes, including properties that I already owned, was currently looking at, or might pick up in the future.
At first, my motivation was to increase rents. I would look at properties to see where I could add a bedroom. For example, I've made a laundry room into a bedroom by moving the laundry hookup into the basement.
I've also made an enclosed front porch into a bedroom by adding heat and electric. This was a two-story home that had two apartments, one of them up and one down, so it made the first floor one-bedroom unit into a two-bedroom apartment.
I've also made a first floor bedroom out of the kitchen when remodeling a house that needed a new kitchen by putting the new kitchen where the dining room was.
I've even put two bedrooms on the third floor of a two-bedroom, one-and-a-half bath house that became a four-bedroom, one-and-a-half bath house. That move alone drastically increased the rent and the value of the property, so you get the idea here.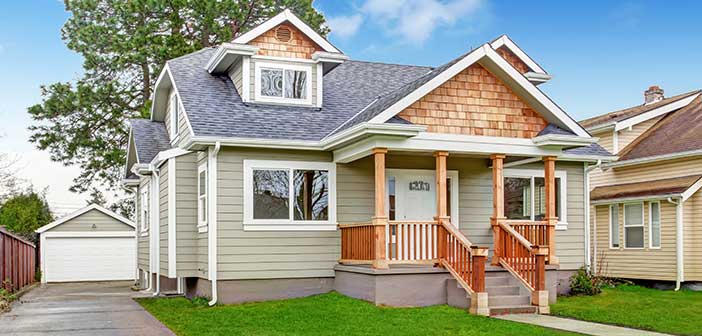 Related: Rental Renovations: Which Maximize Rates & Lower Vacancy – And Which Don't?
How to Maximize Rents and Increase Values
For me, one of the most valuable strategies for getting the highest and best use out of a property was renting out garages.
At first, I utilized garages in a small way. If I had a row home with a garage underneath the house, I often didn't include the garage with the house when advertising for rent—unless, of course, they wanted to pay for it. For example, it wouldn't be unusual to get another $75 a month for renting the garage out as residential storage only.
Next, I started looking for properties with access so I could plant a prebuilt, prefab garage on it. These were always great to rent out to a nearby landscaper or contractor.
Then, once on one of my duplexes that had a large rear yard, I actually built a four-bay garage that I now receive an additional $660 a month in rent for. This ran me approximately $30,000 to build several years ago, and the beauty of garages is that all I have to provide is electric.
Benefits of Garages as Rental Property
Easier to Manage
Obviously, garages are much easier to manage than tenant-occupied property, serving as the tenant's residence. Maybe you've heard garage horror stories, where the guy rents the garage, fills it up with asbestos, and runs away. To be quite honest, I've never really had these types of problems.
In fact, it's been the opposite with my garage tenants. They've been very long-term, and they rarely call for anything to be repaired. I actually have a waiting list of prospective tenants who want to rent my garages. Also, if I ever have to evict a garage tenant, when I go to court, the District Justice has little sympathy since it's not their primary residence.
Related: BP Podcast 138: Self Storage, Systems, and SEO with Michael Rogers
Larger Scale Storage Centers
Later on in my career, I raised capital to purchase storage centers, which are another great vehicle for owning cash flowing real estate without having to deal with as many tenant issues as you would with residential rentals. The beauty of larger commercial pieces is that the value of the property tends to be based more on cash flow than nearby comps.
As I've gotten older and wiser, I've drifted more into the types of real estate investments that are easier to deal with. Whenever there are people involved, the problems seem to be just around the corner.
So, who on BiggerPockets likes garages as much as I do? And why or why not?
Let me know with a comment!
Looking for a great hands-off source of passive income? Learn why investing in garages is an effective way to supplement your monthly cash flow!