The modern manufactured home is a mansion and technological wonder compared to generations past. Safer construction, wireless capabilities, and an eco-friendly footprint are only a few of the improvements manufactured homes are making. Today's manufactured homes are certainly not your grandfather's mobile homes. Love them or hate them, manufactured homes are here to stay, at least for the foreseeable future.
Disclaimer: The reason this article's title has the word "modern" to describe the type of mobile homes we will be discussing is to acknowledge the fact we will not be discussing old-timey horse-drawn carriages or stage coaches, but rather focusing on the modern mobile homes most of us know and see today.
Think of today's manufactured home as an experienced adult. In order to really appreciate and love mobile homes, we have to understand these homes when they were young and new to the market. Below is a brief outline of how today's manufactured homes came to be.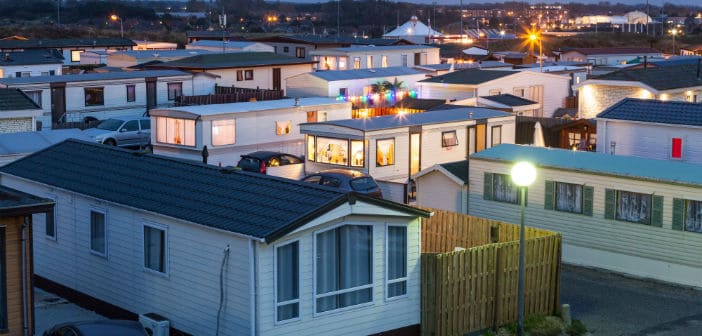 1950s – 1960s
After World War II came the initial push for these types of travel trailers. Initially marketed for camping enthusiasts and folks who required a mobile lifestyle, the need and allure for affordable housing was too strong to hold mobile homes as a meer "luxury item."
Related: Travel Trailers, One-Bedrooms & Other Mobile Homes Investors Should Avoid Buying
In the 1950s, mobile homes began to be marketed on permanent foundations and set up at locations for long periods at a time. In 1956 the term "mobile home" was used to describe the newly expanded 10 foot wide home; previous units had been 6-8 feet wide.
Pro Tip: Many modern-day buyers want 12 or 14 foot wide mobile homes at a minimum. Be cautious investing in a mobile home less than 12 feet wide — after a while, you or your tenants may become claustrophobic and leave.
1970s – 1980s
During this period of time, many experimental sizes and shapes of mobile homes (two-story mobile homes, different pop-outs, whirlpool Jacuzzi tubs) were experimented with and sold. Additionally, many new mobile home builders sprang up, some lasting for years and other failing very quickly. It was the wild West for mobile home building and construction, with tremendously varying degrees of craftsmanship between builders. In the early and middle 1970s, there was no national regulation for mobile home safety construction.
In mid-1976, the United States Congress passed the National Manufactured Housing Construction and Safety Act (42 U.S.C.), which assured that all mobile homes would be built to tougher national standards. During this time, the mobile home industry wanted to separate itself from the transient-sounding "mobile" home stigma. In 1980, Congress approved the name change from "mobile home" to "manufactured home".
1990s – 2000s
New improvements were added to safety and construction over the years as builders competed for market shares. Additions such as fireplaces, skylights, grand-rooms, and spacious living areas followed the demands of the time. After Hurricane Andrew in 1992, newer and even stricter standards were adopted for manufactured home construction and setup.
Mobile home builders and dealers boomed during this time with decently strong financing options, affordable prices, and demand from buyers wanting an affordable home for their private land or for living inside a preexisting mobile home community.
The popularity of manufactured homes caused complications the legal system was not prepared to handle. In the beginning, manufactured homes tended to be taxed as vehicles or personal property, rather than real estate, which resulted in very low property tax rates for their inhabitants. This caused local governments to reclassify them for taxation purposes. To this day, a manufactured home owner may choose to join or marry his/her home and private land together into a real property designation.
Related: What are the Differences Between Manufactured, Modular, and Mobiles Homes?
2000s – Present
The 2000s saw a steep decline in new mobile home sales. The real estate collapse of 2007-2008 hit the mobile home sector, too — hard. Many builders and dealers were out of business within months or years. Falling real estate prices, stricter lending requirements, and a lack of lending in general have helped keep manufactured home sales at their lowest numbers in years. A recent increase in sales following 2010 may be promising for the industry.
In 2013 some cities in Mississippi decided they wanted mobile home parks out of their town. In 2015 a judge remarked that whether mobile homes or apartments, Mississippi law recognizes that "continuation of a non-conforming use is a well-established substantial right." A BIG win for the mobile home park industry.
Author's Note: While recently attending a national Manufactured Housing Expo show held every year, I was amazed at the advancements manufactured homes have made. It always seemed to me that factory built homes were lagging behind traditional site-built homes in the way of luxuries and amenities. In my opinion, those days are over. New factory build homes can include anything from touch screen remotes that wirelessly control your entire home's lighting, temperatures, locks, and safety to small movie theater rooms to incredible cobblestone kitchen islands with built-in sinks and cutting stations.
In conclusion I would like to say that the stigma of mobile homes and manufactured homes has improved in the last 14 years since I started investing in mobile homes; however, it has not disappeared. Even if the stigma has not completely died, the safety, construction, and laws have certainly come a long way. While it is unfortunate many folks may never give manufactured homes a try, it is at least interesting to know the journey these homes have been through in recent years.
If you're a mobile home investor, what changes have you seen throughout the years? Do you think the stigma associated with these homes is diminishing?
Let me know with a comment!
Note By BiggerPockets: These are opinions written by the author and do not necessarily represent the opinions of BiggerPockets.