"If we don't change something, we are headed for a divorce."
I am sure you would agree that these are very strong (and scary) words to hear your spouse say to you. This was a comment my husband, Matt, said to me back in 2009 during one of our *many* heated arguments about working together in our real estate business.
This is not something you want to hear your partner say to you EVER, but the comment got my attention.
It REALLY got my attention.
After this comment and evaluating everything, we decided it would be best for us to stop working together full time and for me to rejoin the consulting company I was working with previously.
Before I continue, let me take a step back and share a bit of background with you. Matt and I started with nothing, and through attending courses, workshops, and reading a lot of books, we bought our first duplex in 2004 with a loan from my parents (before we were even married). We then started the DeRosa Group in 2006. I was always involved in the business on a part-time basis, even while I was working full-time as a consultant in a completely different type of business.
Then in 2008, I decided to leave my job and join my husband full-time. He had already been full time since 2005. As I just shared earlier, in 2009, we decided that for the health of our marriage, it would be best for me to go back to my consulting job and for Matt to continue running the day-to-day business. Then, in 2013, I decided to leave my full-time role and work part-time again in our investing and property management business. Since 2013, we have had a much healthier business relationship, and as a result, both our marriage and business continue to grow and develop.
Why Am I Telling You All of This?
While I am not an expert, I certainly have a lot of insight into this topic. I have taken all types of roles in our business—from strategic roles to day-to-day roles to full-time to part-time. Over the years, we have gone from fighting all the time in the business to working really well together.
As I reflected and prepared to write this post, I thought of the most powerful and useful tips I have learned along the way that have helped us work well together.
Here you go!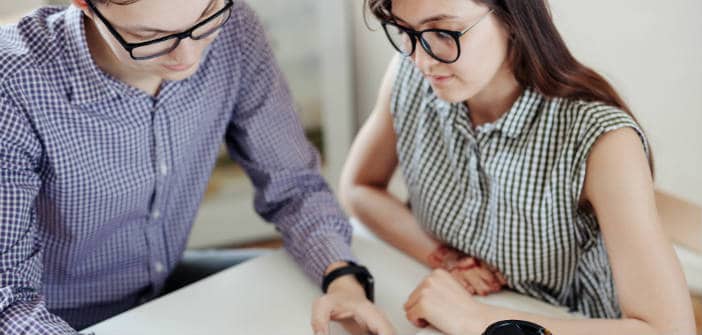 4 Tips for Surviving Real Estate Investing With Your Spouse
1. Respect (and honor) one another's "money blueprint."
I have attended a lot of "personal growth weekends" over the years. I have to say, hands down, one of the most powerful weekends I have attended is the Millionaire Mind Intensive, which was created by best-selling author T. Harv Eker. The weekend event is chock-full of phenomenal content for anyone, especially real estate investors.
Related: The Quick Exercise to Help Put You & Your Spouse on the Same Investing Page
One of the lessons during the weekend is to discover your "money blueprint." I can't remember all four of the blueprints except for the two that applied to us. I am the "saver," and my husband is the "spender." We knew this about each other before the weekend, but being able to have a common language about our money blueprint and when it serves us and when it does not serve us was incredibly healthy for us. We attended this workshop about four years ago, and I have to say, this knowledge about one another continues to help us respect and honor these differences without becoming frustrated and judgmental towards each other.
2. Seek to first understand, then to be understood.
This is one of the 7 Habits of Highly Effective People by the late Steven Covey. Every time I bring this habit up to someone, they stop me and say something like, "Yeah, I know this habit. It is common sense." This always baffles me—because although it is common sense, is NOT common practice.
Making this habit "common practice" is the real hard work. If you do this—seek to FIRST understand—then that would imply you would have to really, truly listen to the person and put yourself in their shoes FIRST. Even though I have been married for over 10 years now, I can't ever assume that I know what Matt is going to say or assume that I know what Matt really needs.
Every human being has the need to be understood and listened to—truly listened to. When I give this to Matt, our communication is clear, peaceful, and calm. When I seek to be understood first, this is ALWAYS a recipe for disconnect and frustration.
3. Don't simply tolerate one another's differences—leverage them instead.
An area that I have expertise in is developing and building high performing teams. I did a lot of consulting with small and large companies to help them build and grow a successful team. A quality of a high performing team—whether it is a group of people or simply a partnership between a married couple—is creating and sustaining a consistent habit where each leverages one another's differences.
What happens in average partnerships/teams? Well, each person allows themselves to get annoyed by the areas/skills that are different from their own. Instead of becoming annoyed with these differences, you need to appreciate and leverage these differences.
What does that really mean? What does it mean to leverage these differences?
Well, it means to fully utilize or fully optimize one another's differences. I will give you an example between Matt and me to help illustrate this point. I can tend to be more intense and have a greater sense of urgency than my husband. Matt, on the other hand, tends to be more easy going and casual in his style. This "personality" difference has been the cause of many disconnects between us in the past.
However, over the years, Matt has come to appreciate and utilize my level of intensity in situations where this quality helps (such as situations where we are trying to expedite a situation or something is not happening quickly enough). This personality trait used to bother and annoy my husband. Now he has learned to appreciate and leverage it to move us towards our goals.
4. Create space to do your "own thing."
I think this is probably one of the most important tips when working with your spouse. You should be committed to the same goals and vision for your investing business. However, it is so incredibly healthy to have space to do your "own thing." Your "own thing" means having separate and distinct roles and responsibilities in the business that also align with your passions and strengths.
Related: 7 Ways to Stay HAPPILY Married When Investing with your Spouse!
During the first go-around working with Matt (when we did NOT work well together), we did not do a very good job of giving one another space to have our own roles and responsibilities. I was Matt's assistant (so to speak) and that did not work for me, my strengths, and my personality. The most recent go-around where I am working with Matt again, we learned from the past and realized that we work best together where I am less involved in the "day to day" and involved with special projects that I can run myself.
Of course, I still support Matt where I can, and he supports me. However, it is important that we both have our own area to focus on and that we don't micro-manage one another.
"No relationship is all sunshine, but two people can share one umbrella and survive the storm together."
I am not sure who said this quote, but it is so true! There is no other person on this planet that I would want to be going through the ups and downs of our business with.
No business, no property, and no relationship is all sunshine. This real estate investing business takes a lot of perseverance, guts, and hustle. I am so grateful to be going through this investing journey with my husband.
I hope you take one of these tips and begin to use it in your relationship.
Whether you are considering working with your spouse or you already are working with your spouse, stay the course and don't give up. Seek to FIRST understand and then to be understood. Enjoy all the twists and turns on the journey.
We're republishing this article to help out our newer members.
What works well for you and your spouse? What success secrets would you share to a couple considering working together? What have I missed?
Thanks for reading. I would love to hear from you!