Many newer real estate investors unwittingly fall into a group that wishes to purchase and invest in primarily single family homes. Occasionally, some real estate investors begin to think outside the box and consider investing in smaller real estate niches, as well, to grow their income and businesses faster.
In this article, we discuss whether investing in mobile homes in your local area is wide open or heavily competed.
Understanding who exactly your buying competition is while purchasing local used mobile homes is an imperative place to start. Your competition is more than simply other mobile home investors nearby.
If you have not already done so, please read a separate article titled "The 6 Types of Mobile Home Buyers Investors Compete Against." Once you understand who else is looking for used mobile homes in your area, you can proceed toward finding local supply.
As a quick recap, we will cover the three main sources of your competition while trying to purchase used manufactured homes inside pre-existing communities, as well as mobile homes located on private land.
Who Is Buying Mobile Homes?
Buyers With Cash
In most areas, buyers of used mobile homes with over $10,000 available cash are few and far between. Almost every used mobile home seller in local parks is competing over the few cash buyers in most markets.
Disclaimer: In some hot-spot areas around the country, however, there are certain neighborhoods with a high percentage of buyers with cash to spend.
Related: 7 Advantages to Working With Mobile Home Builders and Dealers as an Investor
Buyers With Approved Bank Financing
Bank financing has restrictions. The subject mobile home, the home's foundation, the park, and the buyer must all meet underwriting criteria for many loans to be approved. Many mobile homes are simply un-financeable.
Other Mobile Home Investors
In general, investors who specialize in used mobile homes make up a very small minority of the local real estate investors in and around your area.
Not all mobile home investors aim for the same properties. Another mobile home investor in your area may not purchase the same type of mobile homes as you are interested in. This can turn into a symbiotic relationship, where both investors are mutually sending leads to the other investor.
Level the Playing Field
The more effort you put into contacting sellers and making accurate offers, the better the results you may expect. Getting noticed and closing deals does not take a high degree of capital or credit. However, this niche absolutely does take hard work, daily effort, knowledge, the willingness to talk to strangers, the ability to get your questions answered, and in some situations, caring for others.
If you are prepared to invest time and effort daily, then there is little standing in your way in most businesses.
Inventory & Market Strength
Inventory of Mobile Homes Around You
As an active mobile home investor, the more mobile homes and mobile home parks around you, the better. Begin looking online, in the Yellow Pages, and offline for local mobile home parks and communities within a 50-mile radius of you.
In some areas, there will be thousands, and in other areas, there will be less than 100 nearby. Any quantity of mobile home parks above 50 within a 50-mile radius is a healthy number of communities with which to operate a part-time mobile home investing business.
Disclaimer: Be aware of mobile home communities you may not want to invest within when starting out. Some types of communities to be cautious of when beginning can be age-restricted communities, no-pets-allowed communities, very expensive lot rent communities, and very strict communities. At least initially, it may be prudent to keep away from these communities if possible.
Pro Tip: If you are in a geographical location near only a dozen parks or so, you absolutely have the ability and responsibility to grow your business by driving up to 90+/- minutes away. This will allow you to expand your area and look for additional towns with even more mobile home parks and neighborhoods.
Buyer's Market or Seller's Market?
Is there an abundance of people moving to your city or moving away from your city? Perhaps your town's population has remained consistent for the past decade or more.
Understanding if your market is growing, shrinking, or remaining the same will assist you greatly in understanding the demand for affordable housing and mobile homes in your area. Typically, the greater the incoming number of people moving to your area, the greater the number of people looking for affordable housing—some people with cash and many without.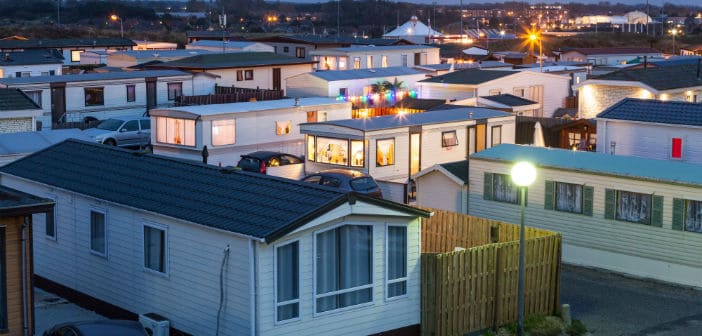 Related: 5 Industry-Specific Words All Mobile Home Investors Should Know
How to Get Noticed
There is not one company or person who has a monopoly in any market with regard to mobile home investing—or any other investing, for that matter. The greatest investors have yet to start. Anyone dedicated to taking correct daily action toward building their businesses and reaching their goals has a great chance of succeeding.
In this article, we have really been discussing the demand of "affordable housing" inside your local marketplace. If there are an abundance of buyers coming into town all fighting over a very small supply of properties, this will naturally raise nearly every property's value, demand, and purchase price. However, if your local population is staying static or decreasing, there may be even fewer purchasers to look at a seller's mobile home for sale. And fewer buyers in the marketplace certainly means more of an opportunity for local investors like you to help local sellers.
If you're a mobile home investor, how do YOU keep tabs on the competition in your market?
Let me know with a comment!
Note By BiggerPockets: These are opinions written by the author and do not necessarily represent the opinions of BiggerPockets.