This is the second post in a five-part series that explores how the traditional "American Dream" does not fit today's world. The rest of the series will discuss what once constituted success and whether these sought-after milestones should be left alone, tweaked, or changed altogether. Read the first article here: "The American Dream: How Has the Definition Changed Over the Years?"
As we established in Part 1 of this series, there is no perfect definition of the American Dream. But it does seem that the definition hasn't changed much over the last several decades. My survey of Generation Z resulted in several different ways to define the American Dream, but their definitions were more similar than different and their descriptions are in line with previous generations.
In spite of this, is the American Dream "broken" in modern society? And if so, what's wrong with it?
Is it possible that the current understanding of the American Dream is just fine and that we should leave the old dogma alone and let it rest? NO! A thousand times, NO!
The American Dream needs some work. Some parts still stand firm—like hard work, ingenuity, opportunity for all, safety, and security.
But other aspects are old and weathered. We need to replace them with fresh ideas, thoughts, and ideals. Let's tackle some of these head-on, starting by revisiting the 10 steps of the American Dream from Part 1.
Those 10 steps include:
Go to high school and get good grades.
Go to college and get good grades (while probably taking out student loans).
Get a good job.
Continue to spend more as one makes more.
Get married and have 2.3 kids and a dog.
Buy the nicest house and car one can afford (financing both).
Work for 40+ years to support one's family.
Retire at age 65.
Enjoy the good life.
Leave your children a nice inheritance when you die.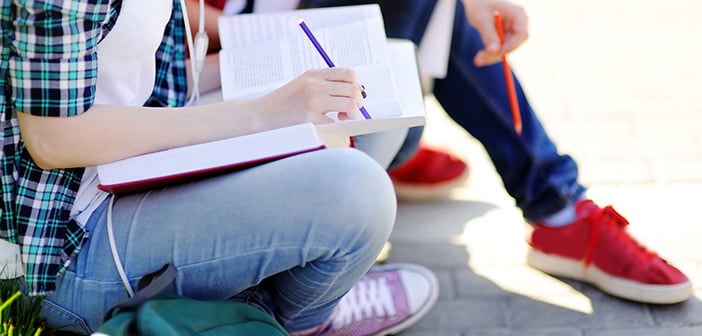 Should We Modify the "American Dream"?
In this post, we will begin by looking at Steps 1 and 2.
Step 1: Go to high school and get good grades.
This step is pretty solid. It has stood the test of time. (And I'm not just saying that because I'm a high school teacher.)
Getting a high school diploma is essential. Getting the most out of one's free public education is even more critical. But some classes are better than others. Getting a 4.5 weighted GPA is not as crucial as taking courses that will actually benefit the student later in life.
(For more insight on how a teenager can maximize their high school education, take a look my post "Teens & Finance: 5 Classes Your High Schooler Should Take to Start Out on the Right Financial Foot.")
But as you will read in the hash out of Step 2, the goal of high school should not be getting accepted into the best (aka most expensive) college possible. As a matter of fact, college is not required to live a happy, fulfilled life!
This idea is blasphemy coming from a high school teacher, I know. But the hard truth is that many college graduates do not get their money's worth. And the number of those netting a negative ROI from their investment in a college degree will only continue to climb alongside the staggering tuition increases.
Related: Why Following the American Dream Will Rob You of Financial Control
Step 2: Go to college and get good grades.
To college or not to college? That is the question.
I have no resolute answer here. Each individual will need to weigh the pros and cons of a college degree when aligned with their future aspirations. And this is incredibly tough to do when you're trying to figure out your long-term goals as an 18-year-old. It's incredibly daunting for someone that age to accurately diagnose their future objectives and ambitions.
Here is a text I received today. I honestly received this from a former student about four hours before writing this article. The former student is at a four-year university and is halfway through the first semester of her freshman year:
"Mr. Sheeks! I want to tell you something that I think you should hear, as well as your classes. Recently I decided to completely change what I thought I was gonna do in college and with my career. I originally came in with the thought of being a doctor… but have recently realized that it is not the path. I want to start my own business, as well as hopefully teach."
So many students have emailed, texted, or told me very similar stories over the years. Fortunately for this student, she figured out her real ambition very early on in her college career and will save thousands of dollars by switching her major her freshman year—not as a junior or senior. Hopefully, she doesn't change majors again.
My path had a wild change of direction when I was young, as well. In college, I majored in business with an emphasis in marketing and management.
At 18, all I knew was that I wanted to be rich. I made fun of my friends in college who were majoring in education and aspired to be teachers: "Why on Earth would you want to spend your days with bratty kids and make no money while doing it?"
This was a typical rant I would say to those friends. I was half-serious and half-joking.
I graduated with that business degree and decided to travel. Traveling lasted for six years. I learned a lot about what is actually important to me and what my genuine values are. I had changed.
At age 27, I decided being rich wasn't as alluring. Enjoying my job and feeling rewarded and fulfilled were my new goals. I went back to school to get my teaching license.
After 17 years in the classroom, I've never doubted my change of career paths even once. Unfortunately, I spent four years in undergrad, two years getting my teaching license, and another two years getting a graduate degree—all while using student loans to pay the way. I could have done it all in five years had I known at 18 what my 27-year-old self was going to want to do.
Notwithstanding the fact that college can be extremely pricy and that a student may change their major two or three times, another factor to consider is that college can be completely unnecessary altogether. Major corporations such as IBM, Google, Apple, Costco, and Ernst & Young are starting to relax their requirements for new hires to have a bachelor's degree. They see the value in training their employees from a very young age. In fact, it helps with retention and employee productivity.
And we haven't even gone into the years of financial and opportunistic handcuffs that student loans can have on a graduate for decades.
I'm not saying that someone should not go to college and earn a four-year degree. There are no hard rules here. But what is certain is that the long-standing belief that one has to go to college to fulfill the American Dream today is shattered at best.
In the next post of this series, I'll dive into more of the remaining 10 steps of the American Dream and what's wrong with them. Until then, here are some quotes from (likely familiar) authors regarding the decision to go to college.
Related: 3 Reasons You Should NOT Follow the American Dream and Buy Your Own Home
What Do Personal Finance Experts Have to Say About College?
"Education is great. We've all seen the studies about how much more money people make over the course of their careers when they go to college, grad school, or become doctors and lawyers. I'm not here to argue with that. It is absolutely true that over the course of a 40-year career, you will likely earn way more money with higher education. But only if you have a 40-year career. And only if your goal in life is to actively earn a lot of money."
—Scott Trench in "3 Negatively Cashflowing 'Assets' That Devastate 20-Somethings' Finances" on BiggerPockets
"The most important investment you can make is in yourself. Ask any billionaire, and they'll tell you it is the best investment you can make. Invest in your knowledge, skills, and performance, which will ultimately help you earn more because you can bring more value to the marketplace. Obtaining skills, along with knowledge, are things that people can't take from you. However, if you're considering investing in a college education, think twice before accumulating that bad debt. Those are years you won't get back—often spent on irrelevant information—and those loans will keep taking money out of your pocket for years. Instead, consider books, seminars, events, and training with a mentor. This information tends to be more transferable to the real world. Do what you can afford, and as it pays off and increases your income, keep dedicating a part of everything you make to more learning."
—Sterling White in "The Top Reason You're Broke" on BiggerPockets
"If your goal is to achieve financial independence and retire early through real estate investing, a higher education will likely set you back. Why? You do not need a formal education to invest in real estate."
—Craig Curelop in "5 Roadblocks on the Path Toward Financial Freedom" on BiggerPockets
"Unless you're planning to become a doctor or lawyer or go into a profession that requires a special degree, you may not need to go to any formal training programs after high school or college to earn money if you look for great learning opportunities in a job. In fact, you can be paid to learn in the real world instead of paying high tuition fees to learn in a classroom setting… Am I saying that education isn't important? Not at all. Education is the foundation of success. I'm saying that school is just one place to learn."
—Robert Kiyosaki in Rich Dad Poor Dad for Teens
How do you feel about the traditional American Dream? Does it still apply? If not, how would you tweak it?
Weigh in with a comment below.