When investing in property far from home, you're going to need help from individuals located nearby. Fortunately, finding a solid real estate agent can help the rest of your team fall into place, too! Agents generally have some great referrals for lenders, insurance agents, and even property managers.
A real estate agent, or Realtor (aka active and paying member of the National Association of Realtors), is important because they will be writing the purchase/sale contract(s) for your investments. For this reason, you need to find an agent who understands how to work with investors.
For example, my agent knows that I send a lot of offers, often much lower than the asking price. That is why she calls the listing agent and delivers a "verbal offer" to test the waters before drafting the official contract. This works in some smaller towns in the Midwest, but in hot markets, you probably need to write the official offer up front.
Looking for a real estate agent? Check out BiggerPockets's agent match!
Finding an agent who is willing to write a lot of offers (and sometimes embarrassingly low offers) is not always easy. It will work out though, because a solid investor-friendly agent will know that low offers are worth it when you're buying houses more often than the average person.
Where to Find Good Real Estate Agents
OK, we get it, you need a good agent… but where are they?
Real estate agents can be bafflingly hard to find. I spend a decent amount of time helping investors find and vet real estate agents across the nation, and it never ceases to amaze me how difficult this process can be.
Related: The Surefire Way to Find the Best Real Estate Agent in 3 Simple Steps
Sometimes, I will find four or five real estate agents, email them all (or fill out their contact form), and never hear anything back. Other times, these real estate agents will add me to their automatic distribution lists but still not actually contact me. Strange.
Perhaps these real estate agents are masochists who prefer making cold calls over talking with hot leads they receive?
That being said, finding a good real estate agent is not as easy as you might think. Here are a few methods for finding agents in a new market.
Referrals
Without a doubt, the best way to find a real estate agent is through a referral. Ask two to three investors you know in that market for the names of their agents. The odds are in your favor that if a successful real estate investor is using an agent, he or she will probably be able to meet your needs, too.
If you don't personally know any investors in the area, you could reach out to local real estate investor associations (REIA) and ask if they have any members who are both an investor and an agent.
Last but not least, you could find somebody with a network and ask who they know. While this can be a good option, make sure the person actually knows these individuals and/or markets or at least talks to them on the phone to vet them for you. Otherwise, they could just be doing a Google search, which you could do yourself.
For example, I have helped several military real estate investors connect with agents I know across the country.
Related: How to Find an Investor-Friendly Real Estate Agent
---
Find an Agent in Minutes
Match with an investor-friendly real estate agent who can help you find, analyze, and close your next deal.
Streamline your search.
Tap into a trusted network.
Leverage market and strategy expertise.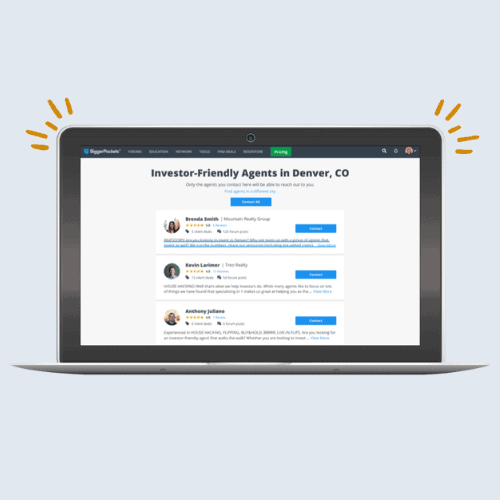 ---
Yelp
If you can't obtain a referral, turn to the internet. Conduct a Google search for "best real estate agent in X city." Inevitably, this search will pull up a Yelp review page. Go to the Yelp page titled "THE BEST 10 real estate agents in X city," but be sure to scroll down past the "sponsored" agents (they are paying to show up higher on this page) and down to the "all results" section.
Once there, you can see how many reviews these agents have and what their ranking is. People don't (usually) go out of their way to leave reviews for people online unless they are negative. When you find an agent with a lot of five-star reviews, they are most likely really good or at least have a great follow-up system in place.
This isn't a perfect system, but it is a good place to start.
BiggerPockets Agent Directory
Next, search through BiggerPockets for real estate agents in specific markets. There are some great agents on BiggerPockets, and the odds of them being real estate investors are much higher on this website than anywhere else. You can also see which agents are serious about their business because they will have a premium membership.
To get the best feel for agents from afar, combine the results of your Yelp and BiggerPockets research.
Google
You can also search Google for real estate agents, but beware—an agent with good search engine optimization (SEO) can rank very high on Google, regardless of their abilities as an agent. This should be your last resort, and thorough vetting will be necessary.
How to Vet Real Estate Agents
Now that you've found a few real estate agents online, the trick is to figure out which is the best fit for you. Real estate agents are not a one-size-fits-all, and you will find that a great agent for you might not be the perfect fit for your friend and vice versa.
Reviews
As I mentioned above, I'm a fan of reading reviews online. If an agent has a lot of terrible reviews, they probably aren't worth interviewing. On the other hand, just because an agent has five-star reviews doesn't mean they are the perfect fit for you. That being said, why not interview a handful of agents with great reviews online than agents with no (or low) ratings.
Communication
Hands down, communication is the most important thing to me about a real estate agent. Personally, I like real estate agents who are high "D" and "I" personalities on the DISC profile. "D" personalities are driven and very aggressive, while "I" personalities are those influential people who are naturally good communicators.
While there are great real estate agents who fit more into the "S"/"C" side of the agent profile, I have not found them to be aggressive or communicative enough for my personal taste.
How quickly will a particular agent respond to emails and texts? How fast will they return your calls? These are very important factors. A good agent will get back to you ASAP. If a potential agent doesn't return calls quickly, view it as a sign that they won't keep you updated throughout the process.
Personally, I do not want to be calling my real estate agent asking what the next steps are. I want them to call me and let me know where we stand.
How to Spot a Bad Real Estate Agent
Recently, I was helping somebody navigate the acquisition of a 14-unit building, and the real estate agent was virtually non-existent throughout the process. He was working with this agent while stationed in Europe (definitely checks the "long-distance" box) and constantly having to ask her where he stood, what was next, etc.
In fact, I was guiding him through the process of getting an inspection, calling banks about financing, hunting down contractors for bids, and almost everything else. I remember (on multiple occasions) asking him where his Realtor was in all of this and telling him that she should be more involved.
This whole process was very painful, and ultimately the deal fell apart. I'm pretty sure he dodged a bullet with this deal, but it might have been a great opportunity if he could have just found the right team for the job.
Moral of the story: find an agent who is a great communicator.
Side note: If you're a real estate agent, become a great communicator. Nothing hurts your business more than a lack of communication, aside from being unethical.
Negotiation and Closing Skills
A good real estate agent will be able to negotiate on your behalf. This is another reason I look for aggressive, communicative agents. The more a real estate agent is willing to negotiate on your behalf, the more money you will save.
It makes me laugh that investors will change lenders over the promise of a 0.1% lower rate but won't fret about an agent who isn't willing to try and negotiate a $10,000 discount.
I hate to say this, but there are some agents who will even go so far as to avoid negotiating because the higher purchase price means a higher commission. They figure that as long as you're willing to pay for the home… This isn't unethical. Find a real estate agent who knows how to negotiate and prides themselves on how much money they have saved clients on deals.
Also, you want a real estate agent with a "can-do" or "quitting isn't an option" mentality. Sometimes it will be difficult to make it to closing, and you don't want an agent who avoids conflict.
Experience Level
Unpopular opinion: I actually don't think this is as important as some people do.
Don't get me wrong, experience is great—but so is hunger. I know a lot of extremely driven new agents, and as long as they work in a solid brokerage, they could be great for you.
The agent who has helped more people for me than anyone else in the country has been an agent for less than a year. He works under some experienced agents but is extremely hungry, a great communicator, an expert negotiator, and refuses to let a deal fall out of contract.
Are there more experienced real estate agents in the area? Sure. Are there others I would recommend a friend work with over him? Not many.
Inexperienced, uneducated, and unmotivated doesn't work. They need to be very knowledgeable and very motivated. Experience is just icing on the cake for me.
How to Choose a Real Estate Agent When Living Out of State
Ultimately, the best advice I can give you for choosing an out-of-state agent is this:
Ask experienced investors for a referral
Check the agent's reviews online
Schedule interviews with 3-4 real estate agents
Pick the one whose personality and background fits what you're looking for
Start hunting for deals. If the agent is good, you're all set. If the agent turns out to be less than ideal, repeat the above sequence until you find a rockstar.
Happy hunting, everybody! And may the best real estate agent win (your future business)!
Note By BiggerPockets: These are opinions written by the author and do not necessarily represent the opinions of BiggerPockets.