There is more and more talk about a new real estate correction happening. It's smart to be alert and aware of how the market is changing. But it's even more important and wise to be ahead of the curve and to have efforts in place to weather the storm.
Want more articles like this?
Create an account today to get BiggerPocket's best blog articles delivered to your inbox
Sign up for free
They say that the Manhattan property market has been in a correction for a year already. Some think that will keep spreading—though there are many others in the media saying we won't face another crisis like 2008.
Whether or not you've experienced a correction, there are things you can do now to mitigate risk when it happens. Here's what I do personally so I don't have to worry as much when I hear news of a possible market correction.
5 Reasons I'm Not Worried About the New Real Estate Market Correction
1. I buy on cash flow, not appreciation.
My real estate investing model is to acquire income properties. I'm not counting on flipping or gambling on appreciation. That seems especially dangerous right now. The numbers have to work up front, and I have to be able to hold it. More recently, I moved up to multifamily apartments, which are even more resilient during tougher economic times.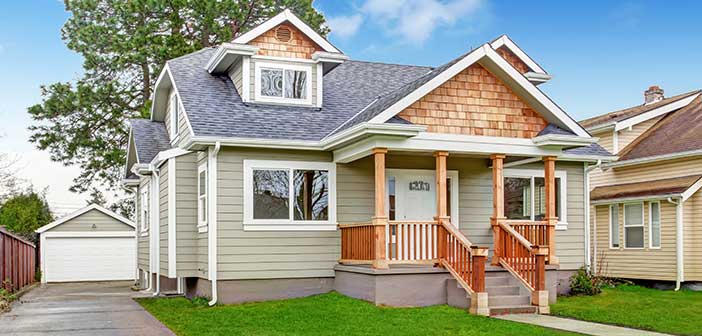 Related: With Markets Shifting, Should You Invest in Real Estate Now—Or Wait to Buy?
2. I focus on growth markets.
There may be some housing markets and cities that have peaked or even surpassed their recent peaks already. Still, there are also markets that are growing and have plenty of room for growth. Even within these cities, it is best to make sure not to be investing in the worst neighborhoods, which have poor performance and crime rates that bring down values. Initial cash flow projections and returns on investments in those lower income neighborhoods may look good on paper, but the longevity is not there. That is why they frequently change hands to different owners in short time periods of time
3. I'm selective.
ATTOM Data says that only just over 30% of houses flipped in the first half of 2018 were bought as distressed properties. That means most investors are picking full-priced properties (or higher) off of the MLS. They are gambling on appreciation to sell them for more or are putting little rehab work in to them to sell. You may want to be more selective. I probably now look at 175 to 200 properties before pulling one down to work on.
4. I stick to the numbers.
The numbers have to work. It's still hard not to fall in love with properties, but you can't afford to. You aren't going to live there. It is far more profitable to just buy on the numbers alone. That's why I often say my best deal was this 118-unit apartment complex I didn't do.
If you let yourself fall in love with a property, you can be tempted to stretch numbers, make excuses, add in hope instead of facts, and generally sell yourself on a property you have no business buying. It helps to have a great partner who underwrites the deals on the math and always keeps you in check.

Related: How I Found & Financed My Second House Hack in the Hot Market of Denver, CO
5. I focus on service and long-term value.
When it comes to management, I'm focusing more on service and making apartments "communities." So, if or when rents drop, then that can give us the upper hand. If another community has lower rents or is marketing special deals, but our service is better with the rent rates a little higher, that is value we offer, and folks will see that.
People have been burned so badly and frequently in so many aspects in this day and age that they just want a business that will do what they say. It's interesting that this basic level of honesty is so rare—and that's good for us. It's sad to see what will happen to so many other brands and jobs because they are trying to squeeze every dime out of people with sneaky tactics. People know they can trust us. They will stay. They will tell their friends, family, coworkers, and people they meet in the coffee shop or gym. That means lower turnover rates, and it adds far more net profit to our properties.
Conclusion
There may or may not be a housing correction at play. No matter when it comes or how deep it is, there are smart adjustments investors can make now to avoid risk. If you think bigger and longer term and aren't drawn into stampedes in either direction, you should be OK.

What do YOU do to sleep well at night despite talk of market corrections?
Comment below!
Greg Parker

Contractor

from

Montgomery,

AL

Replied 8 months ago

Well put. I agree with everything you said. I normally look at 100 properties for every 1 purchased. I have noticed I may need to up that to 200, but we are having a seasonal correction here in Montgomery so that has prices down a little.

Thanks for the comment. Do you expect things to pick back up during the summer months or is the market is cooling off overall, Greg?

Sounds a little like Buffet's approach to investing as he is likewise totally unconcerned about contemporaneous market values. As long as the intrinisic value of the investment at issue is significantly greater than your acquisition cost (this is where a rational run of the numbers comes in), the market will in time reflect this. Of course when markets as a whole are fully priced (perhaps as now) finding these opportunities is much more challenging, but still possible.

Thank you, that's reassuring. I'm a newb and hearing this from experienced pro's gives me confidence.

This is a great bit of advice. The idea that any market (up or down) will have it's deals is entrenched in me and the focus on income is my approach too. But I'm just getting started so … thanks for this very useful article.

Anytime. Glad the philosophy was helpful!

Thanks for the post, I to love restoring older homes, there is less competition as there is a bit of creativity required in the renovation that most investors pass on. I get grief from some that I treat my tenants to well, but I believe providing good service pays off in a down turn ( I invest in a small rural community). I have people asking if I have any rents available all the time, my renovation projects are usually spoken for well before they are finished.

Well put, Sterling. Thank you

No, thank you. Glad you enjoyed the read, Jonathan.

Great point on #5. It's amazing (and sad) how being open, honest, and fair puts you in front of so much competition.

It goes a long way for sure.

Eric Gross

Real Estate Agent

from

Lebanon,

Ohio

Replied 8 months ago

Well written! As an agent in Cincinnati I have seen properties being overpaid for, but for the most part I think all of the growth occurring is natural. Low inventory and high demands will always drive prices up, especially when considering owner occupied homes. My big fear lies in multifamily, as people are still throwing cash at any property that seems to have an appearance of cash flow. I don't think we will see another 2008 for a very long time!

Agreed! Thanks for your input, Eric.

THIS is why I want to get into Long Term buy and holds, its not risky if you do it correctly. Great article, I look forward to learning more from the master!

Brian Ploszay

Investor

from

Chicago,

ILLINOIS

Replied 7 months ago

The last real estate crash did not affect the demand to rent apartments in my sector. Apartments actually tightened. So the business was sound. Lots of properties went into foreclosures, but they were mostly residential houses. B and A quality apartments weathered the storm. Lots of C quality buildings went into foreclosure as over-leveraged operators simply walked away. There were also some fraud deals in this sector. Some leading housing economists do not predict that we are in for a major housing correction. However, the sentiment for multi-family investors is that valuations have crested. I'll agree with acquisition pricing, but rents and the fundamentals of apartment investments are still healthy.

Len Pader from

Westchester,

NY

Replied 5 months ago

Sterling, this is a great post, thank you! How do you identify growth markets?

Len Pader from

Westchester,

NY

Replied 5 months ago

Sterling, this is a great post, thank you! How do you identify growth markets?