Looking to capture more email addresses on your real estate website? It doesn't have to be rocket science. Try implementing these tips and see how fast your list grows!
7 Creative Ways to Increase Your Site's Opt-in Form Signups
1. Craft a catchy headline.
The headline of the contact form on your website can be a deal breaker if not catchy. People will respond to things that get their attention, so if your headline is plain and straightforward, then not too many people will be signing up.
Most forms I see on the real estate website read something like this:
Sign up
Get information
Join list
Get updates
These are so horrible, it hurts my soul to read them. You see, I have seen these type of headlines all over the internet for years now and often wonder how in the world they convert people into leads. No fear! I'm here to help you increase your signup rates by another 70% with catchy headlines like these:
Get a Complete Buyers Guide
Simple Seller Formula to Selling Your Property
How to Stay Out of Foreclosure
How to Sell Your House While You Sleep
Now, I don't know about you, but I'd be more inclined to enter my name and email address after reading the above catchy headlines I've listed. When people hit your website, if it's your goal to increase leads by getting people to sign up for something, then you must start getting creative. Offer then interesting content with titles such as the above if they're willing to opt into your mailing list.
Related: Disappointing Direct Mail Results? Here's What You're Doing Wrong
2. Create a highly visible home page form.
It may seem like a "duh" tip to have your opt-in form on your home page, but for some, it's not. To increase entries, you need to give people a front row seat to what you have to offer the second they hit your website.
If you're giving out business cards that have your website on it, just know people will go there. The first place they will hit will be your home page, so to get them to take action on the first visit, be sure to feature your form on the front page. Just know some people don't ever progress pasts the home page, so you might want to make it your duty to capture them immediately.
3. Optimize every single page.
Due to specific platforms people are using to build their websites, some sites don't have opt-in forms on every page. Most of the time, it's the theme you have for your real estate website that makes it hard to have an opt-in form on each page.
Maybe in another blog post, I will dive further into an explanation of this. For now, I just want to get into why you need to have it on every page of your website for higher signups.
Naturally, the more opt-in forms you have, the more opportunities you have to capture people. This is why I'm always suggesting that people blog as much as they can for local rankings. Once people hit your website via a Google search, they should see your form first and foremost.
4. Feature an eye-catching "submit button.
People are attracted by flashy, colorful, and attractive images that force them to take action. Your "submit" button must serve a purpose to get people to push it. I could write an entire blog post on this subject, but to keep it simple, here is something I would do right off the bat.
First, change the color of the button to any of color that's not related to your website's leading colors. Doing this will make it stand out as people scroll down your website's pages to view more elements. People don't read much; they usually scroll down pages in a skimming fashion.
5. Change your form color.
Your opt-in form needs to have its own primary colors to stand out from the rest of the website. Don't use anything crazy or tacky, but something that goes along with the site and looks good.
Again, people will see a significant headline and your submit button—and they will be more willing to take action. The color of the opt-in form plays a substantial role in getting people's attention, and if you make these simple changes, you will see an increase of opt-ins.
6. Add an image.
One of the best-kept secrets is using an image inside your opt-in box. This is something we do a lot in the online marketing space to give people a more visual look into what they're getting.
Your email marketing software may have template images you can use. If not, then you might have to create something of your own by yourself or by paying someone $5 on Fiverr to create one for you.
When you add something like this on top of all the other changes, then you will see better results. Now, just know you do still need to be getting traffic to the website, so that's another issue. Just remember that to get more opt-ins, you need to showcase your opt-in to the masses like no other in your local market.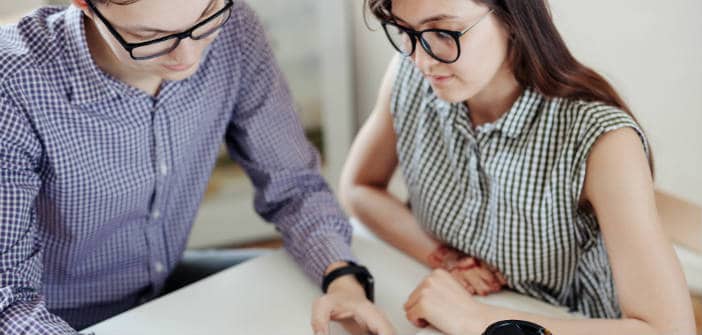 Related: The Ultimate Guide to Real Estate Marketing: 10 Tools to Generate Unlimited Leads
7. Ask for what you want.
One of the things I learned from a good internet friend back in 2005 is to ask for whatever you want. Sounds simple, but some people have a big issue asking for things because they're worried they may come off as pushy.
I've had the pleasure of growing one of my lists from another website project I had years ago to over 100k subscribers. First and foremost, I did this by making the changes I listed about the opt-in form to make it look and feel more welcoming.
Next, I made a big move via a very simple change. Every time I published a blog post, I would start it off by asking people to subscribe to the community of other exceptional individuals.
It goes something like this:
Welcome to "blog post title." Before jumping into this content, will you take a moment to subscribe to this awesome community by entering your name and email address in the box to the right side of the page?
This little change is what got people's attention and gave them the immediate decision to sign up for my newsletter. I believe this will work for you as well if you make the right changes and having something of value to give away.
Do you plan on making these changes?
We all love to see the whole community making the right adjustment to growing their real estate leads for local domination.