Landlords rely on their tenants paying rent on time to run a successful business. Paper checks are the traditional way by which landlords collect rent. But there are many reasons for landlords to switch to online rent collection.
Unfortunately, many tenants view landlords as money-grabbing people who are only concerned about collecting their checks. The reality is that landlords' primary source of income is money from their rental properties—so they are rightly concerned about tenants paying rent on time.
The lease agreement that tenants sign clearly outlines the date for rent payments and the method of payment. Successful landlords also carry out a thorough screening process to ensure tenants can afford to pay rent and have a good credit history. Because rental income is crucial to running a successful business, property managers should ensure they have a robust and secure method of collecting rent.
Modern technology allows for a significant number of rental payment options. According to a report by the Federal Reserve Bank of Boston, 42% of people still prefer to pay rent by check. The survey showed that in 2014, only 7% used an online banking payment.
On the other hand, many companies emphasize the need for switching to online rent collection methods. Online rent collection helps landlords run a successful property management business, ensure healthy cash flow, and receive rent payments made on time.
Thankfully, in less than a decade, technology has advanced so much that online rent collection is slowly becoming more appealing for the landlord and the tenant.
Why Are Checks Such a Bad Thing?
There are two principal reasons why checks are a nightmare payment method for both parties. On the one hand—and often unintentional—checks are easy to forget. With so much going on in most people's lives, rent day slips past like any other day.
Also, bills come on various days of the month. Of course, it would be easier if everything was due at the same time. A tenant could sit down and quickly write checks for all the bills. But if it's one here and another there, it is easy to get caught up in the stresses of life. And, it can be easy to forget to send the check.
Related: The Landlord's Ultimate Guide to Collecting Rent
Then there are the intentional problems with checks—checks bouncing and check fraud. If convenience isn't enough to motivate you to change your payment method, you only need to look at some of the shocking fraud statistics concerning checks.
News reports say that, in 2016, attempted check fraud cost $8.5 billion. This figure rose to $15.1 billion in 2018. Of that, successful check fraud totaled $1.3 billion. A check doesn't contain the same sophisticated encryption that we experience with online banking and payments. Therefore, it is much easier to commit fraud.
So, between late payment fees, fraud, and checks bouncing, it's a small miracle that checks are still so popular. Perhaps it is our fear of change that prevents us from taking advantage of the new digital age.
Why Is Online Rent Collection Better Than Checks?
Let's take a look at seven ways collecting rent through online payment systems makes the lives of tenants and landlords easier.
1. Online rent collection is simple
Be honest—do you have time to wait for rent checks in the post and take them to the bank to deposit? Oh, and you can't forget to record them in your accounts manually. Probably not.
Even tenants are starting to prefer the hassle-free method of paying online. It's not just young renters, either. Studies show that in 2017, 42% of the older generation were already paying their bills online.
Tenants are more open to the idea of scheduled payments when setting up online rent collection, too. These are great, as automatic payments eliminate the need to remember paying rent.
2. Chances of on-time payments increase
Many online rent collection tools have options to send out reminders to tenants. A quick SMS message or email is often more than enough to jog the tenant's memories. In fact, your tenants will thank you for it, as they won't incur late payment fees.
3. Multiple payment methods are available
Once you start using online payment tools, you no longer have to hand your financial details out as you would for a check. Your payments are completely secure via the ACH network, websites, mobile apps, and pay-by-phone services.
Related: Rent Payment Plans Can Benefit Both Tenant & Landlord: Here's Why
Tenants can choose the most convenient for them. These payment methods can include:
eCheck (the same concept as paper but with fewer steps)
Debit/credit card
PayPal
SMS/text message
Cash at some local grocery stores (also known as WIPS or walk-in payment system)
Some of the payment options may have small fees, and some apps are free to use. But none as costly as a check. These old-fashioned pieces of paper cost an average of $8-$10 to process each one.
4. Financial updates are sent in real-time
One of the most time-consuming and frustrating parts of running a business is the accounts. Payments can take a few days to process. So, what you have on paper doesn't necessarily match your statements. This process requires repeated checking to see your financial status.
With online payment platforms, you will receive real-time notifications of transactions. You have a clear overview of your tenant's payments and your financial situation. On top of that, many rent collection apps connect rent payments to your accounting software. Time-saving and simple!
5. Payments are processed faster
Waiting for a check in the mail takes an average of three days. Once you receive it, you have to find time to go to the bank. You will then have to wait two to five business days for the check to process and the funds to arrive in your bank account.
Online payments take place much faster—sometimes instantly. It is unlikely that you will have to wait more than three days for payments to clear. Even if you have to wait for the funds to clear, you receive a notification as soon as the transaction takes place.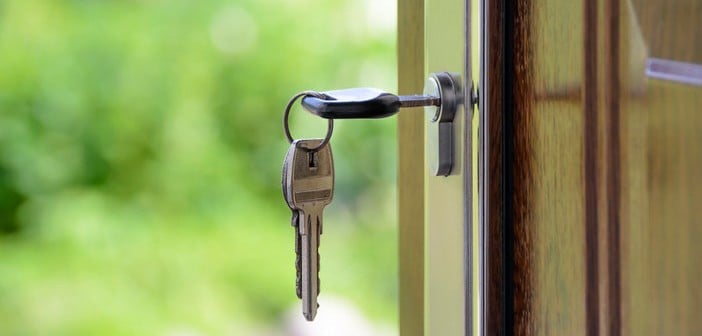 6. Online payment offers enhanced security
Checks contain the tenant's bank account information. The potential for fraud is incredibly high. Plus, checks can get lost in the mail and/or end up in the wrong hands. Not only can this cause a considerable headache, but also tenants may not have additional funds to pay their rent.
Online rent collection means that financial details are not shared, and this provides more security for the landlord and the tenant.
7. Online systems contain additional property management features
Rent payment platforms often include several other features to streamline managing rental properties. For example, web portals or applications may also offer one-time payments, scheduled payments, and late fee and security deposit collection. They can provide various solutions for your property management.
What digital tools have benefited you most in your real estate business?
Join the discussion below in the comment section.