Working with investors can be a dream come true for real estate agents. You've supposedly found a client who buys based on numbers and math, rather than emotions and feelings. Numbers don't lie.
You've also seemingly found repeat business, that mythical unicorn client.
But not all investor clients are the same.
Brandon Turner's agent probably doesn't have that many other clients — Brandon buys a new house every 12 minutes on average. (OK, that might not be 100 percent true, but he's ridiculously active in his area.)
I just read an article by Brett Snodgrass about an investor client he won't ever work with again.
Even though I love real estate as an investment vehicle, I haven't worked with any investor clients yet. So I turned to some agents who have and asked them what they wish their investor clients knew.
1. Be Honest
"At the end of the day, we are successful when the investors are successful. It is extremely important for an investor to be up front with everything during the sales process.
There is nothing worse than an investor that keeps important information hidden because he or she thinks it will impact the relationship. The real estate agents are there to help, and if there is an issue, let your agent know and they will help you overcome the obstacle." — Evan Harris, co-founder,
SD Equity Partners
2. Don't Get Greedy
"This tip is especially true for those that are
flipping properties
. We find that the best way to increase profits is by flipping several properties each year, rather than waiting for a big payout. When you get an offer that puts you in the black, take it and move forward with the next project. It is frustrating to see investors sitting on properties waiting for that perfect, once in a lifetime offer." — Evan Harris, co-founder,
SD Equity Partners

Related: 3 Constructive Ways to Work With a Real Estate Agent as an Investor
3. Listen to Me
"This is mostly focused on new investors. I want them to understand that you hired me to help you because I get it and I've done it. I've bought hundreds of investment properties.
The properties are not going to be perfect. This is not your primary residence — this is an investment property. What you want to live in may not be a good investment property.
Keep me in the loop — don't cut me out once you've gone to contract. I've had buyers that order their inspection and then the buyer and the lawyer discuss what they should ask for. You can't expect a seller to fix the nick in the wall or expect a credit for it. Don't send a 100-point list of items that you want repaired. Hit the major problems — don't be nit-picky. Look to my expertise to help you through this." — Mark Ainley, GC Realty & Development
---
Find an Agent in Minutes
Match with an investor-friendly real estate agent who can help you find, analyze, and close your next deal.
Streamline your search.
Tap into a trusted network.
Leverage market and strategy expertise.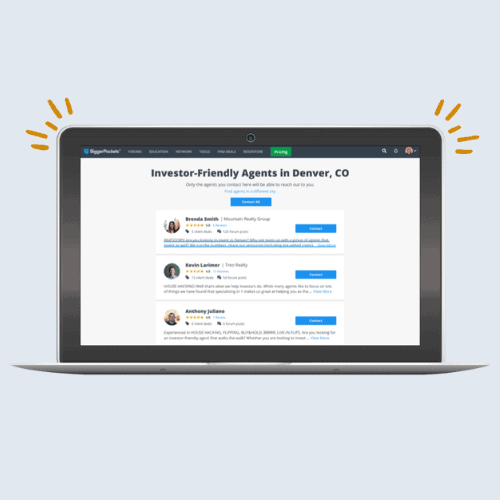 ---
4. I May Have a Partner Agent
"The challenges in working with an investor are having to be ready at the spur of the moment. Often properties that come about at a good price and good location are enticing to many investors. So the quicker things can happen the better. And with other clients, this can be difficult. I suggest partnering with other agents. This keeps your clients happy and makes it so that I am not overwhelmed by the many immediate demands.
The only turn-off in working with investors is that sometimes they are not open-minded to suggestions. And many real estate agents have a wealth of experience that one could be missing in being close minded. I have learned much in working with investors; however, I believe it is important for it to be reciprocal." — Denise Supplee, Spark Rental
5. Do Your Own Research
"As a real estate agent, investors can be great clients to work with at times. They are usually very professional, to the point, and keep emotions out of the equation. As an added benefit, if you sell a home to an investor who rehabs the property, then you have a pretty good chance of them using you to sell the property again later on.
However, I do have one major complaint. Newer investors often expect me to do all of their homework and research for them when it comes to rehabbing a home. In my opinion, a successful rehab starts with sitting down with an Excel spreadsheet and calculating three numbers. The first number is how much you can sell the home for after the rehab. The second number is how much the rehab will cost you, including all holding costs. Lastly, what your maximum offer price for the property will be.
As a real estate agent, I will be more than happy to help investors determine a home's after repair value, or ARV. I am even happy to offer my opinion of how low an offer I think a seller may accept.
However, I make it a point to never offer my opinion of how much I think a home will cost to fully rehab. For starters, this number is a crucial component in your calculations and can make or break a rehab. An investor should never delegate calculating this number to any real estate agent — partially because the real estate agent, by the nature of their job, will have an incentive for this number to be a favorable one so they can sell you a home.
More importantly, though, is how challenging it can be to accurately calculate this number. The cost of labor and supplies varies drastically between geographical areas and can often fluctuate. Calculating the holding costs alone takes a lot of research including the property's taxes, electrical and water suppliers, the owner's insurance company, HOA fees and more.
If an investor is looking for help in calculating their rehab costs, they should be asking for estimates from contractors, not from real estate agents. However, their holding cost estimate simply should not be delegated out. The investors themselves are the only ones who can accurately estimate this number. This process is so important that an investor would be foolish to rely on anyone else to do this work besides themselves." — Malcolm Lawson, YourMarylandRealEstateAgent.com
6. Know Your Lender's Requirements
"The number one thing I want my investor clients to know is their lender's requirements for financing BEFORE making on offer to purchase. For example, will they need contractor quotes as part of the appraisal and loan approval process, and if so, on what timeline? Do the lender and/or loan requirements allow them to do the work themselves or must they hire a licensed contractor? This is important in writing an offer to purchase that protects the buyer and allows for any needed contingencies." — Jill Frank, Coldwell Banker Success
7. "Incredible Bargains" Aren't Always Out There
"The biggest turn off when working with investors is when they have unrealistic expectations of finding an "incredible bargain" in a seller's market. The definition of a bargain changes with the changes in the local market, and a successful real estate investor needs to be able to adapt their investment strategy accordingly.
The investor clients that I have established long-term relationships with are the clients that have a formula or system in place for evaluating potential purchases to determine what properties fit the investment criteria they are specifically looking for, such as long-term holds, wholesaling, or rehabbing for resale, and then being able to estimate what their return on investment could be in each scenario. My role is to help them determine market value of the property in each of their scenarios, and the investors that I like to work with can determine their costs and expenses and what they need to get out of it to make financial sense for them." — Jill Frank, Coldwell Banker Success
Related: Investors: Think Real Estate Agents are Useless for Finding Great Deals? Consider THIS.
8. Agents Really ARE Here to Help You Out
"I would like investors to know that maintaining a strong relationship with an agent is beneficial from multiple perspectives –local/transaction expertise creates opportunity. One turn-off is the time constraints/short time windows required by most investor class transactions. The consistent niche revenue stream is highly desirable." — Michael Kelczewski, Brandywine Fine Properties Sotheby's International Realty
9. There's More Than One Way to Make Money in Real Estate
"I wish investors knew that if you do the research, there are many potential angles of returns there are for farms and ranches — water rights, mineral rights, wind farms, buying acreage low and leasing land back. Most buyers and sellers don't consider all angles. Meanwhile, there isn't another investment that creates the memories and enjoyment that farms and ranches do." — Buzz Tatom, Venture West Ranches
Investor-friendly agents truly want to help you succeed. Help them out by being prepared, ready to make a deal happen, and understanding that mansions in perfect condition for $1,000 don't exist.
Are you an agent? What tips do you have for your investor clients?
Be sure to leave your thoughts below!
Note By BiggerPockets: These are opinions written by the author and do not necessarily represent the opinions of BiggerPockets.